Denton County schools all passed the first test in the state's new accountability system, but local and state educators continue to resist the A-through-F labels affixed to districts.
The Texas Education Agency released its 2018 accountability ratings Wednesday, launching a new system that gives public school districts and charter school networks a letter grade based on performance in three categories: student achievement, school progress and closing gaps between different demographic groups.
Many of the metrics hinge on standardized test scores with graduation rates and career or college readiness added in at the high school level. The better score from either student achievement or school progress makes up 70 percent of the overall score. Closing the gaps makes up the other 30 percent.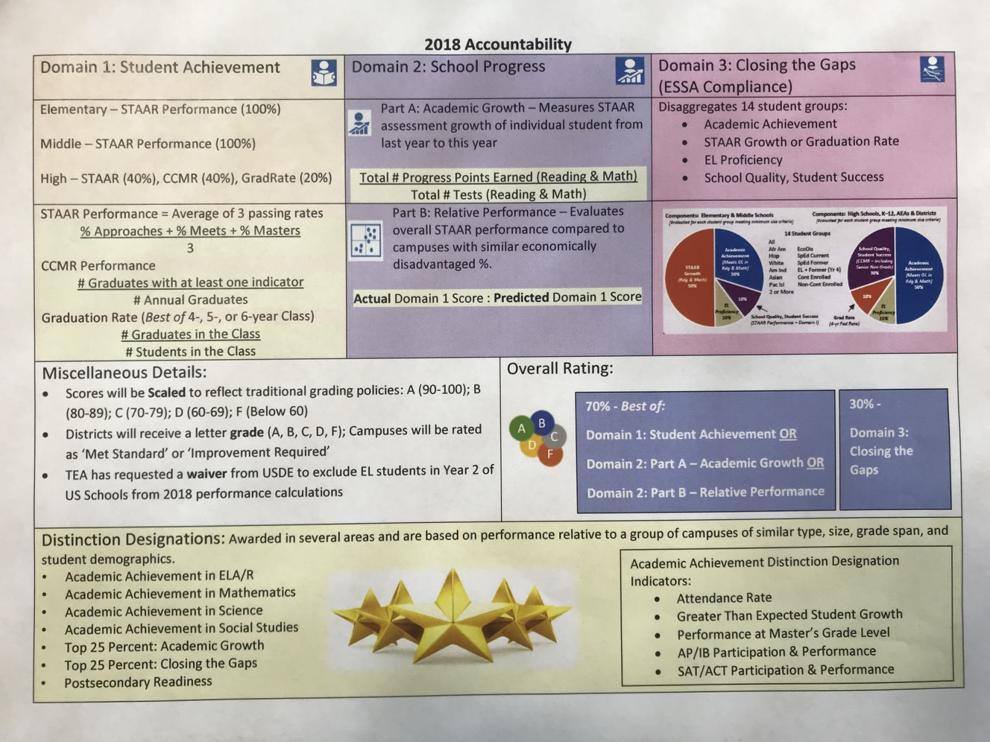 Prior to this year, the state gave districts and campuses either a "met standards" or "improvement required" rating. Individual campuses will stay on the pass/fail system until next year, but each received a numbered score that can be translated into a letter grade.
"It's a significant improvement over the prior system," Education Commissioner Mike Morath said in the Austin American-Statesman. "The idea that you can provide clear summative information to parents is a huge win for parents. The idea that the design of the system was meant to highlight both high levels of student achievement and high levels of educator impact makes this essentially the fairest system in the state of Texas."
Superintendents and administrators bristled when the system first was introduced by the Texas Legislature in 2015, saying it wasn't fair to boil down ratings to a one-day test. They reiterated their disdain once grades were released and called for more local control.
"Every school district has different needs so it's difficult to measure one against another," said Mike Mattingly, Denton ISD's assistant superintendent of curriculum. "If our board is saying we want all of our students to read on grade level by a certain time, that's what we should be graded on. If we're saying all kids should be proficient in algebra by the end of the ninth grade, then we should measure how we're doing against that."
Denton County Schools 2018 Ratings
| District or Charter | Student Achievement | School Progress | Closing Gaps | Overall Score | Overall Grade |
| --- | --- | --- | --- | --- | --- |
| Argyle ISD | A | B | A | 95 | A |
| Aubrey ISD | B | C | B | 87 | B |
| Denton ISD | B | B | B | 86 | B |
| Krum ISD | B | C | C | 79 | C |
| Lake Dallas ISD | B | B | B | 86 | B |
| Leadership Preparatory | B | C | B | 89 | B |
| Lewisville ISD | B | B | B | 89 | B |
| Little Elm ISD | C | C | C | 78 | C |
| North Texas Collegiate Academy | D | C | D | 74 | C |
| Northwest ISD | A | B | A | 91 | A |
| Pilot Point ISD | B | B | C | 79 | C |
| Ponder ISD | B | B | A | 88 | B |
| Sanger ISD | B | C | C | 79 | C |
In Denton County, district and charter grades ranged from A through C with an average score of 84.
They fell in line with state statistics, which showed nearly 43 percent of schools scoring a B. Fifty-seven Texas districts and charters got a D rating while 16 got an F.
Argyle ISD recorded the highest overall grade in the county, as well as a perfect score in the closing gaps measure. More than 80 percent of the district is composed of white students. Less than 9 percent of the student population is considered low income while less than 3 percent are English language learners.
Conversely, the school with the lowest accountability score in the county was North Texas Collegiate Academy, a charter school network that has a 48 percent Hispanic population, a 28 percent white population and a 17 percent black population. Seventy-eight percent of its students are low income while more than 28 percent are English language learners.
Argyle Superintendent Telena Wright said she's pleased with her district's score and said her students still had to meet certain targets to close gaps.
"When you have a very low number of economically disadvantaged students, then you have to make a very high score," Wright said. She added that she does not condone or support the new system and said it would be "damaging" to schools.
Other superintendents believed that a district's demographics had an impact on their grade.
"This is a new accountability system and we are still analyzing the data, but it is obvious that poverty has played a significant role in the A-F system," said Pilot Point Superintendent Dan Gist, whose district scored a C. "Once again, this will make it more challenging for low-income communities to hire and retain great teachers."
Whether intentional or not, grades came out the same day that many schools around Texas started a new school year. Ponder Superintendent Bruce Yeager called the timing of the release difficult.
"Everyone is starting within the next week or 10 days," he said. "Those districts that do well won't worry, but what about those kids in districts that got an F? How does that set the tone? You want to start on a high note with your new programs and goals, but this seems harmful."
To get details on a district's score or to find the rating for your child's campus, go to www.txschools.org.