From a golden etched "UNT" on a wooden floor to the university seal on the backs of chairs in the presentation room, the new Welcome Center at the University of North Texas lets visitors know they mean green.
The Welcome Center is where all visitors start their campus tours and learn more about the university. It opened in March, though finishing touches are still underway. There's a small room for twice-daily financial aid presentations, private meeting rooms for families to meet with admissions or housing staff, and a model dorm room.
"This is just the starting point, but this is the first impression," said Laurea Irving, director of customer experience. "Our attention to detail shows guests we take pride in UNT and we're a top-notch university that's serious about delivering a top-tier education, and this allows us to express that."
Until March, tours left from a space inside the Eagle Student Services Center, which could accommodate only about 40 people at a time to leave on tours. Now, in the new facility on Maple Street, roughly 150 people can be inside at once, then be broken up into different tours through campus, Irving said.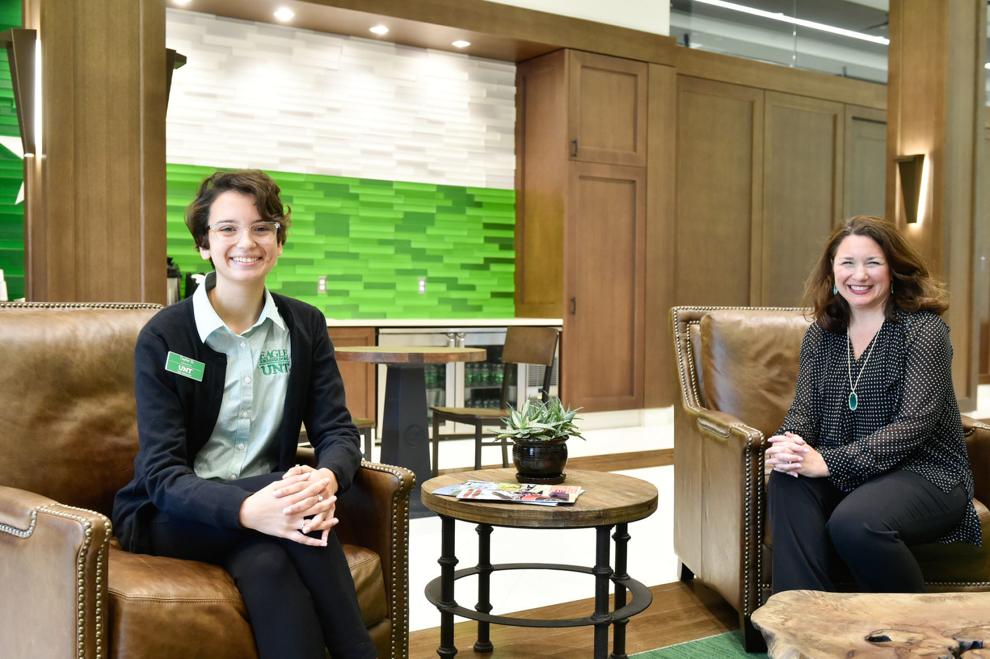 The larger space proved useful during spring break this year, one of the busiest times for tours. Both the second and third weeks of March, more than 1,000 people visited and took campus tours, Irving said.
The tour center is part of the Joe Greene Hall construction project, which cost $58.9 million overall. The project added 500 dormitory beds and includes housing and dining administrative offices and meeting spaces. Soon to come are large UNT letters for a photo opportunity, and eventually an eagle statue outside the Welcome Center.
"We want this to be a literal experience, and we want them to experience UNT when they come here," Irving said. "Our goal is always that after the tour, we've answered their questions or we've connected our guest with the right person to answer questions. We want this to be engaging but also informative."
All tours are led by current UNT students, called Eagle Ambassadors. In the new space, tour participants can sit and wait on comfortable furniture before things start. Then, they move to a presentation space and begin with a video about the university and Denton to kick off the tour. The setup makes the job easier and more enjoyable, said senior Taylor Diaz, an Eagle Ambassador who starts her senior year this fall.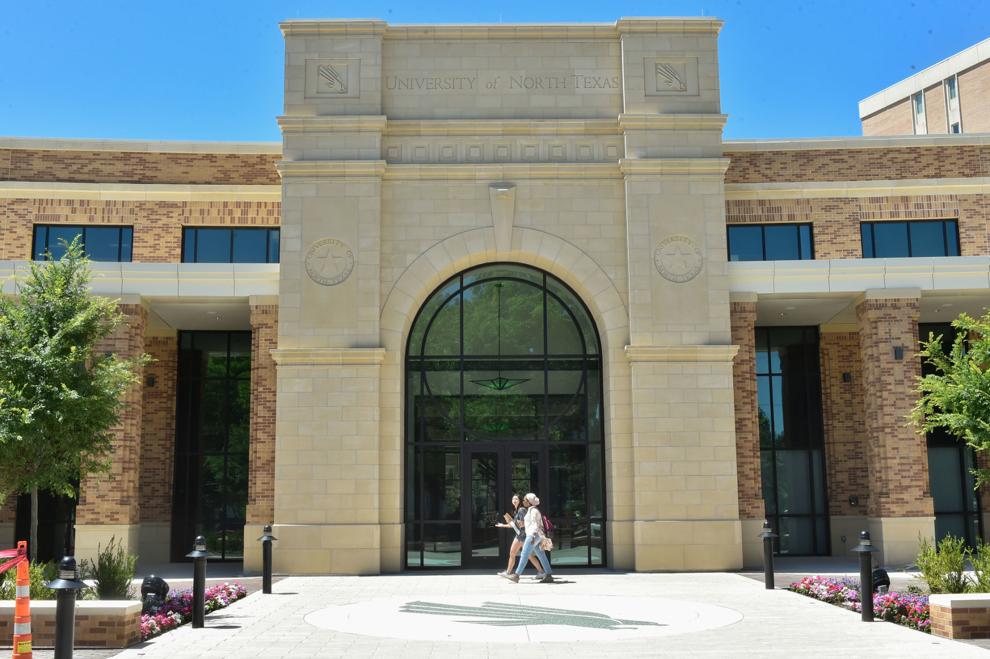 "When we were in the [services center] there were only like four chairs, and we shared them with financial aid and records, so it's really nice to have our own space where participants can sit and wait and have a cup of coffee," she said. "The presentation room has changed a lot of our presentations and how much our tour participants are paying attention."
The space is still being outfitted, from the exterior sculptures to new furniture. UNT is also adding new audio and visual equipment, interactive flat screens and computers to help people learn about the university, Irving said.
"We are at the starting blocks of what we're capable of doing right now, especially with audio and visual," she said. "The ability to host more guests daily in a space that is comfortable, that you can clearly tell our story from audio and visual, is very powerful. It's just a solid foundation for us to launch from."