Kara Brown's life is about to change.
Plans for the construction of the new Woodrow Wilson Elementary were formally revealed at the Feb. 26 Denton school board meeting.
Construction will take place a stone's throw from her backyard.
Brown, accompanied by her children and neighbor April Kinsley, attended the February meeting to speak her mind.
She addressed the board during the first open forum, sharing with those in attendance her fears for the current construction proposal.
"All of this construction news was very unexpected and upsetting to all of us," Brown told the board. "We genuinely love our neighborhood, are pro-education and thankful for all of the benefits that Wilson provides to the children of our community, but we also need you to understand how all of these changes greatly affect our families and homes."
She explained that while the improvements will be a boon to the campus and community as a whole, "these are not necessarily things that will bring improvement and value to us personally as families and homeowners."
At the end of her talk, Brown presented the letter, which included 31 signatures from other concerned parents, to the school board.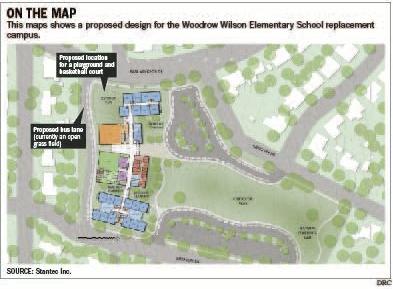 She learned what the district was planning just a few days before her presentation, and not through an official channel. Principal Caleb Leath is a family friend and he called her husband, David, to let him know what to expect.
"My husband saw the plans," Brown said, but she didn't. "It wasn't until the meeting, when they pulled up everything on the big screen, that I really started panicking because I saw just how large-scale the whole thing was going to be."
Plans laid out by architects with Stantec Inc. at the board meeting didn't call for an expansion or renovation of the existing elementary, which seemed to be a surprise even for some board members.
"I think I had in mind that we were going to be doing a remodel and maybe an enlargement or enhancement," school board member Jim Alexander said during the meeting. "But when you look at the design as you're bringing it forward, we have a new elementary school."
Doug Chadwick, another board member, agreed the board was being presented with plans for a new school in all but name. That is not to say either board member was displeased at the prospect of a new, more than 90,000-square-foot building to replace the current school built in 1960.
Although board members are barred from responding directly to comments received during an open forum, several of them seemed to hint at what Brown told them.
At the conclusion of the presentation, school board President Mia Price said, "Let's just continue working with the neighbors and see what we can do."
For Brown and Kinsley, issues of noise, safety and privacy come to mind first when they think about the coming construction.
"It's honestly going to be the size of a small mall, right there," said Brown, pointing out through a window to a grass field leading to a playground. "I will not be able to look out and see that anymore."
She's also worried the two-story building to her east will keep her from seeing the sunrise.
Overall, her concerns are embodied most tangibly through the proposed new bus lane. What now simply is an extension of a large grass field behind the current elementary, one where her family regularly plays, soon might become a dedicated bus lane.
That would mean a chain-link fence would be all that separates her backyard from buses five days per week.
Looking across the field earlier this week, Brown pointed to an elementary playground: "That's where they all learned how to ride their bikes, was on that basketball court right there."
Kinsley said her mom already has trouble sleeping, and she's worried that a bus lane and adjacent basketball court would only make it harder.
"We can't afford to move," she said.
A teacher herself, though not in Denton ISD, Kinsley said she understands the district's need for new facilities, but she doesn't want it encroaching too much on her private life.
Overall, she said she doesn't mind the construction; she's mostly upset about the way the district has handled it so far.
How'd we get here, anyway?
Representatives of Stantec sat down with a group of teachers and parents at Wilson Elementary before the Feb. 26 school board meeting to sort out what community members want from and expect out of a new building.
Out of the four teams arranged to wrestle with those expectations, a few common themes bubbled to the surface of conversation: sunlight, community and a sense of calm.
Renderings of the proposed design show a spacious, two-story building with room for hundreds more students in anticipation of continued growth, plenty of green space for play and massive walls of windows to allow in natural light.
It's the idea of community that Brown and Kinsley aren't seeing.
"I kept hearing talk of how important community was to them, and community involvement, but the community was never consulted," Brown said, speaking of herself and her neighbors.
Every side of the current lot is against a street or sidewalk — every side except the one where the Browns live.
"I feel like the main reason they're wanting to do this is so they can continue to operate out of their main building and do construction at the same time, and I get that, that's convenient, but it's going to permanently change all of these neighbors' well-being and lifestyle."
Administrators said during the Feb. 26 board meeting that only two buses regularly service Wilson Elementary, and both of them are believed to be propane-burning, not diesel.
While that helps, Brown said she fears that with growth, more buses will start showing up.
Big picture
Construction on the replacement for Wilson Elementary is included in the $750.5 million 2018 capital improvement plan passed by voters last May. Similar campus replacements are in progress for Denton High School and Strickland Middle School, said Julie Zwahr, district spokeswoman.
Without the final board approval or necessary permits from the city, an official groundbreaking date has not yet been decided. Regardless, construction is expected to take about two years, and the new elementary is expected to open in time for the 2021-22 school year, Zwahr said.
For a district that always seeks to surpass academic expectations, an elementary that's nearly 60 years old can be a hindrance: "Think of the technological advances alone," Zwahr said.
According to the district's bond website, Denton County is the ninth-fastest growing county in the country, and 6,000 new students are expected to enter the district in the next 10 years.