More than 40 percent of Texas families — and nearly half of Denton's households — are unable to afford basic needs, the United Way of Texas reported this week.
That means many more people are barely scraping by than might be assumed based on the poverty rates, which are 14 percent for the state and 19 percent for the city.
The numbers come from United Way's ALICE report on Texas, published Tuesday, which provides data on households where people are working but still struggling financially. ALICE stands for "asset limited, income constrained, employed."
While poverty has decreased by two percentage points in Texas since 2010, the number of households under the ALICE threshold has increased by four percentage points, a trend the project's director Stephanie Hoopes said indicates that people moving past the poverty line are having difficulty achieving financial stability.
A modern measure of need
The nonprofit organization uses a bare-bones budget for necessities to estimate annual living costs for a single adult and for a four-person family. The Household Survival Budget includes categories for health care, technology and taxes, as well as food, housing, child care and transportation.
Qualification for many federal-assistance programs, however, is based on the U.S. government's poverty guideline — a figure originally created in 1963 and based primarily on the cost of food.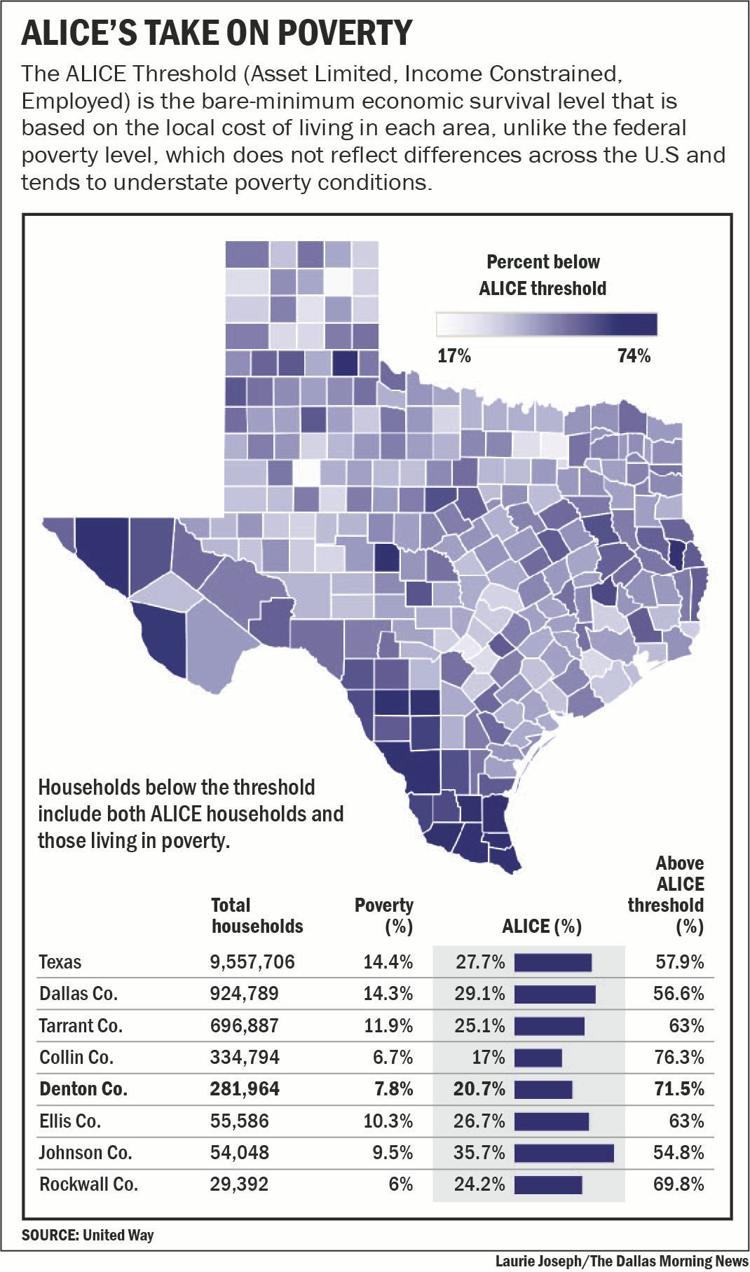 Hoopes, who called the federal measure "outdated," said the ALICE budget better reflects a modern economy in which a basic smartphone is a necessity.
For 2019, the federal poverty level is at $12,490 annually for an individual in the continental U.S., while United Way's ALICE threshold, which is calculated at the state and local levels, is $19,428 for an adult in Texas and $22,452 in Denton County.
Officials are aware of the mismatch between the poverty line and actual need, and though the federal poverty level is adjusted for inflation each year, many federal and state programs use multiples of the level to determine who qualifies for assistance. The North Texas Food Bank, for example, uses federal guidelines that say households earning below 185 percent of the poverty line qualify for help.
"The main difference between the two is that the ALICE budget is very transparent," Hoopes said. "The federal poverty level is just a number; there's no breakdown."
By the numbers
ALICE researchers determined an hourly living wage based on their survival budget. United Way's average living wage for an individual in Texas was $9.71, and $26.48 for the family. In Denton County, where the cost of living is higher, the wages were $11.23 and $33.47.
More than 60 percent of jobs in Texas pay less than $20 per hour, according to the United Way, and minimum wage in the state is $7.25.
In Texas, 42 percent of households were below the ALICE threshold. In Denton County, the number was 29 percent. Neighboring counties of Tarrant (37 percent) and Dallas (43 percent) had less financial stability, while Collin (24 percent) had more, according to the group's research.
The United Way found that the cities of Pilot Point and Denton had the lowest proportions of financially stable households in Denton County — 55.4 percent for Pilot Point, and 55.8 percent for Denton, meaning about 45 percent of households in each city were found to be in poverty or under the ALICE threshold.
At the other end of the spectrum, 92 percent of households in the Lantana area were financially stable.
In Fort Worth, 42 percent were below those thresholds, while Carrollton and Plano had 34 percent and 24 percent, respectively, of their households struggling financially.
Government shutdown
Hoopes said the recent federal government shutdown shed light on the number of people who live paycheck to paycheck and who, while seemingly well-off, may require food assistance after one or two missed paychecks. Government data from last year indicates that Texas has the fifth-most federal employees of any state.
Any unexpected expense can require ALICE families to make sacrifices that negatively affect their long-term health or safety, Hoopes said.
"There are so many Texas families walking their own personal economic tightropes with courage, grit and hope," Adrianna Rojas, president of the United Way of Texas, said at a news conference Tuesday. "However, without the ability to get ahead, they're vulnerable.
One setback — one illness, one natural disaster, one car repair — can cause ALICE to spiral."