When North Central Texas College students park their cars in the new two-story garage across from the school's new Denton campus, school officials are trusting a new robot to make sure the parking garage stays safe.
The Knightscope K5 robot is 5 feet tall and wears an NCTC police badge, operating autonomously and alerting NCTC police when something is awry.
"It's a great tool to supplement what our campus officers are already doing," said Chris McLaughlin, senior director of emergency management and institutional assurance. "It functions like a security camera on wheels; it functions in the same way with an eye-level HD camera."
The robot records video all around it and has the capabilities of video, thermal and audio recordings. When something abnormal is detected, the robot sends an alert to the on-call officer, who then can check the recently recorded or live video stream and respond to any incidents.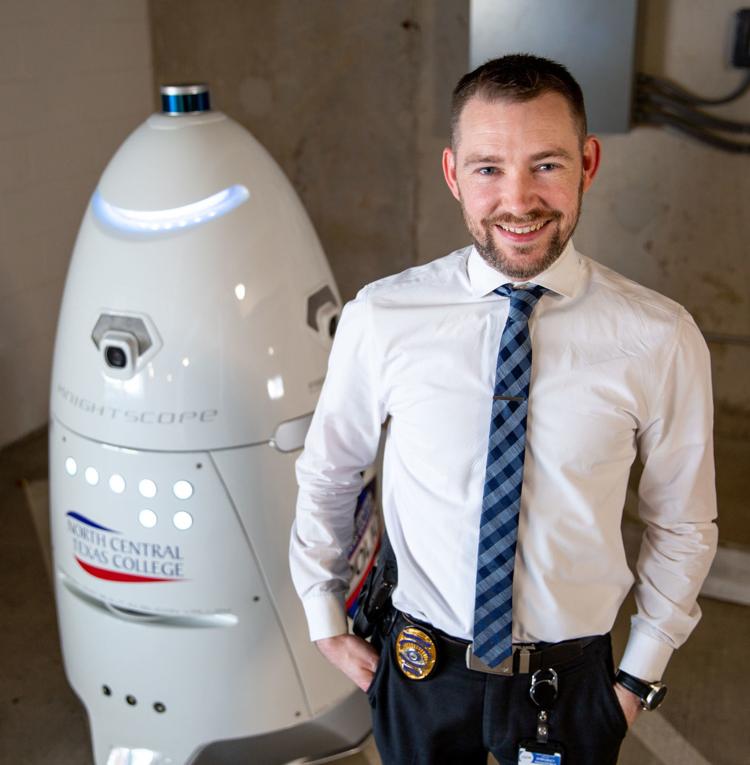 NCTC signed a one-year contract, paying $96,000 for the unit's lease, the ability for officers to interact with people through the machine, parking monitoring and after-hours capabilities.
"They [NCTC] monitor the security side, while we own the robot and we monitor the health of the robot," said Stacy Stephens, executive vice president of Knightscope.
The cost is less than having security guards monitoring the garage 24 hours a day, McLaughlin said. Right now, visitors will still see a security guard, though, since the equipment for a gate controlling the garage's entrance and exit isn't in place yet. This semester, the college is allowing only students, faculty and staff to park in the garage, so the guard is making sure only authorized vehicles enter.
The goal is to open the garage up to the public in the future, McLaughlin said, which was a consideration when deciding on a security strategy.
"We're using this as a tool to be more proactive in patrols with the autonomous feature and compress our response times as well," he said.
Earlier versions of the robot have come under fire for possibly unethical monitoring and mishaps — such as one robot falling into a water feature in an office building. With the intense mapping and the nature of the parking garage, officials said they don't anticipate any issues with the robot.