People who love Maria Wright began to say goodbye Thursday evening.
"Even now as I'm preparing for her services, I kept picking up my phone, trying to call her, and I had to realize, I can't call her no more," Shacole Adlam said at her mother's vigil in Fred Moore Park. "This didn't feel real to me until today."
More than 100 people ended a hot Texas day in the park, beginning a long weekend of home-going for Wright, who was a mother of three. Her family has scheduled her wake for 7 p.m. Friday at Peoples Funeral Home in Denton. The funeral will be at 1 p.m. Saturday at St. Andrew Church of God in Christ in Denton.
"Whoever was having a problem, Maria was right there," family friend Ruthie Vermillion said.
She was remembered as the type of person to take you in and tell it to you straight. She'd give you advice, a place to stay, a meal to eat. Vermillion said she'd always be laughing, a smile on her face no matter what.
"Even with all of this, you never knew anything was going on," Vermillion said.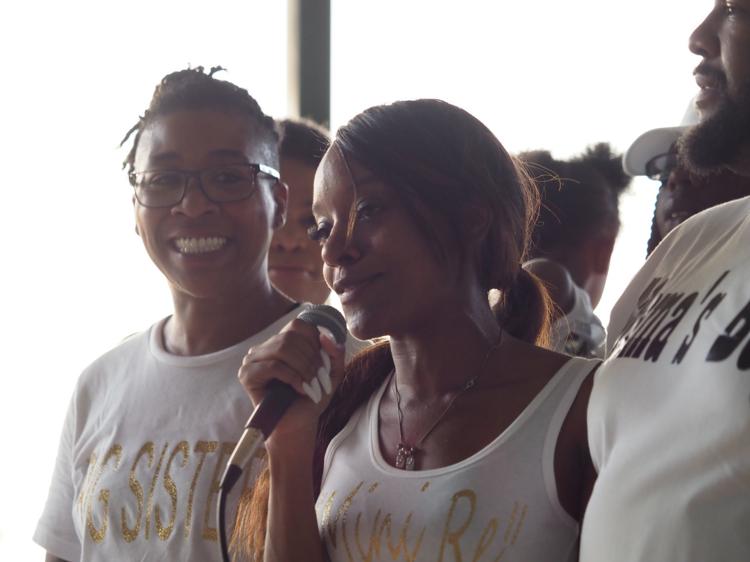 Wright's death, which police have described as a "domestic situation," places her in a devastating category. Black people are about 35% more likely than any other group to experience domestic violence, said Cassandra Berry with the Denton County Friends of the Family.
"There are a lot of warning signs," Berry said. "There are a lot of things that lead up to [violence], that a lot of time we're not familiar [with]."
One of Wright's nieces said Wright helped her get out of a domestic violence situation last year. Another friend said Wright leaves behind big shoes to fill.
"Life's just too short," Wright's sister, LaQuita Wright, said, "so at the end of the day, you should come together and love one another, be there for one another, listen to one another, and just try to respect each other."