A 39-year-old man was arrested late Thursday night on one count of murder for a homicide from March in Denton, according to a news release.
Zeniff Rudd was arrested in Dallas at a homeless shelter Thursday night in connection to the homicide in March 6. At the time of Mindy Tenerias' death, the Tarrant County Medical Examiner hadn't ruled her death a homicide and it was pending until it was ruled a homicide last month. Tenerias was 26.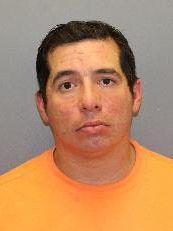 The news release from the Denton Police Department says police responded to a shooting around 12:57 a.m. that day in the 1800 block of Teasley Lane. Rudd called 911 and reported a gun fell, fired on its own and shot his girlfriend, saying he was lying in bed when this happened.
Police found Tenerias on the floor with a gunshot wound. Tenerias was taken to a hospital where she was pronounced dead about an hour later due to a gunshot wound to the chest, according to the Tarrant County Medical Examiner's public portal. The portal shows she was shot and killed in her home at the Oak Meadows Apartments.
Amy Cunningham, a spokesperson for the Denton Police Department, said officers got a warrant for Rudd's arrest Thursday. She said the case on Tenerias' death was pending until the homicide ruling from the Tarrant County Medical Examiner's Office in October.
A spokesperson for the medical examiner's office confirmed it was ruled a homicide on Oct. 11. Medical examiners were waiting on firearms testing results from the Department of Public Safety.
Rudd was booked into the City of Denton Jail Thursday night. He was still booked in as of Friday morning with a $50,000 bail.
Tenerias' death is the first of three homicides in Denton this year, although it is the most recently reported.