The 92nd annual North Texas Fair and Rodeo has reached the finish line of what Executive Director Glenn Carlton said was the most difficult time staff have had hosting the event in his 35 years involved with the fair.
Impacted by both the COVID-19 pandemic and the recent cold front, the fair's total attendance came in at 43,253 — under a quarter of last year's 195,000. Carlton, executive director of the North Texas State Fair Association, said after its first weekend that the organization knew attendance would be down, but that the event was still projected to be cash positive.
It will take about 30 days before figures are known for sure, but Carlton said he believes the association will at least break even on this year's fair, and should be cash positive, if only slightly. The association, a nonprofit, uses the fair as its largest yearly fundraiser, with the funds going toward upkeep of facilities and for various local programs.
"Financially, it was necessary to have the event to continue to be a charitable neighbor and partner in the community," Carlton said.
The fair was held in accordance with state COVID-19 guidelines, meaning guests were required to wear masks indoors and, when unable to socially distance, outdoors as well. Carlton said the bulk of complaints staff received weren't related to masks or distancing, but rather that the rodeo arena had to operate at 50% capacity. Primarily on the fair's first Saturday, he said several people had to be turned away from the arena.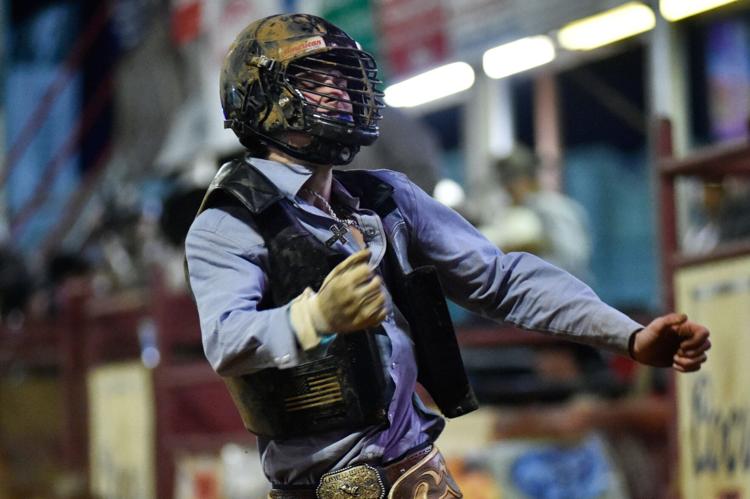 Carlton said that overall, he feels the event went smoothly given the circumstances, providing a positive experience for both guests and vendors, many of whom have had scarce opportunities to participate in events since the pandemic began.
"Ten-to-1, we got complimented on having the event," Carlton said. "You're going to have some complaints, but I think for the most part people understood that we had to follow the rules."
Carlton said it was important to hold the fair despite the hurdles involved because it can be difficult to generate the same level of interest for an event of this scale if one is missed.
"A major reason you want to have it is if you cancel altogether, when you start back up you're starting from scratch," Carlton said. "Events like this lose momentum if you cancel, so we already got a head start on next year."
As for that next year, Carlton said the fair may keep some of the changes in the way it used video boards, but that for the most part he's hoping to return to the way it's been held in the past.
"We're ready for normal again," Carlton said. "I think a lot of people are."