A study for this merger was approved by both cities this summer when city councils for both passed interlocal agreements that set the timeline and expectations. The study was supposed to last from Sept. 1, 2021, to Aug. 31, 2022. City managers for both cities said they realized it wasn't the right time.
"What happened after the first 30 to 40 days, I felt like it was clear it was going to be difficult to move forward long term," said Bob Hart, Corinth's city manager. "A lot of it quite honestly is the environment on hiring officers. We're down a few positions, Lake Dallas is down a few positions. It's quite a challenge to meet the workload within Corinth."
Kandace Lesley, the city manager for Lake Dallas, said they finalized the termination on Wednesday, Oct. 20, to be an immediate separation.
"You've got two organizations that want to have a really good relationship," she said. "I just think it was something that wasn't going to work out between the two agencies."
The two departments have worked together for years, aiding each other whenever needed.
In a social media post to the Corinth Police Department's Facebook page, city officials on Oct. 18 said the decision to end the study was prompted by "safety and liability risks from inconsistent management and training procedures."
Asked about the statement, Hart said they have the utmost respect for the Lake Dallas Police Department, but that the two departments have somewhat different approaches to training, site command and management.
"What that leads to is a potential safety and liability risk for officers from both," Hart said. "Because the approach when they're working side by side, if they've had a bit of different training, a little bit of different instruction in site command and management, that could lead to some procedural differences and the potential for a safety and liability risk."
Lesley said she's talked to Hart recently and believes the original social media post's intent wasn't to bash Lake Dallas' police.
"The truth is Lake Dallas has a fantastic police department," she said. "Our men and women serve with great dedication and love of this community, as they do for all the surrounding communities, because we still have mutual aid that we offer each other."
The interlocal agreement had a section that would allow either department or city to end the study at any time with a 60-day notice. Hart said it was a challenge meeting the workload in Corinth with the merger and that it was best to put an end to the study now.
"I think this was a good idea, but you get into it enough and see maybe it's not the right time," he said. "We made the decision just to stop it early on than to let it go on for several months, because then it gets more difficult to disentangle."
That disentanglement would've meant figuring out reimbursements.
Since the city of Corinth terminated the agreement, Lake Dallas isn't obligated to pay anymore installments of the administrative fee that would've been due after the date of termination, according to the agreement.
The administrative fees were payments Lake Dallas agreed to make to Corinth, which included paying for interim police chief services in the amount of $75,000 in four equal installments.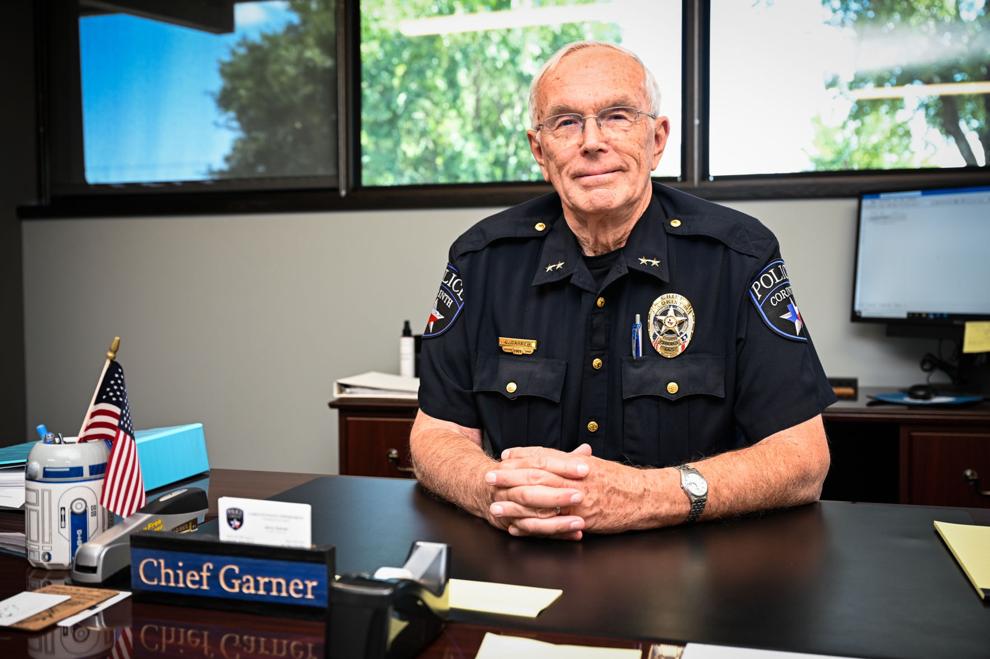 During the merger study, Corinth Police Chief Jerry Garner served as Lake Dallas' interim police chief.
According to the agreement, Lake Dallas would've paid the city of Corinth $18,750 on Oct. 1 for the first installment. The agreement says Corinth will reimburse Lake Dallas a portion of the money they've paid, but Corinth wouldn't be entitled to any reimbursement from Lake Dallas for costs related to the study.
Hart said they hadn't billed Lake Dallas staff for that first $18,750 payment and that the city hadn't spent any money yet for the proposed study.
"We had worked on a request for proposals to identify people that could do the study," Hart said. "We reviewed that with Lake Dallas and there was some difference in scope and approach to the study, which gave us a pause to think about it. … No money has exchanged hands either way to this point."
Hart said the 60-day termination notice he gave to Lake Dallas on Oct. 14 said they'd like to visit with the city and possibly end the agreement sooner.
Lesley said the two cities will still provide mutual aid to each other.
"We are now simply dropping back to the same working relationship we had prior to the experiment," Garner said. "We will continue working together well, as we always have."