A caravan of cars spread the message of safer schools Saturday evening, with activists seeking stricter criteria and planning for when in-person learning can resume.
Indivisible Denton County, which focuses on social justice issues, organized Saturday's rally of around 10 vehicles. The local political group has organized previous demonstrations, such as a July Fourth caravan that protested along Interstate 35E in support of Black Lives Matter and other equality efforts.
Saturday's demonstration began at the Denton Police Department and headed down Loop 288 and other roads before returning downtown. The protest came in the midst of debate surrounding the reopening of schools during the COVID-19 pandemic, as the organization advocates for clearer planning and more flexibility before schools return to normal.
Indivisible treasurer and event organizer Danja Franklin said the group relied on input from teachers in determining what they would advocate for.
"We want safety and clear safety plans for students and teachers," Franklin said. "I don't think anything that's been presented yet makes a lot of sense."
Franklin said the date targeted in Denton County Public Health's recent recommendation — that schools begin face-to-face learning no earlier than Sept. 8 — is too far away to predict its effectiveness.
"It's hard to put a time limit on something like this," Franklin said. "They should be measuring it based on the curve and the trajectory."
Queen Janata Montgomery, another Indivisible member and organizer, said she doesn't believe the government has an adequate plan in place for controlling the virus in schools.
"They don't have a handle on things, really," Montgomery said. "A lot of people are concerned and we are demanding they not be opened."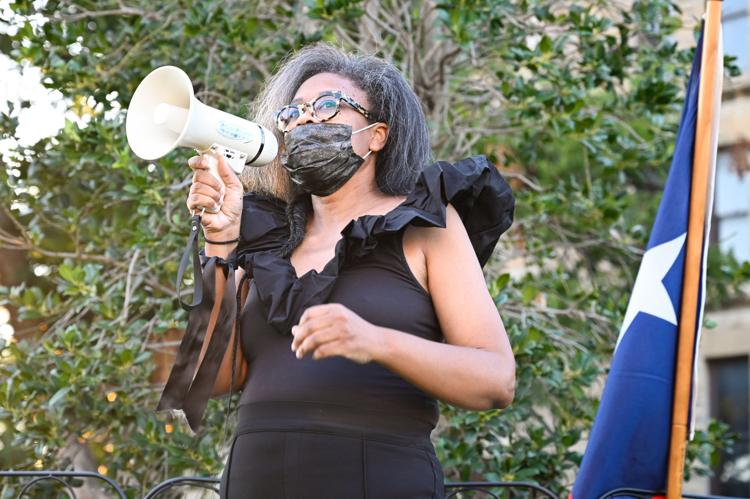 Following the caravan, Indivisible hosted an additional demonstration on the downtown Square, raising discussion points and chanting "Black lives matter, teacher lives matter." Montgomery said the organization is all-encompassing and supports not just the Black Lives Matter movement, but other groups such as the LGBT community.
"It's not focused on any one group," Montgomery said. "It features Black Lives Matter and other issues."