He didn't speak much about his time on a hell ship during World War II when he was alive.
But George Burlage's daughter, Georgianne, found a true story of horror and triumph as she rummaged through her late father's plastic tubs, where he stowed the journals where he remembered being a prisoner on an Imperial Japanese Navy ship.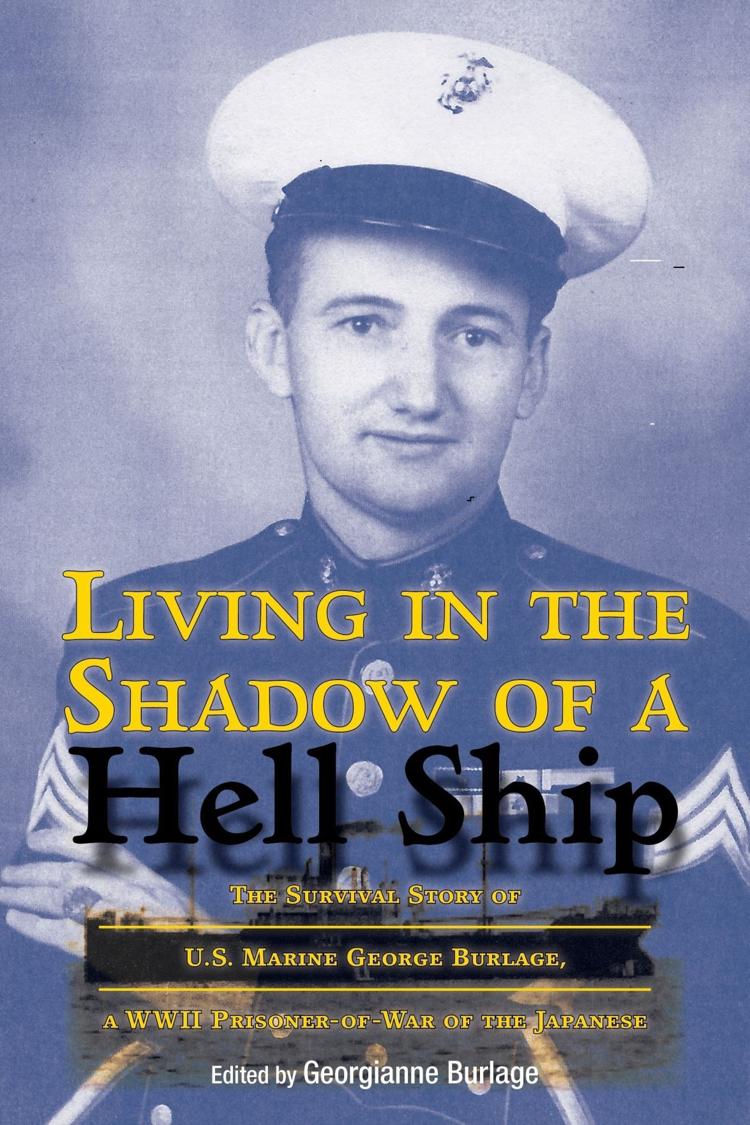 Georgianne Burlage found accounts of starvation, violence and a will to survive that nothing could extinguish among her father's writings.
It took a little convincing at a meeting of children of POWs, but Burlage knew she had a book.
That book, Living in the Shadow of a Hell Ship, was just published by the University of North Texas Press.
"My dad was a career journalist," said Burlage, a Denton native who taught world history at Ryan High School for more than two decades. "Writing was his therapy, which I didn't find out until after he passed away. I mean, I knew he had written things because I typed some of them. But there were so many things I didn't know about. He wrote and kept everything in binders in a Rubbermaid tub."
George Burlage grew up in California. In 1939, he decided to join the Marines, hoping his service would help him pay for college. He joined his fellow soldiers at Cavite Navy Base near Manila, in the Philippines. George Burlage's military service started with serving as a military police officer, but he was assigned to an artillery platoon when the fighting began.
The Japanese attacked Cavite on Dec. 8, 1941. A month after the fall of Bataan, American forces also surrendered Corregidor — where Burlage was fighting. He was among 8,000 American soldiers, sailors and Marines captured by the Japanese. About 5,000 Filipino troops and civilians were captured in the attack, too.
It was then that George Burlage was forced onto the notorious hell ship. Men were packed into the holds of the ship, where conditions and treatment were beyond imagination.
"The Japanese put them on these hell ships to take them to work in work camps," Georgianne Burlage said. "My dad, he scooted into a corner and watched. One in five died. He and another soldier said they had enough morphine to kill themselves. My father wasn't going to do that. He was like, 'Nope, I don't think so. I think I'll stick around and see what happens.'"
Burlage said her father was taken to a work camp, a mine where prisoners toiled under torture, starvation and uncertainty. He didn't talk about the experience, but now that she has put his stories into a book, she understands some of her father's tics.
"He had claustrophobia," she said. "He worked in a mine in Japan. He loved to be outside. He lived with us for years, you know, and our yard was beautiful. He would tell us, 'I need to go outside for a while.' We never went to caves as a family."
Burlage has been to the Philippines and Japan to sort of retrace the POW's steps. She visited the Japanese mine where her father worked. She said the 2014 film Unbroken depicts the experience POWs endured.
"I'll just share with you how I reacted," she said. "I went to the bathroom after the movie. I'm standing there in line and a woman had seen the movie and said: 'I can't believe it was that bad in those work camps.' Oh. Oh, no. I had to turn around and tell her, 'My father survived one of those camps. It was worse.'"
Burlage said her father would come to her classroom to share his story with students. She recalls two things: the students being enrapt by her father's memories, and her father sanitizing the stories for the benefit of his youthful audience.
Her father's way of dealing with his incarceration was somehow split — he prized some memorabilia from the military. But he downplayed his own contributions.
"I was going through some of his things one day," Burlage said. "I found some things in a Kroger bag. I asked him what it was and it was like it was no big deal. He was like, 'Oh, those? Those are just my medals.' I was like, 'Just your medals?' It was his Bronze Star and his Purple Heart."
Of all the mistreatment the POWs suffered, one thing had the most impact: hunger.
"My father was a big man before the war. He weighed 200 pounds when the war started. He weighed 100 pounds at the end. They were in the tropics, and they didn't have the supplies they need. Gen. MacArthur left them. I've been to the Philippines. It's damn hot.
"They lived in shacks built fast to hold them," Burlage said of her father's 40 months of captivity in the Philippines and in Japan. "It wasn't luxury. There was little food. He got on work details so he could eat. If they were caught stealing food, it was punishable. He stole beer once and was really proud of it. He lived to be 90 and he was always proud of stealing that beer. But they had to live with diseases of the tropics — typhoid, cholera. Things we don't even think about here. They had to live with things that I had to look up, like beriberi. That's a lack of vitamins. You swell all over."
Burlage said her father came home and started to build his life. He moved to Denton to attend what is now UNT. He became a journalist, and was the regional editor at the Denton Record-Chronicle in the 1960s. He married late, and George Burlage was nearly 40 when Georgianne was born.
Burlage said she's found her father's recollections of the war on scraps of paper he tucked into books. His mother saved "every telegram, every letter" her son sent home.
Burlage selected the writings for the book, and she contributed the introduction and an ending.
With a book in hand, Burlage said she has a tangible tribute to an American hero.
"My dad was so unassuming. He always said, 'I wasn't a hero. I just served my country,'" she recalled. "My father was determined. During that time, he could just look around and decide how to survive. He always said, 'They captured my body. My mind? My mind was always free.'"