Two mystery items from Komodo Loco, an Asian-fusion restaurant in downtown Denton, will be a part of the new episode of Food Paradise on the Travel Chanel on Saturday morning.
A crew of Travel Channel employees visited the restaurant last year after finding it online and decided it should have a spot on a "Howdy, Texas" episode, said Kyle Krueger, one of the restaurant owners.
"They showed up on a Saturday, full crew with lights, audio and directors, and they filmed on a Saturday night while we were open getting live video, interviewing customers and ordering food," Krueger said. "They actually told us when they first called us what dishes they were going to feature after seeing pictures."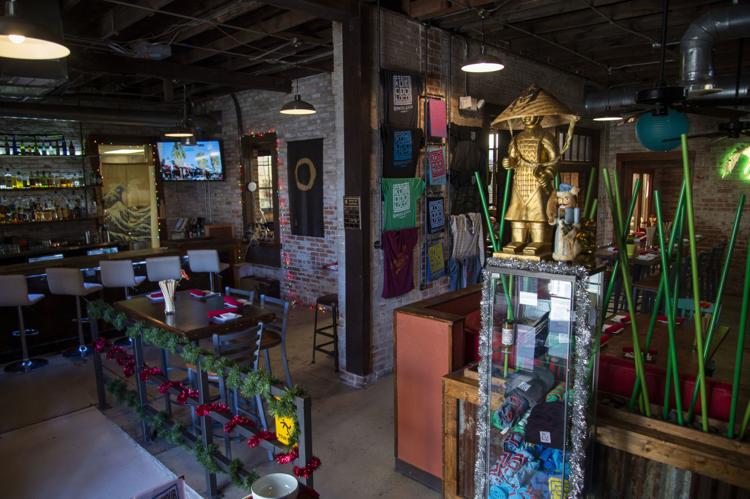 The program is in its 19th season and features up to eight restaurants an episode, talking to customers and showcasing unique dishes. Komodo Loco features dishes like ramen, sushi and loaded Asian-inspired tater tots called "totchos." Krueger said the network asked him to keep the two items that will be featured on the show a secret until the show airs.
The episode will air a little early for Krueger's taste, 6 a.m. Saturday, Dec. 29. He plans on recording it at home and playing it on loop at the restaurant Saturday night.
"I'm going to get up and watch it for sure," he said. "You can't really do a watch party for 6 a.m., and it's an hourlong show so we don't know if we'll be at the beginning, middle or end. But now I get to watch it first."
Krueger and the two other owners behind Komodo Loco — Corey Bobbitt and Micah Fleck — are also in the midst of opening their second restaurant, Po-K Loco.
They took over the space at 119 Ave. A about three months ago after sandwich shop Erbert and Gerbert's closed. They hope to open by the end of January and were getting new equipment for the spot this week.
While they manage opening a new business, they're excited for what could come from the Travel Channel's feature about Komodo.
"We've been looking forward to this. I don't know if we'll get any immediate business from this type of thing or if it's gradual. I guess it just depends," he said. "Five years from now, someone will see the show because they air these episodes all the time."