John Bailey Sr. has settled into a Tuesday routine of bowling at the Brunswick Zone in Denton for the last three years.
But when it came time to head to the bowling alley this week, Bailey grew antsy as his son and teammate, John Bailey Jr., secretly was trying to buy some time before leaving the house.
When the Baileys finally arrived at the alley just before 1 p.m. Tuesday, more than 55 members of the Denton County United States Bowling Congress Association's Senior League were waiting with a surprise birthday celebration for Bailey Sr., who turns 100 years old on July 31.
The party caught Bailey Sr. off guard but he took it in stride before joining his team, the "Busy Bees," for its latest competition.
"That's really important to someone who's 100, because so many people you know aren't around anymore," said Bailey Jr., who turns 72 on July 7. "He's always extremely grateful when people come around like this. I'd almost have to tie him up to keep him from bowling on Tuesdays — he was ready to go a half-hour early, and it was all I could do to keep it a surprise."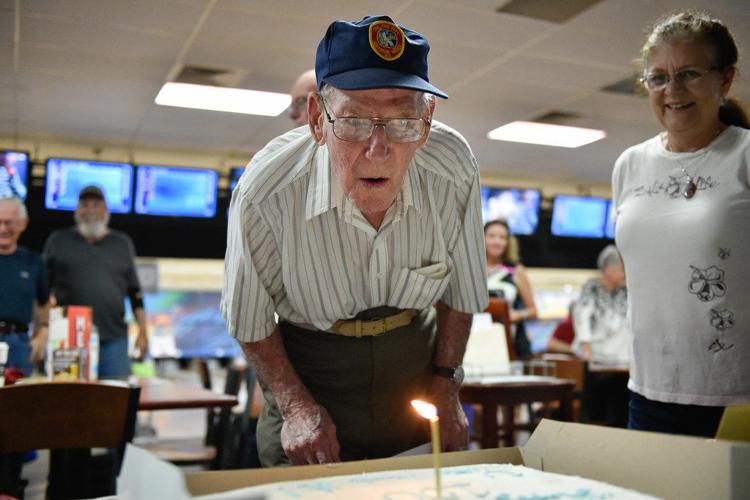 Bailey Sr. is the oldest certified member of the bowling association in Denton County and continues to stay active through his participation in the league. With an average score hovering around 139 for the year, he consistently impresses an association that includes about 2,000 bowlers — nearly half of whom are older than 50, according to association manager Tom Turner.
"It's very, very rare nowadays," Turner said. "I've got people in their 20s who can't bowl at that level. You don't get many that keep their average that high for so long. He is a very unique individual, and hopefully I can aspire to do that, too. Any bowler that's bowled competitively for a length of time hopes to do that.
"It's something that gets into your blood — just like any sport."
After growing up in Pittsburgh and serving in the Navy during World War II, Bailey Sr. moved to Texas with his late wife, Madeline, in the early 1970s following his retirement from work at U.S. Steel.
He and Madeline lived with her sister-in-law, Miriam Eggleston, for about a year before moving to Plano.
It didn't take long for the family connection to draw Bailey Jr. and his family to Texas as well, and they moved from Pittsburgh to nearby Wylie in the early 1980s. He found his way to Denton County after marrying his current wife of 24 years, Jan.
When Bailey Sr.'s second wife, Arlene, died in 2015, he moved into his son's house just outside of Justin.
That's when the father-son duo first united on a bowling team.
Bailey Sr. is a longtime bowler, having played on a regular basis since just after the end of World War II. But for Bailey Jr., the game was new and provided a fun way for the two to compete together.
"It was [getting to play with my dad], and then I came to enjoy bowling," Bailey Jr. said. "I enjoyed it, I enjoy the people here and they're all really very nice. They're serious about bowling, but they don't take it to extremes, which is nice."
The Baileys join Sharon Browning and Wanda Baker to form the Busy Bees and entered Week 3 of the 12-week summer senior league in fifth place out of 14 teams. They earned four points Tuesday afternoon with a sweep against All Fall Down, which entered the week as the league's second-place team.
Despite being the oldest player in the league, Bailey Sr. is still hard on himself if he doesn't perform up to his high standards on a weekly basis. He bowled 360 pins through three games Tuesday, which was about 16 pins per game fewer than his average for the year.
"Those two lanes we had there were tough," Bailey Sr. said. "The other team didn't do too well either. It was really oily; I couldn't get the ball to straighten out."
Although Tuesday wasn't Bailey Sr.'s best outing, Mark Rowland — the president of the senior summer league — recalled Bailey Sr. bowling a 199 on one occasion last year while competing against his team. Bailey Sr. finished last year with a 147 average, according to Denton County USBC records.
"In all honesty, I think it's unique just to see someone walk as well as he does at that age," Rowland said. "When you see him and watch him throw a ball or two — yeah, he's an older guy, but you would have never guessed 100 years old. It's like that golfing etiquette where people want to shoot their age, except he's 99 years old and bowled a 199."
Tuesday's celebration at the bowling alley was the first of several the Bailey family plans to have for the elder Bailey over the next month. Throwing the first party a month early was a way to catch him by surprise while also preparing for what will be a busy July.
The largest celebration will take place July 28, when Bailey Jr. will host a large family gathering at his home.
There aren't any additional surprises planned for the bowling alley in the near future, but the Baileys will continue to compete through the rest of the summer league. For Bailey Sr., the sport helps him maintain an active lifestyle while giving him a competitive outlet and a hobby outside of the house.
"I keep myself as healthy as I can," Bailey Sr. said. "I do a lot of checkers and jigsaw and crossword puzzles, and I used to paint. But [bowling] keeps me from sitting on my butt."