Several times a week, weather permitting, students can be seen working and learning in the garden at Immaculate Conception Catholic School.
While impressive, the garden is only part of the school's larger sustainability efforts that have made it the only Texan finalist for the national Innovations in Catholic Education Award, presented by Today's Catholic Teacher.
Student "recycle teams" gather all recyclables each Monday and fill an 8-cubic-yard recycling container each week, an outdoor learning area is in regular use and students starting in preschool are able to start helping in the garden.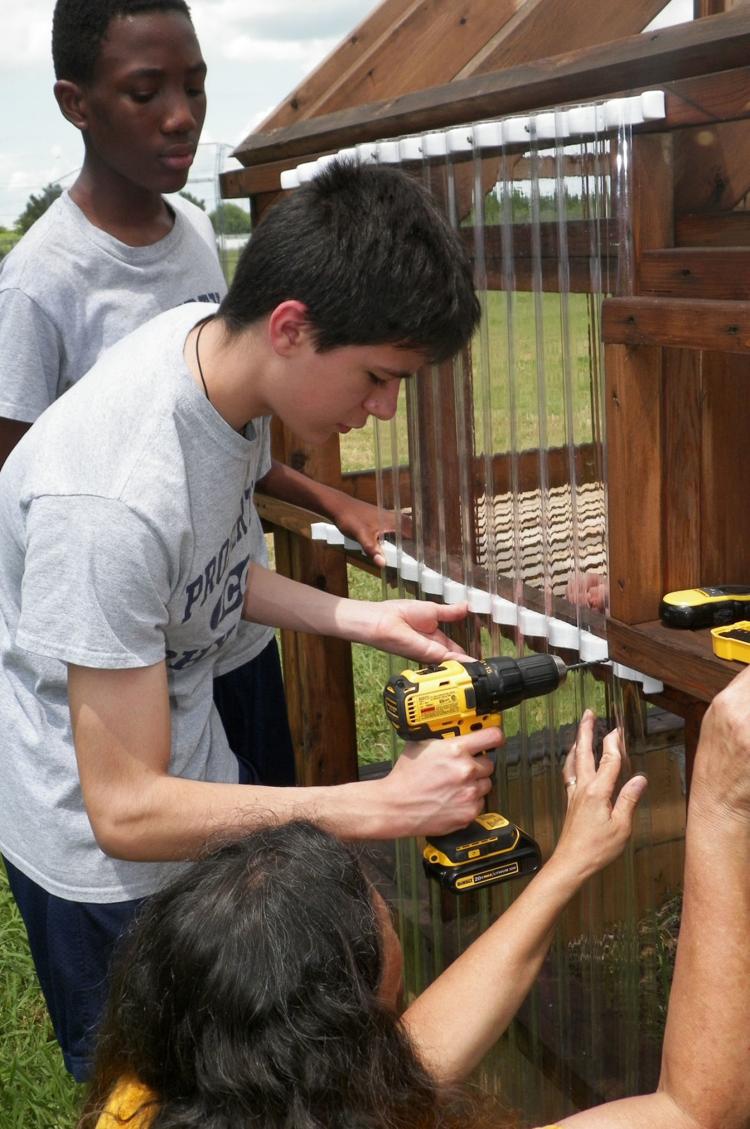 School faculty estimate the garden produces 300 to 400 pounds of food every year, all of which is donated to Our Daily Bread, a community soup kitchen operating out of St. Andrew Presbyterian Church that serves fresh meals six days a week.
Elizabeth Whitaker, known as "Chef Liz," is head chef at Our Daily Bread. Whenever students come in to drop off the food they've grown, she makes sure to give them a tour of the kitchen and explain how she'll use their donations.
"It's just so cute when they come in with all the delicious produce," Whitaker said.
Donations of food in the summer come from all over the place, and she said they're invaluable. If she ever has more food donated than can be used, she'll set up a market to hand out the food to those in need.
Tina Jezek first became involved with the school as a parent volunteer in 1997. She was hired onto the faculty in 2010 and currently fills several roles at the school.
In addition to her oversight of the gardening programs, she is also an art teacher, one-act play director and special projects director.
In the past decade or so, Jezek has seen the garden grow from a few raised beds with plastic fencing to the impressive spread it is today, with plans for expansion on the horizon.
Two gates break up the black metal fence enclosing the garden. On each is a sign welcoming gardeners and visitors to Mary's Garden. A picture of the Virgin Mary spreads her arms beneath the curling script. As of Monday morning, mesh was partially installed at the bottom of the fence to keep out rabbits that have been eating unwatched produce.
Onions, squash and sweet potatoes are just some of the current crops. A tiled shrine to the Virgin Mary sits beside a patio. Wooden benches with peeling red paint provide some seating across from a large banner, which reads "To Everything There Is a Season." The banner is made from recycled plastic bottle caps.
Nearly every part of the garden and surrounding area was made by students, and the garden is an important learning tool.
For example, science classes can use real-world examples and art classes can take in inspiration.
Having students get their hands dirty is all part of the plan. They pull the weeds, plant the food, swing the hammers and do just about anything else that needs to be done. Preschool students are paired with a "garden buddy" — a fifth-grader — to get them involved earlier.
Jezek said the younger kids aren't always physically able to help, but they're fascinated by what goes on in the garden beds.
She laughed as she remembered one pair in particular: "The preschooler's trying to dig with the shovel and he's barely scooping a teaspoon at a time, so the fifth-grader kind of has to help and then hold the plant in place and then the preschooler can kind of splash the dirt around it and pack it down."
Often times, the younger students are more interested in life in the garden other than vegetation.
"They're really more interested in the worms and the bugs," Jezek said.
She said students love what adults might see as tedious chores. In particular, they seem to enjoy raking and tilling. Composting is another top contender among the young gardeners.
Using a $500 grant from Keep Denton Beautiful, eighth-grade boys are building a greenhouse with actual drills and actual screws — though they're kept away from the power saws, for obvious reasons.
Once completed, the greenhouse will be solar-powered and, ultimately, save the school money since they'll be able to start growing earlier from seeds instead of buying seedlings.
Principal Elaine Schad said the school's sustainability efforts would never had made it this far without community support, which largely came from Keep Denton Beautiful.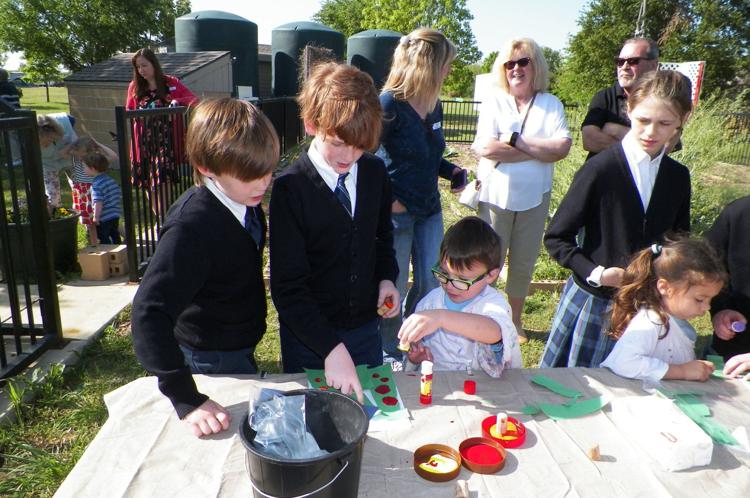 Julie Anderson, program manager at Keep Denton Beautiful, said the school has received 13 grants since 2007, totaling $5,660.
"ICCS has used the grant money for several projects over the years, including an outdoor learning area, a recycling program, a greenhouse and a garden," Anderson said. "They have done a lot of great work and KDB is proud to have provided grants for them to implement such great projects."
Eagle Scout projects have been responsible for numerous additions and renovations in and around the garden, Immaculate Conception parishioners provide both volunteer and financial support, and a group from the University of North Texas — the Seeds of Change — helped get the program out of its infancy with advice and other support.
Jezek and Schad flew to Chicago on Monday afternoon to attend the National Catholic Educational Association conference where first-place schools will be announced. They hope to learn by Wednesday evening if Immaculate Conception will be awarded the $1,000 prize for winning Total Community Involvement. Regardless, every finalist school will receive trophies, banners and more to commemorate their achievement.