For Krum resident Tom Richards, Freemasonry was a family pursuit.
On Saturday, Richards will earn a lapel pin for being a Freemason for 70 years.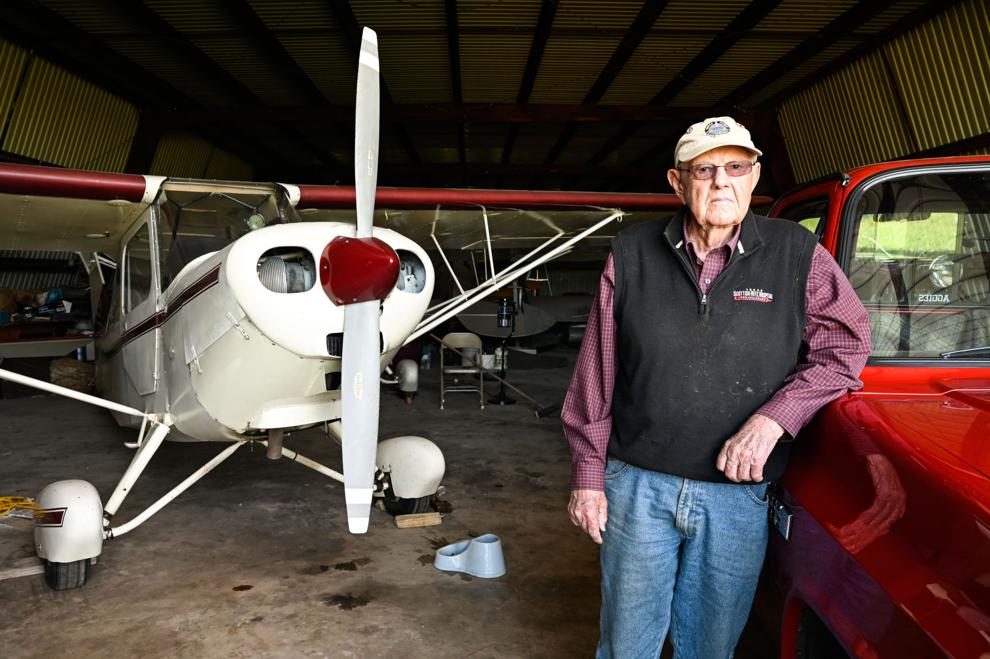 "My dad was a Mason for 70 years, and he got his 75-year pin, too," Richards said.
Richards lives on acreage in Krum where he keeps maybe a dozen cattle, a few dogs and a hangar full of airplanes and classic cars. At age 93, Richards is still active in the local lodge and still teaches flying to pilots in training. He's a member of Lodge No. 462 in Simpson County, Kentucky, and Lodge No. 1453 in Krum.
His journey with Freemasonry, a longstanding fraternal organization known both for its mystery (Masons don't divulge exactly what their lodges do) and its long history of service and charity, started in his home state of Kentucky. He grew up in a modest house built in the late 1800s and went to college on what he calls "a genetic scholarship."
"My dad had two sisters who were old maid college professors, and because of [them], I was able to go to the college where they taught," Richards said. "Everyone in my family was a Mason, it seemed like. My dad was the master of the lodge when he asked me, 'Why not become a Mason?' I told him, 'Why would I be a Mason?' I was 21 at the time and really hadn't given it much thought. But my dad said, 'Look around.' He had a point. The Masons in his lodge really were the cream of the crop."
Richards said he had become a Christian at 14 during a revival at the Methodist church in that Kentucky town.
"Then I became a Mason at the same church, just upstairs," Richards said. "Those were two important decisions for me."
While the Freemasons are something of a secret society, the members commit to serving the organization, their fellow members and their communities. There are still Masonic homes across the country, which are often retirement communities or outreach to widows and children of Masons.
"I've met an awful lot of good people in the Masons," Richards said. "They help each other, and when they aren't helping each other, they're helping other people. I tell people I'm not a very good Methodist or a very good Mason, but I'm glad to be part of both."
Richards' life as a Mason began as his career did.
At first, his studies — English, geography and agriculture — seemed to prepare him for rural life. But then he went into the military as a flight engineer through ROTC, and his life took off — literally. He went from flight engineering to flying. He worked as an instructor with Embry-Riddle Aeronautical University until he landed a job flying for Delta Airlines on Jan. 2, 1956.
"I loved every second of it," Richards said. For Delta, he flew routes between Texas, Atlanta and New Orleans.
Richards and his wife, Penny, raised two sons. Richards tends his cattle and tinkers with his dozen single-engine airplanes and classic cars in Krum between teaching flight lessons.
"I got a pin for 30, 60 and 65 years," he said. "My dad lived to be 98. Longevity runs in my family, so I might get my 75-year pin. It's just been a good bunch of people. You can trust the Masons."