LEWISVILLE — For the boaters and fishermen of Denton County, the waters of Lewisville Lake and Grapevine Lake provide a welcome respite from the summer heat. They're places where tree-lined coves offer ideal fishing conditions and wide-open waterways give skiers and tubers ample room to glide over white-capped wakes.
For most residents, the goal is to get on the water to get relief from nuisances such as scorching temperatures and everyday stresses, but for Denton County transplant Gary Dick, the goal is to go beneath the water to better manage and understand the nuisances that may be lurking there.
Dick is a research biologist with the U.S. Army Corps of Engineers Research and Development Center's Environmental Laboratory. He works from a lab inside the Lewisville Aquatic Ecosystem Research Facility (LAERF), where he specializes in understanding the ecology of native and invasive aquatic plants. He identifies, studies and sometimes helps remove nuisance plants that can hinder a body of water's ability to maintain optimal health and works to restore beneficial native species.
State-of-the-art facilities
For more than 20 years, the LAERF has been operating on the shores of Lewisville Lake — on the south side behind the Lewisville Dam, on the 2,000-acre property belonging to Lewisville Lake Environmental Learning Area.
Yet, despite its location on a popular recreational lake and the importance of its work, LAERF flies under the radar for most Denton County residents. In the scientific community, however, it is a different story. For them, the LAERF is among the best-known and most respected aquatic research facilities in the nation. Its 53 earthen ponds, 21 lined ponds, 18 flowing water raceways, three large outdoor mesocosm facilities, multiple research greenhouses and several laboratories make it the ideal place to "bridge the gap between small-scale laboratory studies and large-scale field tests."
This variety of carefully controlled facilities allows researchers to see the effects of aquatic herbicides, low-light conditions, bio-control insects and other factors. Scientists also have access to equipment that allows them to study photosynthesis, respiration and other physiological processes. An ongoing water-chemistry monitoring program and data collection units ensure accurate results.
On any given day, Dick is joined by a team of five federal employees, one contractor and as many as 10 student interns, all of whom are dedicated to improving America's lakes, reservoirs and wetlands through research and a better understanding of plant biology and ecology. The team also supports Army Corps of Engineers districts in related projects.
"Understanding ... the relative strengths and weaknesses of nuisance plants and their interactions with the environment, including native plants, is critical to developing sustainable management strategies," Dick says.
The facility sits on what used to be the "old fish hatchery," a former project of the Texas Parks and Wildlife Department. After the hatchery relocated, the facility sat abandoned for years before research biologists and managers working in the U.S. Army Engineer Research and Development Center's Aquatic Plant Control Research Program in Mississippi secured the use of the facility in the late 1980s. Dick and a number of other biologists were added to the team in 1989. Today, the LAERF operates as part of the ERDC's national lab.
Local results
The results of LAERF's efforts can be seen on Lewisville Lake and Grapevine Lake, where the team helps to restore aquatic plants in projects associated with corps lakes. If you're a longtime Denton County resident, you may remember that there was little to no vegetation around the two lakes in the early 1990s.
Aside from the aesthetic issues, the lack of vegetation also affected the ecosystem as a whole. Plants naturally oxygenate and purify waters while providing vital cover and food for a variety of wildlife, including invertebrates and small fish, which, in turn, provide food for larger wildlife. A lack of appropriate plant life can easily throw the entire ecosystem into disarray.
In collaboration with the Texas Parks and Wildlife Department, the team at the LAERF worked to remedy the issue. They added habitat-enhancing plants in shallow areas around Grapevine Lake to serve as the basis for a healthy ecosystem.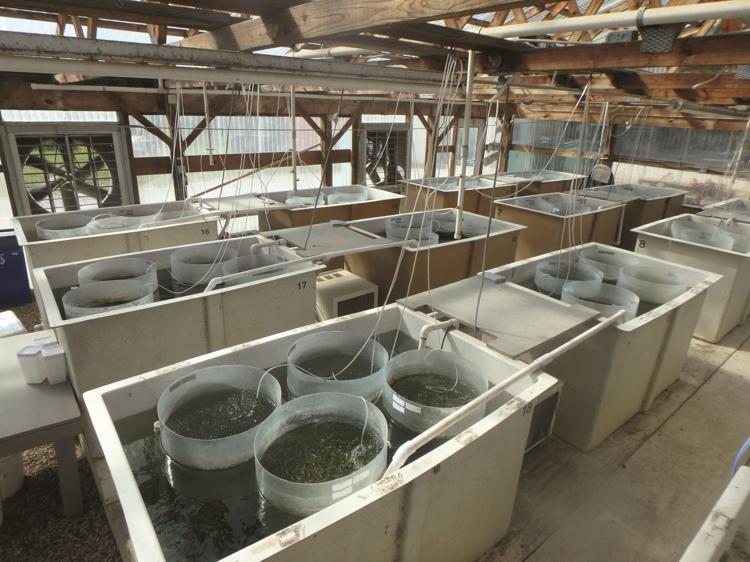 "An added potential bonus is that by vegetating these areas with desirable, native species, invasions by unwanted plants species is less likely," Dick says. "When successful, native species diversity increases, ecosystem services are improved and nuisance species management needs can be reduced."
Even more recently, the LAERF has begun planting native vegetation in the wetlands associated with Lewisville Lake. Native plants such as pondweeds, water lilies, water willow, bulrushes, spikerushes, arrowheads, Carex sedges and others have been successfully established in a few areas around the lake.
"In Lake Lewisville, we have worked more with wetlands, including, most recently, a Corps of Engineers cost-share project with the city of Frisco, that we will finish up planting this year, to restructure and improve Stewart Creek and Hackberry Creek wetlands," Dick said. "In addition to aquatic and wetland species similar to those planted in Grapevine, we've seeded and planted flood-tolerant grassland species like switchgrass, buffalograss and a variety of native wildflowers, as well as trees and shrubs like oaks, pecans, sycamores, willows, persimmons, plums, redbuds and more in areas immediately surrounding the wetlands. Some nuisance species control was needed for Johnson grass, giant ragweed and bastard cabbage in the higher elevation areas."
Vital discoveries
LAERF's work is not limited to Denton County — or even Texas. Dick and his team contribute to the health of waterways across the nation. In one Florida lake, the team worked with the U.S. Department of Agriculture and other organizations to control hydrilla with leaf-mining flies and native plants. They have also worked to manage nuisance plants in areas around Chicago and Buffalo, New York. Closer to home, they have contributed to the control of zebra mussel infestations in Texas reservoirs.
The LAERF works closely with University of North Texas researchers when their interests overlap, acting as a research destination for the school's top environmental science students. Through the collaboration with the university and a number of other key research partners, the LAERF has helped to develop management strategies that are used nationwide to control invasive species such as hydrilla, Eurasian watermilfoil, water hyacinth, water chestnut and giant salvinia.
"One of our researchers currently supplies parts of Texas and Louisiana with salvinia weevils to help combat giant salvinia infestations occurring in the Southern United States," Dick said.
Dick and his colleagues have been part of some of the most exciting findings in the industry over the years. Although the LAERF team was not the only one to make the discovery, it was a leader in determining that removing an invasive species without filling the void with something more desirable leaves an area that is destined to be invaded by undesirable species. In other words, you need to manage both invasive species and desirable species for long-term success — a vital principle in aquatic ecosystem management.
With a talented team of researchers and industry-leading facilities, LAERF — and Denton County — will continue to have a significant positive impact on America's lakes, reservoirs and wetlands. Although the facility is not staffed to provide tours to the public on a regular basis, you can learn more about LAERF and the important work done there by visiting bit.ly/theLAERF.