Today is an important day for veterans, the country and the world over. It marks Veterans Day and the 100th anniversary of the armistice of World War I.
Although the war didn't officially end for seven more months, an armistice that ended fighting between warring factions came on the 11th hour of the 11th day of the 11th month, Nov. 11, 1918, ending fighting across Europe.
Armistice Day was celebrated for decades, according to the Department of Veterans Affairs website. Unfortunately, the "war to end all wars," as WWI was known, was anything but an end to mass violence. In an effort to recognize veterans of WWII, and at the insistence of veterans' organizations, Armistice Day was renamed Veterans Day in 1954.
Numerous European countries, including France, Belgium and the United Kingdom, still recognize Armistice Day and Remembrance Day in honor of the war dead from WWI.
Denton County was deeply impacted, as was the country, by "The Great War," with approximately 1,500 men fighting out of a county population estimated to be less than 35,000. Of those men, 19 were killed in battle and a further 16 died in camp due to injuries or illness.
A fascination with flight
Thirty years before the U.S. Air Force came into existence, and a short 14 years since the Wright Brothers' first flight at Kitty Hawk, the country entered the "European War" with the first fledglings of what would eventually become the Air Force.
Two Denton locals managed to piece together their own gliders in 1909, with limited success, and five children, ages 11 to 15, got a glider airborne in 1910 — the resulting injuries were minor. One of the children, Walker Jogoe, "went on to become an ace pilot in WWI, winning a Silver Star for gallantry," according to the Retrospect, a newsletter published by the Denton County Historical Commission.
"I think the whole nation was sort of enthralled with the idea of flight, and Denton was no exception, so it was common curiosity," said DJ Taylor, a local historian.
Before construction of an airfield in Denton during WWI, few planes had landed in the area, Taylor said. Three airfields existed in Fort Worth and another in Dallas, according to the Sept. 4, 1917, edition of the Denton Record-Chronicle, but Denton would not become an official landing ground for pilot trainees until late 1918.
Denton saw a civilian death through its near obsession with flight. Silas Grant died on Feb. 4, 1918, while riding with an Army pilot for a joyride. Silas was the brother of Capt. Alfred Grant, an officer with the 27th Aero Squadron, and Silas had wanted to follow in his brother's footsteps.
Silas' father, Alfred Grant Sr., said at his funeral that "the Kaiser indirectly murdered this son and will murder my other boys and your boys if we do not join in and help destroy Kaiserism."
The false scourge of 'Kaiserism'
Fear of domestic resistance to the war was rampant. Congress passed the Espionage Act in 1917 and the Sedition Act the following year in order to censor criticism of the government or war effort.
Much like with Japanese-Americans during WWII, Americans of German descent were disproportionately affected by these acts and faced discrimination and distrust throughout the war, according to Chuck Voellinger's writing in the recent Retrospect. Unlike Japanese-Americans, no internment camp existed for German-Americans.
German language programs were removed from the North Texas State Normal School, now the University of North Texas, and Denton High School, Voellinger said.
Up to that point, Texas Germans had enjoyed relative freedom with their own German-language sermons and newspapers. A unique dialect, known was Texas-German, was developing in places across the state, such as Blue Mound, New Braunfels and Muenster.
German males of at least 14 years of age were required, by presidential order, to "register and report at intervals to the proper officers," according to a Dec. 1, 1917, edition of the Record-Chronicle. Furthermore, they were not allowed to ride trains or travel long distances without proper authorization, and the failure to register was punished with a "heavy penalty."
By the time that article was published, no Germans had yet registered in Denton County.
Much of the county's ire was channeled directly toward Germany's leader, Kaiser Wilhelm II, and his influence and following, which became commonly known as "Kaiserism" to Americans.
The April 10, 1918, Record-Chronicle referred to a City Council of Defense and quoted H.R. Wilson, a previous county attorney, as to its goals:
"The council is going to use every power it has to get a line on every disloyal man whose patriotism is even lukewarm," Mr. Wilson said. "In conjunction with other authorities, the Council is going to do its utmost to make Denton County unsafe for Kaiserism. Investigations will be made, and every report made to us will be thoroughly looked after."
The Rev. P.F. Morgan was "accosted by our reporter," when driving "in his curious looking mobiliar [sic] conveyance," according to the Record-Chronicle on Feb. 10, 1917.
"No, I'm not a bootlegger and neither am I the Kaiser of Germany," Morgan reputedly said. "Some take me for even worse things, but I'm just a plain evangelist and temperance lecturer."
The strange interaction showed that even an odd-looking vehicle, probably akin to a modern RV, was enough to provoke the constant fear of Germany in Denton County.
Paranoia of German invasion aside, little evidence of German sympathizers with the Kaiser seemed present in Denton County. An April 5 edition of this newspaper from the same year quoted "Fred Triesch, one of Denton County's substantial German-American citizens," as follows:
"When I came to this country from Germany back in 1890 I liked the country and the people and expected from the very start to make my home here and to live and die in this country. I expected to be an American and expected for my children to be Americans. ... I believe every German in Denton County expects to be loyal to the country of their adoption."
Persecution was not limited to German-Americans. The Council of Defense for Denton County sent out questionnaire cards asking citizens to report others who had been disloyal "either [in] deed or word." The process is eerily similar to Stalin's purges in Russia and McCarthyism in the United States, excluding much of the underlying political motives of each period.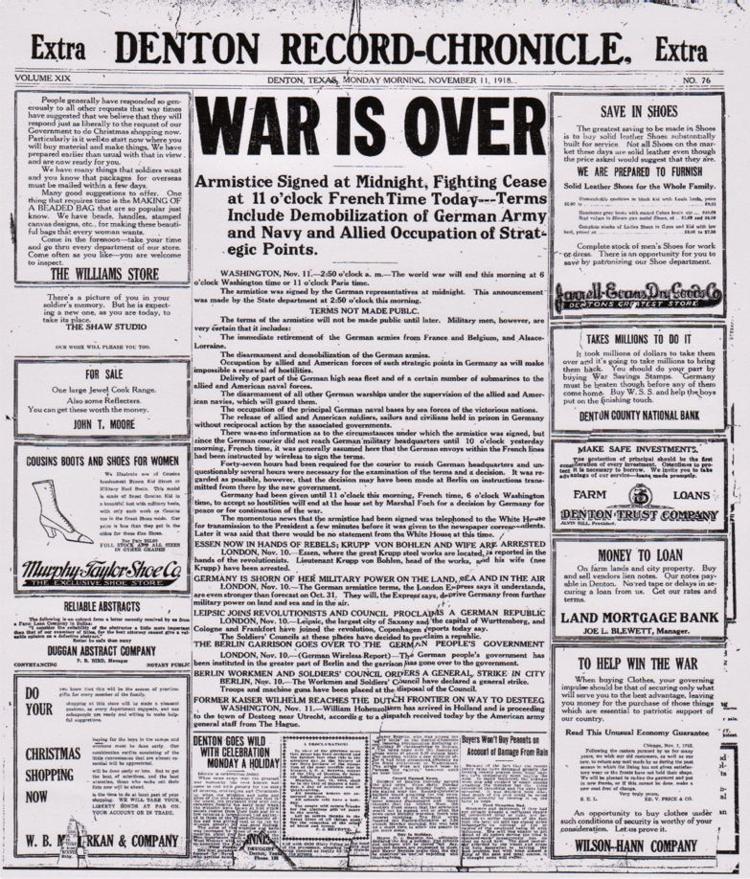 'WAR IS OVER'
An ad for liberty bonds, circulated in this paper in 1917, had called on citizens to "Wake up!"
"We are at war," it read, "and you are acting as though we were at peace. No power can stay a German victory but sacrifice — real sacrifice — on your part."
The sentiment of sacrifice was a common one during the short period the country was involved. Food rationing, public paranoia and the death of loved ones had taken a toll on Denton County.
Nov. 11, 1918, brought the war to an early close, as the U.S. had only entered in April of the previous year. Regardless, the Record-Chronicle reported on Armistice Day that "the city went wild with celebrations."
Mayor P.J. Beyette declared a holiday. Schools and businesses closed. Fireworks were shot from the Courthouse on the Square. The Kaiser was burned in effigy on the Square overnight.
It would take months for all American troops — known as Doughboys — to return by boat. On their arrival, a "Victory Picnic" was held on Aug. 2, 1919, at Lipscomb Park in Denton, according to Taylor in the recent Retrospect.
Once festivities had been cleared away, a struggle to regain normality remained. Soldiers suffered from trauma, the war economy had to be converted to peacetime, and the influx of troops led to massive unemployment.
Eventually, factories were retrofitted to feed the growing industrialized economy, and the Roaring '20s were born. Open wounds left by the Great War remained, however, and American soldiers once again returned to Europe within 25 years to fight Germany, this time under the control of the Führer.