O'Neil Ford was 12 when his father died in a railroad accident. Belle Ford moved her children from Sherman to Denton. Having grown up near Krum, she hoped Neil, Lynn and Authella could attend college. Belle bought a bungalow house to take in boarders at the corner of West Sycamore Street and Avenue D, now North Texas Boulevard. The house was eventually razed to build apartments, but in 1917, fields west of the house were clear all the way to Justin.
Denton made an impression on O'Neil Ford, and he endowed Denton with an architectural legacy.
Although they were poor, the Fords had a milk cow and vegetable garden. Children raised funds making posters for college students and chalk talks for faculty members. Neil ran a cold drink stand on Avenue D, doing odd jobs that taught him to identify different woods by smell.
Neil, Lynn and Authella did performance art. Posters advertised a spectacular launch of 760 airplanes made from Sears catalog pages from a live oak tree. Litter complaints prompted a reward to whoever could collect the most airplanes, recycled into a shy neighbor's outhouse.
Neil hated his given name of Otha Neil. He reinvented it to O'Neil after a teacher wrote it on a paper. Upon graduating from Denton High School in 1924, he studied literature and physics at North Texas State Teachers College, now the University of North Texas. While cheerleading and writing for the Yucca yearbook, O'Neil worked as a handyman building concrete benches behind the auditorium.
Because NTSTC didn't offer architecture, he enrolled in the International Correspondence School. Authella found him asleep as his desk many mornings after he studied through the night. O'Neil, whose claimed his college motto was "To hell with Harvard, to hell with Yale, we get our learning through the mail," proudly displayed his ICS certification throughout his life.
Unable to afford NTSTC tuition, O'Neil dropped out. At the College of Industrial Arts, now Texas Woman's University, faculty member Mary Marshall opened the library to him. He inhaled architectural publications.
According to Roland Laney, Ford met David Williams during construction of the Denton Presbyterian Church. Ford appeared at Williams' office in 1926, two years after sending him a letter. While he waited, Ford made corrections on the Presbyterian church plans. After asking where Ford had been, Williams hired him that day. A well-respected Dallas architect, Williams became Ford's mentor. The pair hung out with Dallas' elite developing regional architecture, a timeless style using locally sourced natural materials that related to the landscape.
Ford maintained Denton ties. He and Lynn built the NTSTC gazebo in 1928 with materials from Evers Hardware. That year, he designed NTSTC's art deco open-air theater, whose opening was attended by an audience of 4,000, the scene of Saturday night performances. According to Mike Cochran, a bell tower Ford designed that was never built might have established a unique aesthetic for UNT. Ford designed Mary Marshall's house at 1819 N. Bell Ave. in 1929. He eventually designed college buildings at Skidmore College, Trinity University and the University of Dallas. The original Trinity University campus is a National Register District to honor Ford's designs.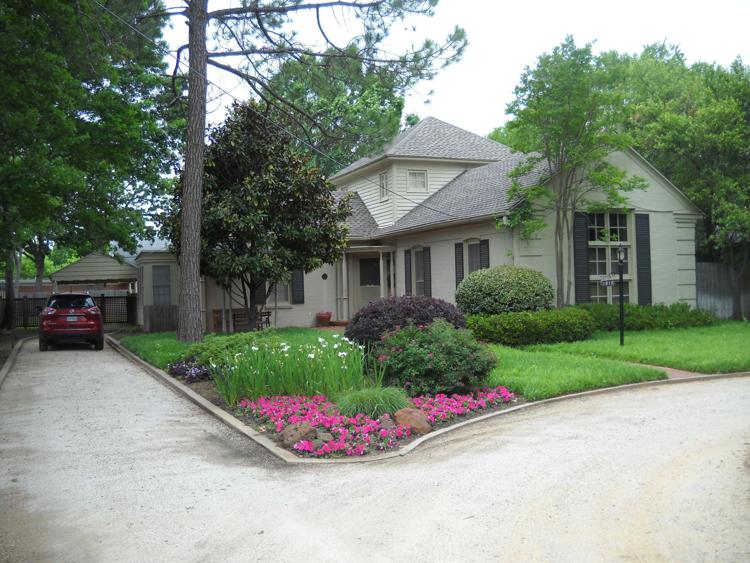 In 1938, Ford partnered with Arch Swank. They built the house a real estate agent erroneously attributed to Frank Lloyd Wright at 2280 W. Oak St. In 1939, he built a house featured in Pencil Points at the corner of Avenue D and Chestnut Street, moved to 1712 Highland Park in 1967. They also designed 220 Marietta St. and a house for Authella that received rave reviews from architectural critic S.B. Zisman. Ford and Swank attained national prominence for Little Chapel-in-the-Woods.
In 1939, while revitalizing San Antonio's La Villita, Ford met and married Wanda Graham and never returned to the Denton area. He joined the Army as a World War II flight instructor in San Antonio.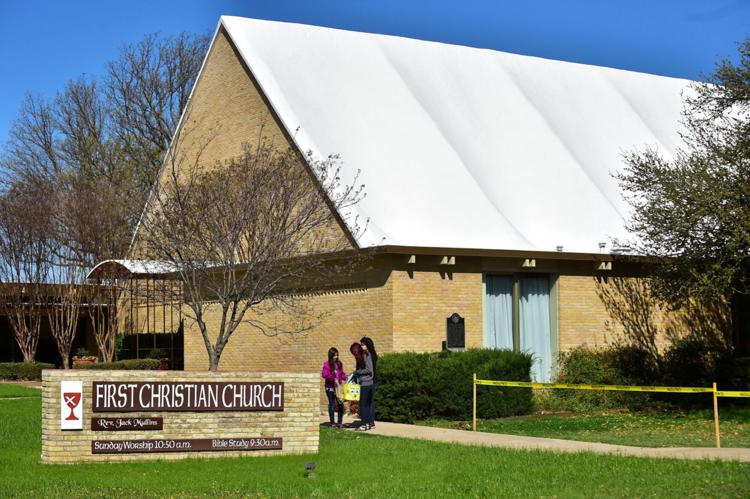 In 1959, Ford designed Denton's First Christian Church. Ford, Swank and Laney designed the Fairhaven in 1963. Ford designed several buildings at the Selwyn School, Denton's City Hall, Civic Center and swimming pool. He also designed a 1969 addition to the Emily Fowler Central Library. Laura Douglas wrote a Texas Historic Commission marker to commemorate Ford's library design.
Ford built many structures in Dallas and San Antonio. He designed San Antonio's Tower of the Americas as coordinating architect for the 1961 Hemisphere.
Famous for fantastic excuses for missed meetings, Ford could excite passion and provoke anger, sometimes simultaneously. Ford received honors nationally and in Dallas and San Antonio: He was named a 1960 American Institute of Architects Fellow, received an honorary doctorate from the University of Dallas and named a National Historic Landmark in 1974, the only person to gain that distinction. In 1983, the Texas Society of Architects voted the Little Chapel-in-the-Woods one of Texas' most architecturally significant buildings.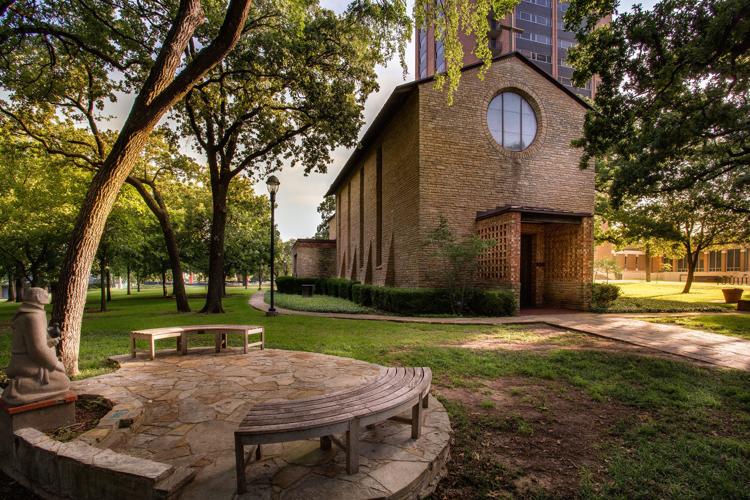 He's arguably the most famous American architect. Williams, his mentor, considered Ford his greatest contribution to architecture. He took inspiration from Denton's Courthouse on the Square: "I was in Denton just the other day and went over to look at the courthouse again, and I still don't know how they ever got that blessed thing up."
Ford died in San Antonio in 1982 at age 76. His funeral was held on the campus of Trinity University in San Antonio, in the chapel he designed.
Although some structures have been destroyed, Ford's legacy survives in Denton. According to Mike Cochran, "If we are wise people and good stewards, we will honor that legacy and not squander it in a hell-bent drive for new development."