The Texas Legislature moved the Denton County seat to sparsely populated Denton in 1856 so that county courthouses could be a one-day horse ride apart. The following year, county residents erected a wood-frame courthouse on the north side of the present-day Square. It burned on Christmas Eve 1875, destroying most of the county records.
Denton had abundant land in American Indian territory and plentiful water via underground aquifers. It sat in the Cross Timbers ecological region full of oak and hickory trees. The only thing the new county didn't have was a city.
Denton County needed Denton to become a city; the two entities have historically shared more than a name. Denton's early land came from five Republic of Texas army veterans. The Republic paid soldiers with land 20 years after their service because it lacked funds to pay them.
In 1856, three Republic of Texas veteran landowners donated 100 acres to create the original town of Denton: Denton's Square, South Elm and South Locust streets. W.C. Woodruff donated the eastern 20 acres he purchased from veteran William Neill. William Loving, a Pilot Point volunteer who served the Republic of Texas and the Civil War, contributed 40 acres to Denton. Hiram Cisco, who lived in Denton with wife Elizabeth and two children, donated another 40 acres adjacent to the other donations.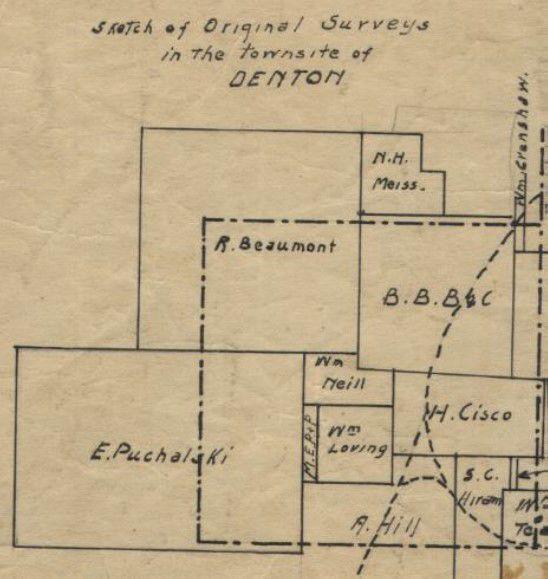 The first lots around Denton's Square were auctioned in 1858. That year, Woodruff's widow, Louisa, platted and sold 14 lots comprising her husband's remaining 80 acres from the William Neill survey. That spurred development on present-day West Oak and West Hickory streets.
In addition to land donations creating Denton's downtown area, two more veterans sold land west of downtown to generate income; it's unlikely either man ever visited what would become Denton. Eugene Puchalski and Robert Beaumont each earned 1,476 acres for service to the Republic of Texas after the 1836 Battle of San Jacinto. Puchalski immigrated from Germany to New Orleans, disembarked from his boat, and answered the call for Texas' army volunteers. Beaumont also joined the 1st Regiment. Puchalski and Beaumont were stationed together on Galveston Island.
Republic of Texas Secretary of War Albert Johnson issued Puchalski's Texas military bounty certificate on March 1, 1856, as compensation for his year of service. His land began at present-day Bernard Street, extending north to present-day Scripture Street, including the University of North Texas and residential neighborhoods around UNT.
Beaumont's military bounty land grant was issued on March 30, 1856. His land north of the Puchalski survey became the neighborhoods north of Scripture Street.
Denton incorporated in 1866 following a post-Civil War population surge; it was no longer a frontier by 1870. Denton's prime real estate started at the Square and filled present-day South Elm and South Locust Streets with early pioneer family homes. Residential areas expanded to North Elm and North Locust streets. The city of Denton first appeared on the U.S. Census in 1870 with 361 persons, including 321 white people and 32 formerly enslaved Black people.
In 1881, Denton's first railway, the Texas and Pacific, linked Denton to major cities and promoted its place as an agricultural center. As farms and ranches prospered, merchants and banks established Denton's commerce.
Randy Hunt contributed research to this article. ANNETTA RAMSAY, Ph.D., has lived and worked in Denton for many years.