Andrew Jackson Hitchcock's grave in the northwest corner of Denton's I.O.O.F. Cemetery is marked by a white obelisk proclaiming, "Was with Col. Fannin at the Goliad Massacre and escaped." Hitchcock fought in the Texas Revolution, and he was arguably Denton's earliest veteran.
He rests in peace, a good man who lived a rough life.
Born into a wealthy family in Georgia, Hitchcock came to Texas in 1835 in his early 20s with 112 Georgia Battalion volunteers, joining Col. J.W. Fannin.
The Alamo fell in a 90-minute battle on March 6, 1836, killing at least 189 Texians and 600 Mexican soldiers.
The Georgia Battalion fought numerous battles, facing the brunt of Mexican President and Gen. Antonio Lopez de Santa Anna's army after the Alamo. They ran out of ammunition, surrendered on March 19, and joined Fannin's men who were already inside a Goliad mission. Goliad is sometimes called "The Other Alamo."
The Other Alamo
At dawn on Palm Sunday, March 21, 1836, 445 Texian soldiers stripped of weapons were marched out of the mission under heavy guard, believing they were being freed. They were halted after marching half a mile, and approximately 800 guards began firing at close range, killing most, and clubbing those who didn't die immediately. Mexican soldiers immediately began stripping bodies of clothing and valuables. After witnessing his men's deaths, Fannin was taken to the mission. Despite his requests, he was shot in the face, his gold watch pocketed and his body burned.
The distraction allowed Hitchcock, who wasn't injured, to run. He was chased toward a high stockade fence, which he believed he couldn't have climbed without the aid of sheer terror. Using vegetation for cover, he made his way to the San Antonio River, cautiously working downstream until he evaded the soldiers.
Soldiers scouring the countryside for survivors recaptured him and four other Texians the following day. For the rest of his life, Hitchcock believed he and the others were the only survivors of the Goliad Massacre, but historians place the number of survivors at 27.
The men plotted their escape. Their first plan was discovered before they could execute it. Although they were watched more closely, Hitchcock gained the guards' friendship by giving them most of his rations.
One evening after dusk, soldiers and prisoners were given rations of rum. While crossing a river under darkness, Hitchcock and another prisoner, referenced only as Gamble, slipped off the wagon, diving and swimming away from their captors.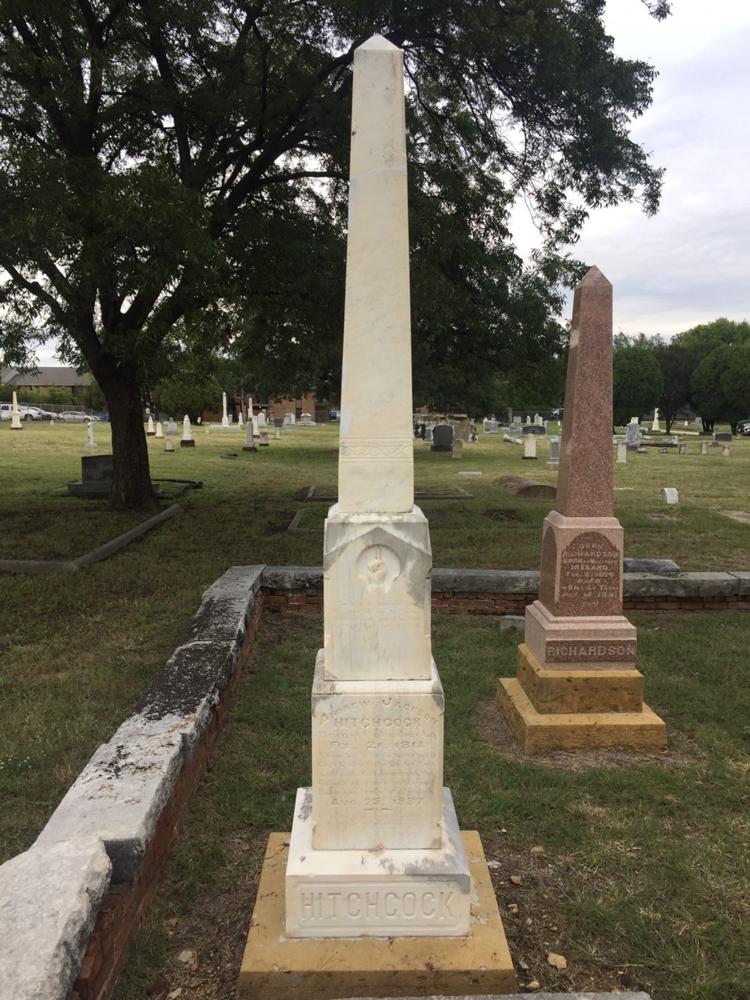 On the run
Hitchcock and Gamble traveled day and night to avoid recapture, travels that were worse than captivity. Their only food was raw horned frogs and turtles. They reached a settler's house eight days later, but it was unoccupied because the owner had taken his family to safety. The men started a fire and ate from the cabin's provisions, resting and recovering for several days. As they were leaving, the owner returned, and their excitement almost caused the owner to mistake them for hostile Indians.
The men learned that Sam Houston had taken Santa Anna prisoner in the Battle of San Jacinto, and that Mexican troops were withdrawing. Although the settler wanted him to stay to help with his ranch, Hitchcock was anxious to get back to Houston's army. He returned and was discharged as a colonel.
Texas couldn't pay soldiers, so Hitchcock received land grants for his service in 1854, 17 years after his honorable discharge. He received the largest amount of land given to any soldier: 1,280 acres in Denton and Wise counties, now present-day Lewisville and Stony.
After the revolution
Hitchcock went home to Georgia, returning to Texas in 1837. He eventually moved to Louisiana, marrying Sarah Ann Ezille when he was 45 years old. Hitchcock acquired extensive land holdings and became prosperous near Shreveport, Louisiana. Tragedy struck again when his entire family contracted yellow fever, and his wife and children died within days of each other.
After burying his family, the Civil War left Hitchcock struggling financially under Reconstruction and carpetbag rule. He moved to Brazil to start a colony where friends could rebuild fortunes under better conditions, finally concluding that plan wasn't practical.
Denton is home
Eventually, Hitchcock moved to Denton, living modestly off the sale of his land holdings. He lived in the James Hotel on Oak Street, just east of what was the City Hall (the present-day site of Summit climbing gym).
On Aug. 25, 1887, a fire consumed the rooming house, incinerating Hitchcock's body. An arson investigation began before the smoke cleared. Hitchcock was known to have several hundred dollars in gold coins from the sale of some of his land. His charred body and gold buttons were found, but the gold coins were missing. Two men were arrested for murder after the new owner confessed to starting the fire to collect insurance. Both men were eventually acquitted.
Hitchcock, age 73, burned to death in Denton 50 years after his service to Texas. Citizens of Denton were sad to learn of the death of a man they considered lovable, gentle and noble.