LAKE DALLAS — Residents of a unique community in Lake Dallas have quarantined from the rest of the world during the COVID-19 pandemic — but not from each other.
The Lake Dallas Tiny Home Village is home to 12 — soon to be 13 — families, each in their own small houses up to 340 square feet big on about an acre of land. Couples and families moved in with the hopes of finally living in their dream homes while also forming a tight-knit community.
"Even living in an apartment, you rarely see your neighbor," resident Luis Chavez said. "You don't even know their name. … And here, it's like, everybody knows each other. Everybody says hi, good morning."
The tiny home movement encourages living a simpler life in a smaller space, according to Tiny Home Builders. People "go tiny" to be more sustainable, decrease home maintenance, be more mobile and save money.
The Lake Dallas tiny homes are nestled in a neighborhood near Lake Dallas City Hall. A sign outside the fence advises passersby not to trespass. Trees provide natural shade, while the kids run around and the adults catch up. A camp-style sign inside points residents to the laundry, garden, trash, fire pit, recycling and the backyard.
Saturday afternoon, Marek and Ko Bush were preparing to grill food, Janessa Hook was walking her dog Tracker, and other residents were chatting in chairs set up in between their houses. This is a typical day in the village.
Stay-at-home orders encouraged gathering only among the residents. Morning coffee outside and movie days with a feature film projected onto a wall were normal occurrences. As residents have experienced financial hardships and are limiting their time outside the village, Rick Schon said stay-at-home orders accelerated the bonds they already had.
"During quarantine, we've been quarantined within here," Micah Eady said. "We've had more frequent cookouts and movie nights. Those have become kind of an every-weekend thing since the quarantine."
When they do go out, Chavez said they take precautions and also text each other if they're at grocery stores to pick up necessities for others to help limit exposure. Hook said they've also had groceries delivered.
"I usually change before I even come in the house [from work] to minimize the exposure to our partners and everybody else here," Chavez said.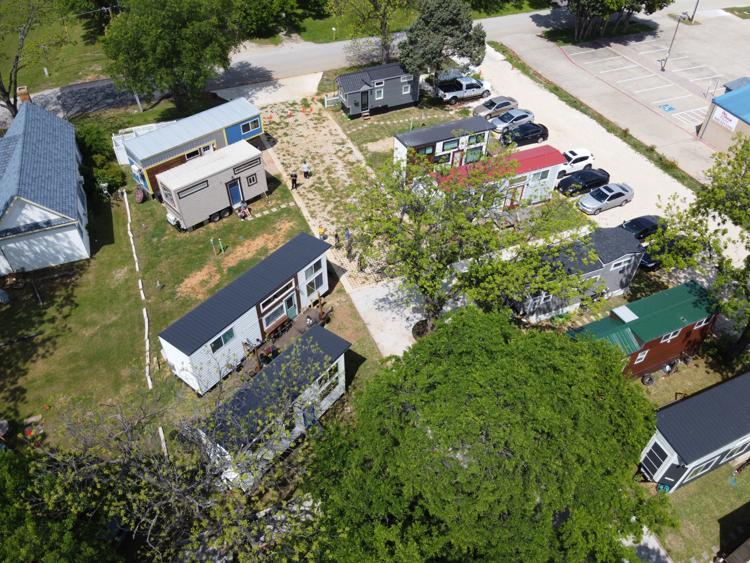 Chavez and Eady are both essential workers, and Eady works in health care.
"There's a sanitation process when I come home," Eady said. "I come home, and nothing from work enters."
Some residents such as the Bushes and Rani Chavez were furloughed, and school closures led to the children in the community being home all day splitting their time between home school and play.
"We were both furloughed from our jobs, so we've been [home] pretty much the entire time," Marek Bush said about his and his wife Ko's situation. "We've been taking to some of our other hobbies to keep busy."
One of these hobbies includes uploading to their shared YouTube channel, Living Tiny with the Bushes.
"Having such a tight-knit community has been really helpful in keeping our sanity," Katilin Scraub said. "I can't imagine if we were still living in our own house."