Three years ago, Ashley and Daniel Barkley were the first homeowners on their street at the Preserve at Pecan Creek, a subdivision in southeastern Denton. When moving, Ashley Barkley said, it was never a consideration that their access to high-speed internet, a service their family enjoyed at their previous residence at the Preserve about a mile away, would not move with them.
An informal staff report to the Denton City Council on the availability of high-speed broadband internet in Denton identified areas that are without access. Broadband is defined as internet access via methods such as digital subscriber lines, or DSL, fiber optic, cable and satellite services.
Listed in the report includes Section B of the Preserve at Pecan Creek. The affected area consists of at least 14 homes in the 6400 block of Crapemyrtle Drive, the 4800 block of Crossvine Court and the 4900 to 5000 block of Swisher Road, according to an updated report to the City Council from May.
Ashley Barkley is a licensed mental health counselor for children entering the Texas foster care system and provides evaluations remotely from her home via video chat services, she said. Without access to high-speed internet, she said, her productivity and the privacy of her patients are affected because of the unreliable nature of their internet service.
"I told my husband, 'How can I work from home?' Say the internet is out and I need to go somewhere. Where am I to go?" she said. "Some people can go work at Starbucks, some people can work at the library. I can't do that with confidentiality. I can't do that with HIPAA [health privacy rules]."
Barkley's service is provided via DSL by Grande Communications. Poor broadband quality leads to another concern for her when she's conducting evaluations from their home — the risk of further traumatizing a child who has just entered the foster care system, she said.
"They don't know me. They don't know who I am, and I have to say, 'Can you say that again? Can you say that again?'" Ashley Barkley said about low speeds when using video chat to evaluate patients. "Say they are discussing abuse. I have to ask them three, four, five times because my internet is that bad."
When she tested broadband speeds at their home, she said, download speeds registered at an approximate 4.88 megabits per second (mbps). High-speed internet is defined as a download speed of at least 25 mbps, according to the Federal Communications Commission.
In the recent months and weeks, residents affected by the lack of reliable high-speed internet at the Preserve have voiced their concerns and frustrations to the Denton City Council.
Connie and Lester Hudson addressed the council during a meeting in early May about their experience without high-speed internet at the Preserve. Connie Hudson said her concerns are not necessarily about convenience but rather an impact to their productivity.
"It is not just about the conveniences we have come to take for granted," she told the council about activities such as banking, shopping and paying bills. "It is about productivity, like working from home, or entertainment like watching TV, or streaming music and video and watching live feeds of City Council meetings."
Connie Hudson, who works in mortgage industry, requires a virtual private network, or VPN, for security reasons when working from home, she said. However, gaining access to their VPN was "nearly impossible," Lester Hudson said, because of the poor service quality of their internet provider.
HughesNet delivers satellite internet service to the Hudsons' home, he said. The quality of their internet service is often slow or intermittent, Lester Hudson said, because of their provider's low bandwidth provisions.
Lester Hudson, whose background is in computers and telecommunications, said there are inherent disadvantages to satellites compared to other broadband services. For example, a storm on the other side of the globe can affect the quality of their internet service, he said.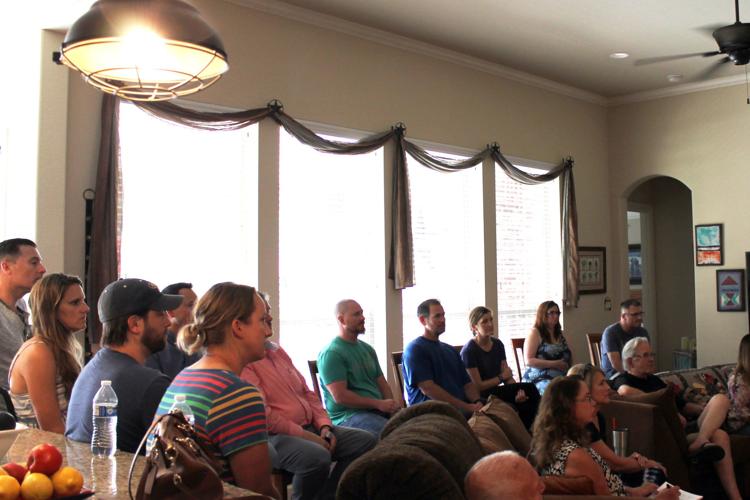 During a neighborhood meeting Monday at the Hudsons' home at the Preserve, city officials met with residents to discuss additional concerns and provide updates on prospective services that providers are considering. In attendance were Stuart Birdseye, assistant to the city manager, at-large council member Deb Armintor and Melissa Kraft, the city's chief technology officer.
A predominant concern among residents — aside from aspects pertaining to entertainment, social media, convenience and productivity — was their homes' safety and security. Many neighbors say the lack of reliable high-speed internet means they can't use many features designed to protect their houses.
"We can't have security cameras on our home," Ashley Barkley said. "When we first moved in, [Daniel Barkley] put security cameras in, but we kept getting notifications, like alarms going off that would say, 'Motion 11 minutes ago.'"
During the meeting, Birdseye said the city of Denton is in discussions with internet providers CenturyLink and Charter Communications to determine if high-speed internet access can be expanded to residents at the Preserve. However, he said that both providers have requested certain caveats from residents prior to expanding services.
CenturyLink, according to Birdseye, requested an additional contribution of at least $42,500.
This expense, he said, could not be paid for by the city of Denton because of limitations on what cities can demand of providers and, in turn, what can be provided to residents by the city.
For reference, if the city were to cover the additional amount requested by CenturyLink, it would amount to an unconstitutional gift of public funds, he said. Instead, residents at the Preserve would have to cover the costs of CenturyLink's requested contribution themselves or obtain a neighborhood empowerment grant to help reduce costs, he said.
Denton's Neighborhood Project Matching Grant aims to empower residents to improve quality of life through citizen and government partnerships. Grant funds are awarded on merit with a maximum $10,000 per project, according to the city.
As for Charter, Birdseye said, the service provider has requested "letters of interest" from affected residents to determine whether a large enough market exists for expanded service at the Preserve.
Concluding Monday's meeting, Armintor said that in today's world she views internet access as a basic utility, similar to electricity or water. Although the city operates as a facilitator in discussions with providers and is limited in what it can provide, Armintor said she'll continue to advocate for and work toward a solution for Preserve residents.
The Denton City Council will discuss broadband availability at the Preserve during a work session July 16 at City Hall, according to a future agenda item. The council expects to receive updated reports from internet providers about potential services and next steps, according to Armintor.