ARGYLE — When you have been in one place as long as Todd Rodgers has been in Argyle, eventually people start to become familiar with you.
When you win 209 games in 18 seasons and are on the verge of making your sixth state championship game appearance, you become more than a familiar face.
You become instantly recognizable.
For Rodgers — the man responsible for turning Argyle High School into a football dynasty — that has become his reality. Even when he's saddling up to a plate of ribs at 407 BBQ on a Friday afternoon, Rodgers is noticed by loyal Argyle supporters.
Twelve consecutive district titles and an active 57-game regular season winning streak will do that, though.
And in Argyle, where the Eagles are getting set to square off against Lindale on Friday night for the Class 4A Division I title, Rodgers has become more than just a coach.
He is a staple in a community that has an insatiable thirst for winning.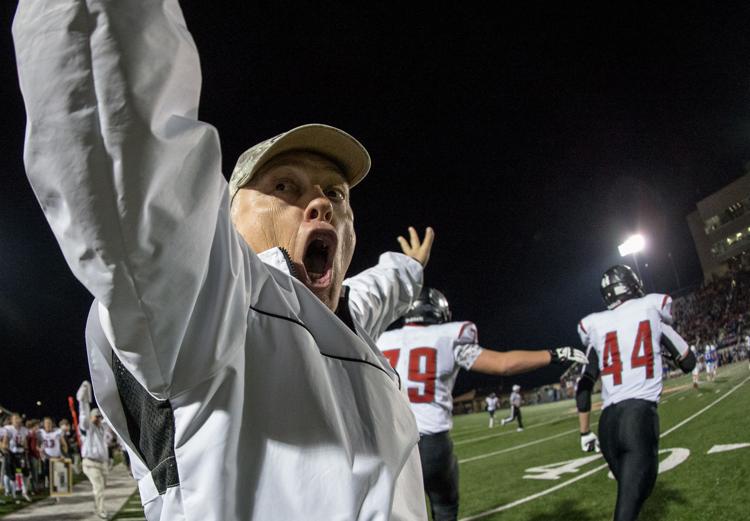 "I've had tons of outpouring of support from people I've never even met before," Rodgers said. "I'm eating in my traditional barbecue place last week on Friday, and they just told me, 'Good luck, coach. Get after 'em tonight.' And I've never even seen those people before. It's good. It's awesome. I'm glad that I'm the representation for Argyle football, and they recognize me.
"I don't know if they have a kid at all, or if they have a kid in sixth or seventh grade that is looking forward to being in high school. I don't know their circumstances, but if they're telling me congratulations at lunch on Friday, it's on their schedule and calendar. It's important to them."
The birth of a legend
To understand just how impressive Rodgers' tenure at Argyle has been, you first have to go back nearly two decades.
Rodgers was hired at Argyle in April 2003 after a nine-year stint at Flower Mound Marcus High School under the legendary Que Brittain, whom Rodgers dubs as his mentor.
Rodgers made two state title game appearances while at Marcus as the Marauders' secondary coach, winning the 1997 Class 5A Division I championship with a 59-20 victory over Alief Hastings High School. At the time, Rodgers' plan, at least internally, was to stay at Marcus and one day become the head coach.
But on the advice of Brittain, when the Argyle job opened up, Rodgers jumped on it.
"I trusted his mentorship in saying, 'That would be a great job for you. You would fit well at Argyle,'" Rodgers said. "Dr. Telena Wright was the principal out here. I had worked with her at Marcus. I got hired, and I was given latitude to build it the way I wanted to build it.
"On the flip side of the coin, I was a young father who knew I was going to have girls and boys come through the program — my own children. Not only did I build it the way I experienced it, I built it with the care and understanding that I wanted an environment that was great for my children to be in."
When Rodgers arrived at Argyle in 2003, the Eagles were coming off a 1-9 campaign in their first varsity season. Wright, who is now Argyle ISD's superintendent, knew Rodgers was the man for the job — and that he could elevate Argyle's program to new heights.
"I knew the potential he had to achieve this kind of success. I knew it even then," Wright said. "I knew him of course from Marcus High School in Lewisville ISD. I knew that he had very good professional judgment. I knew he had the ability to connect with students and parents in a very engaging way."
That ability to connect led to immediate success.
Argyle reached the Class 2A Division I title game in Rodgers' third year in 2005. The Eagles narrowly fell to Newton 28-20, finishing as the state runner-up.
But by that point, Rodgers had all the confidence he needed that he could turn Argyle into a perennial contender.
"When you're youthful and gung-ho, I think you have natural optimism that you can grow the program and blossom it into whatever you want it to be," Rodgers said. "They were craving success out here in extracurricular activities. I had immense community and parental support in the early days. Of course, that just fed my ego. They wanted to win as much as I did. We were all pulling the same direction, so that's why it was able to escalate, grow and blossom at such a rapid pace. Everybody wanted the same thing."
The tip of the iceberg
After Argyle's first state championship game appearance in 2005, the Eagles found themselves stuck in a rut.
Over the next three years, Argyle never made it out of the third round of the playoffs. Then, in 2008, the Eagles lost to Kaufman in the area round.
Andy Smith, Argyle's longtime public address announcer who was brought on when Rodgers was hired in 2003, interviewed Rodgers after the disappointing loss.
Smith said more than anything, he recalls Rodgers feeling like he let the team down by not raising the bar enough.
"I remember the pivotal moment for this was in 2008," Smith said. "[Rodgers] walked out of there going, 'We were a better team than them.' He took responsibility for it. He said they could be a good team, or they could decide to be a great team. He said, 'I'm changing everything.'
"That's where it really started."
In a matter of minutes, Rodgers' already lofty standards and expectations had been elevated.
From the way Argyle trained to the food its athletes ate, Rodgers was looking for any way to give his team an edge. He began modifying workouts and diets, and he also focused on hiring the best assistants he could find.
It took less than a year for the Eagles to start seeing results.
"I think it goes back to I am able to hire good football coaches," Rodgers said. "They're loyal to the vision I'm sharing. A little bit of this perpetuates itself. There has just been an expectation because kids grow up in our community looking forward to being out on that field when that band is playing and enjoying varsity football. This vision is to be a part of something bigger than yourself."
In 2009, Argyle went undefeated in the regular season for the first time — a feat which began the Eagles' streak of 12-straight district championships, which is still active today.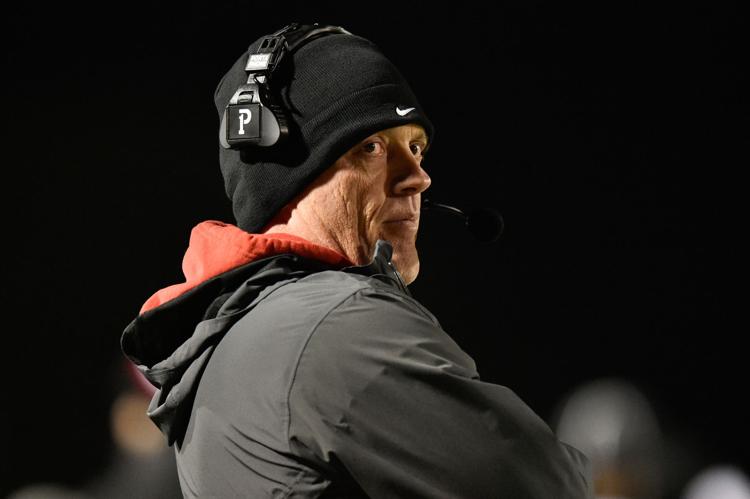 Three seasons after losing to Kaufman in the second round of the playoffs, Argyle was back in the 2011 state championship game, this time at the Class 3A Division II level.
The Eagles fell to Wimberley 21-14, but only after future star Ian Sadler tore his ACL and current North Texas quarterback Austin Aune battled severe flu-like symptoms during the game.
Argyle still hadn't claimed the ultimate prize, but the standard had been set. The Eagles were on the precipice.
In his first nine seasons as head coach, Rodgers had been to two state title games.
But as the community would soon find out, he was just getting started.
"It's not normal," Smith said. "I sort of want people to realize how unique and special this is — and how they should never take it for granted. It's one thing to do it once or twice, it's another thing to do it over that many years."
'It doesn't happen without him'
Argyle wasted little time getting back to the state title game after losing a heartbreaker to Wimberley in 2011.
In 2013, with Sadler now a senior, Rodgers led the Eagles to a 38-33 win over Fairfield to claim the 3A Division II crown.
The victory — which to date is Argyle's first and only championship — was 10 years in the making for Rodgers.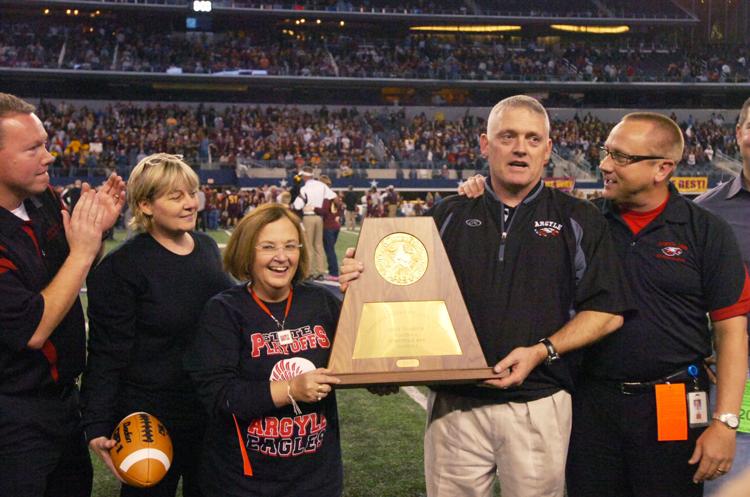 "It doesn't happen without him," Argyle secondary coach Ricky Griffin said. Griffin is also the head coach of Argyle's baseball team and has been at Argyle since 2005. "The success we've had here doesn't happen without him. Now, he's also surrounded himself with coaches that believe the same way he does. But at the end of the day, this is his program. He runs the program, and therefore, he makes the decisions. If something doesn't work out, he'll take ownership of it.
"But the cool thing is, most of the time, they work out."
Over the next two years, Argyle made two more appearances in the state final, only to lose in dramatic fashion. The Eagles fell to Navasota 42-35 in double overtime in 2014 and then to Waco La Vega 33-31 in 2015.
Rodgers had built his machine — and he did it on the back of tough love.
"Coach Rodgers is the best coach in the state and in the nation," Argyle senior running back Tito Byce said after the Eagles' semifinal victory over Canyon last week. "I think he's amazing. He's the heart of our team, pretty much. He just makes us work as hard as we possibly can. We love him, and he loves us back. He treats us like we're his own kids."
It has been five years since Argyle lost to La Vega in the 2015 4A Division I title game. In that stretch, the Eagles have gone a combined 64-4, including a perfect 15-0 mark this year.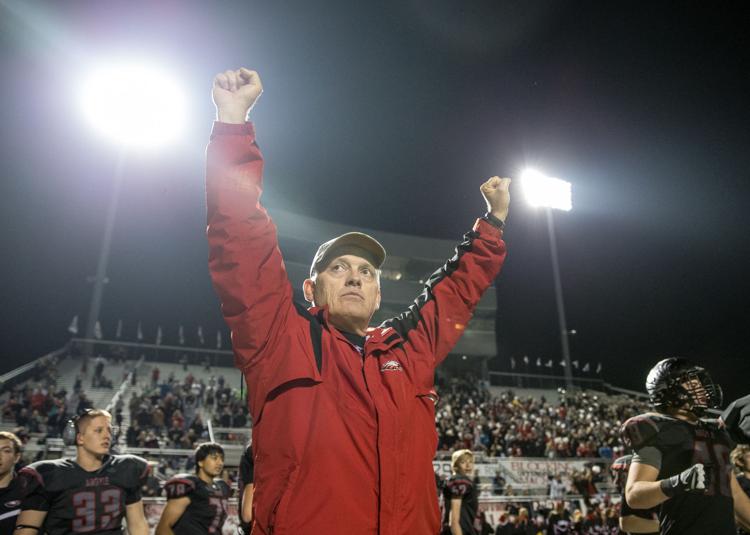 Rodgers, meanwhile, has compiled an overall record of 209-37 in his 18 seasons. His 210th win, if it comes on Friday night at AT&T Stadium, would secure Argyle just its second state title in school history.
Ask anyone around Argyle, and they will tell you no one wants to win more than Rodgers. But they will also tell you in the same breath that no one cares for their players the way Rodgers does.
And to many, that has been the formula for how Rodgers turned a small town just south of Denton into a football dynasty.
"I think we have really good kids," Rodgers said. "I'm glad that they feel proud to be from our school. I coach them really hard, and I create chaos in their lives, but I think they're able to see my underlying love for them and go apply it, and never be offended by how hard I coached them. I'm tough at different times, and I'm very demanding. They have to know that I'm pushing their buttons, and to never take it personally. It matters to me."