Update: This story has been updated to clarify how the city's approved tree list is changing.
The discovery almost didn't happen.
Haywood Morgan, the city's urban forester, made a house call about 10 days ago. A homeowner was worried about his 11-year-old ash tree. He took good care of all his trees, but this one was puny. Was it the emerald ash borer?
The tree was in bad shape, but Morgan didn't see anything that looked like the damage he would expect from the bug — yellowing leaves, cracked and peeling bark, tiny D-shaped bore holes.
He started to leave. He paused to cross the street. Something caught his eye.
"I saw a bug fly and land on a leaf," Morgan said.
He went back. The owner lowered the branch. The bug didn't move. Morgan snatched it up. When they recognized the bug as an emerald ash borer, the owner ran back into the house to get a zip-top bag.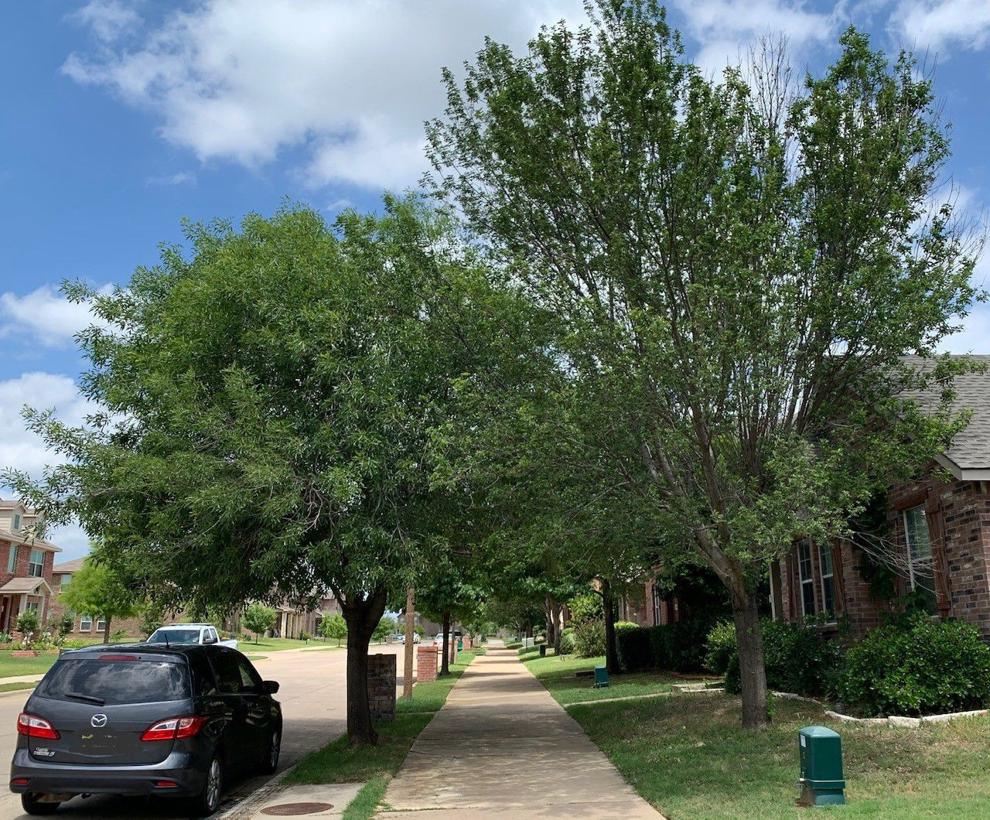 Morgan drove around the Villages of Carmel neighborhood looking for other young ash trees in trouble. It's been a while since the city approved plantings of ash trees as part of development plans, Morgan said.
"We knew we'd have it; we just didn't know when," Morgan said.
(Morgan and the city's tree consultants are looking for more resilient trees to be part of Denton's canopy now, such as the fruitless bois d'arc.)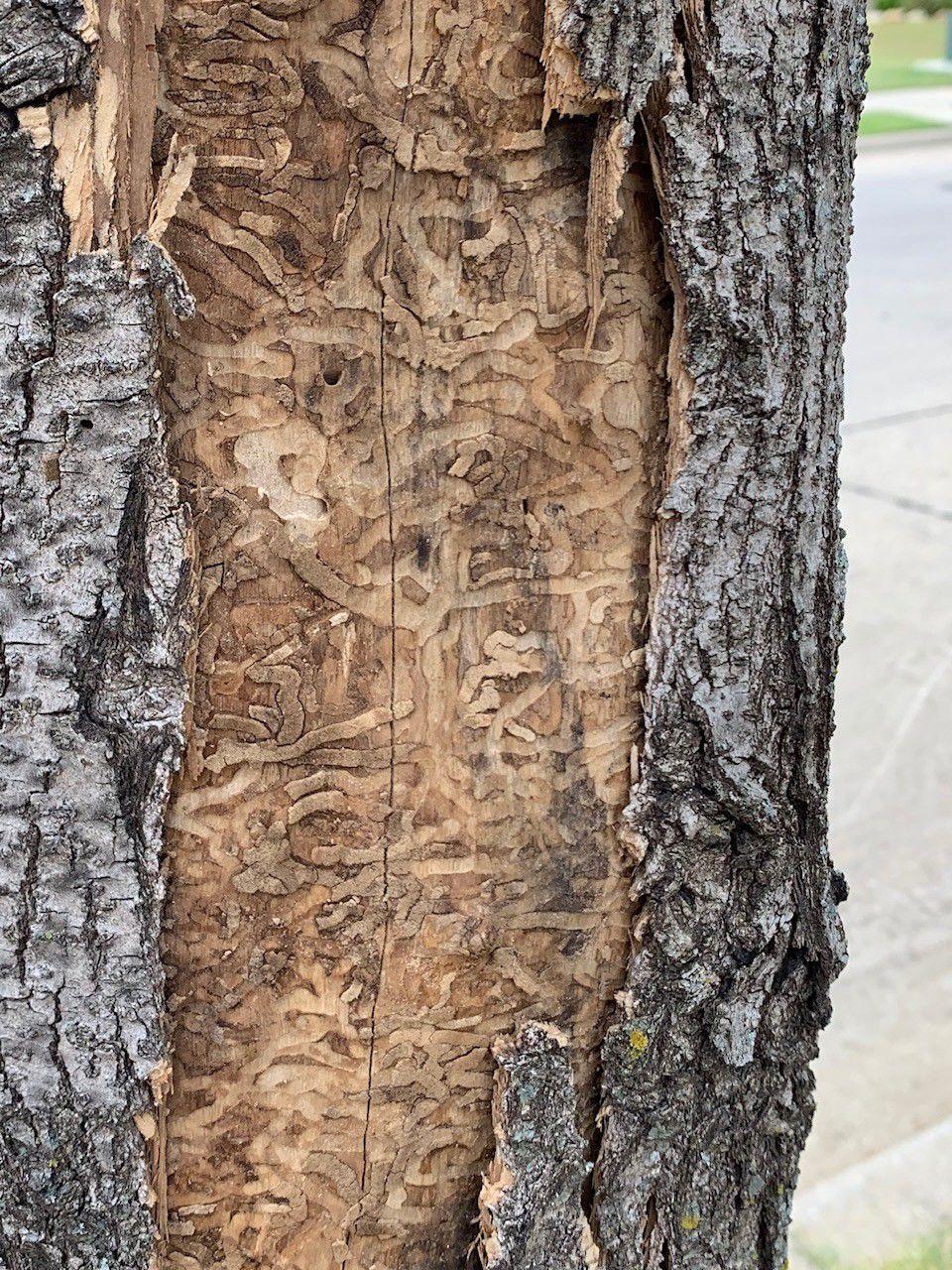 On that short drive, he found tree trunks with cracked and peeling bark. He took photos of the bug "galleries," the endless winding tracks where ash larvae eat their deadly fill just under the bark.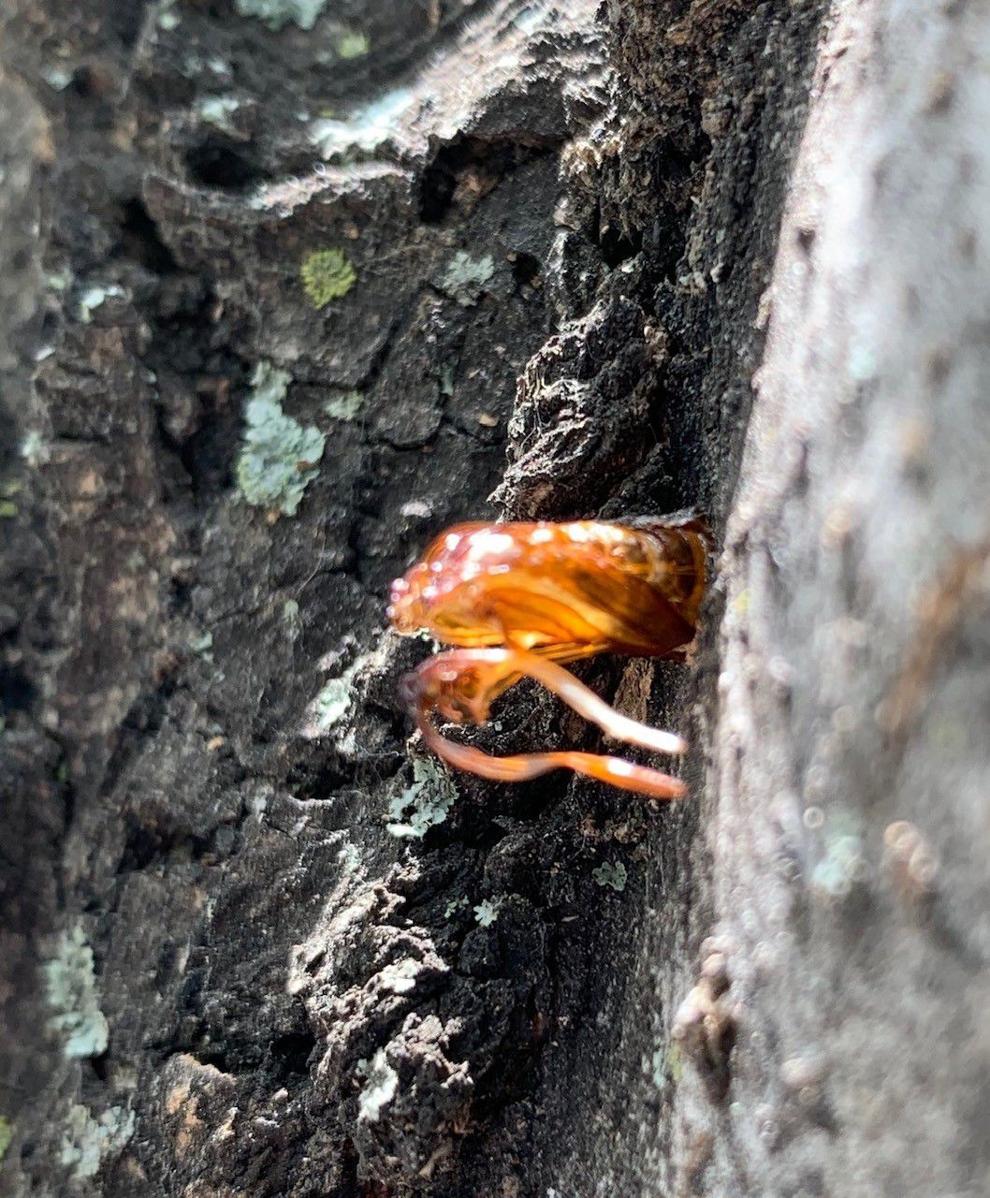 He even got a shot of an empty exoskeleton half through one of those D-shaped exit holes.
Morgan shared his photos with the bug experts at Texas A&M University before shipping the specimen off for identification.
If that identification comes back positive — as Morgan and the experts expect — Denton County will join Tarrant and a handful of other Texas counties in a Texas Department of Agriculture quarantine.
The quarantine helps slow the bug's spread, Morgan said. It was first discovered in Michigan in 2002. The emerald ash borer originated in Asia and is not a fast mover. But it gets rides from folks who cut down dead ash trees and take the wood — usually firewood — elsewhere.
"That's how we think it skipped the entire state of Kansas and ended up in Denver," Morgan said.
Homeowners don't necessarily need to cut their ash trees down to control the pest. Large, mature trees respond well to professional treatment and may be worth the investment, Morgan said.
Big, gorgeous trees in your yard offer both intangible and tangible benefits, such as saving on your utility bill in the summer. Professional treatment from a certified arborist has been proven effective and lasts for several years, Morgan said. Spreading the occasional $200 treatment cost over a decade could delay or prevent the $2,000 cost of removing a dead tree.
Some DIY treatments are less costly, but they are only effective about half the time, he added.
For Morgan, the discovery means he needs to finish up a citywide inventory of ash trees on public lands, whether in parks or standing between the curb and the sidewalk along city streets.
Morgan estimates the city has about 834 of such "street trees" and is recommending that homeowners with ash street trees get information about their options.
On city-owned land, Morgan is recommending that the city slowly replace its ash trees. Lake Forest and Sequoia parks have the most ash trees, but most are less than a foot in diameter.
He'll also go back out and reassess trees he's already looked at. So far, Morgan said, he hasn't found that any of the ash trees in city parks — about 60 — have been affected.
But he's also identified two high-profile ash trees in Quakertown Park for treatment. One shades City Hall.
The quarantine technically affects compost-making at the landfill, but Brian Boerner, head of solid waste, said crews are ahead of the game.
"The city is committed to taking all necessary measures to prevent the spread of the emerald ash borer at the city's Beneficial Reuse Facility," Boerner said in an email.