Conceptual designs for high school improvements, significant savings for taxpayers and much more were presented during Tuesday's Denton school board meeting.
Perhaps the most visually impressive section of the evening included the renderings of future renovations at Guyer and Ryan high schools. Most renovations and additions will be toward athletic facilities in an effort to bring them up to the level of the new Denton High School, which is currently under construction.
Denton ISD Superintendent Jamie Wilson said that while the current project might look one-sided in favor of athletics, the updates will work to raise the schools' athletic amenities to the level of the classroom and fine arts additions that came a few years back.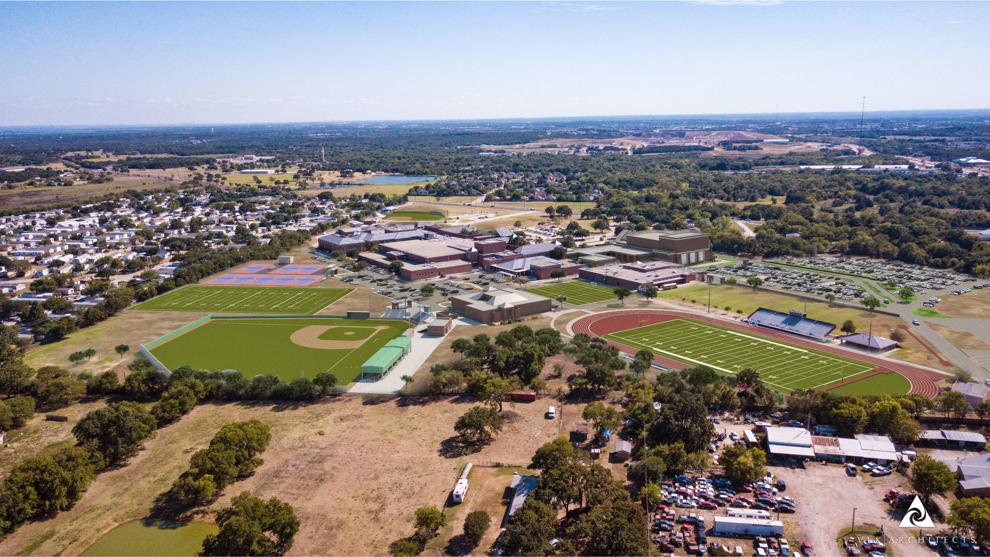 Tennis courts, softball fields, baseball fields, running tracks and additional field houses are just a few of the shinier items presented during Tuesday's meeting.
Construction of tennis courts, a field house, softball field and more on Guyer's south side are now possible after the school board voted in mid-September to cap three existing gas wells on the campus.
Each campus will also see improvements to fine arts spaces. Guyer will have an updated auditorium and black box theater, along with other additions.
Those at Ryan can expect to see an auditorium addition, a remodeled cafeteria and an ag shop. The additions, renovations and updates will be paid for out of the district's $750.5 million bond package passed by voters in 2018. Updates to Guyer and Ryan will be completed by the fall of 2021 and 2022, respectively.
Architect renderings of Guyer and Ryan high school renovations
District sees savings in utility costs
Board members were happy, but not overly surprised, to learn conclusively Tuesday evening that the school district has saved more than $500,000 in utility costs compared to the previous reporting period.
TDIndustries, an outside auditor the district has partnered with for more than a decade for similar energy efficiency audits, arrived at that figure by comparing rates from 2017-18 to 2018-19.
The district had significant savings in every category excluding refuse payments, which rose by 5% year-over-year. For the 2018-19 reporting period, the district paid $8,046,719, down from $8,580,777 during the previous period.
Even when accounting for weather changes between periods, the district still managed to spend less money on utilities. Brandon Hoke, the representative for TDIndustries who presented during Tuesday's meeting, attributed the savings to a multitude a factors, including price fluctuations in the utilities market, more energy-efficient buildings and closer monitoring.
For instance, his company assembles utility audits every two weeks. That means they can catch anomalies — broken pipes, a running toilet or faulty meter — before they can rack up too much damage.
Bob Wilken, senior vice president at TDIndustries, said an adoption of newer technology has also helped the district over the years. That includes the installation of solar panels on newer campuses, as well as the implementation of different utility types based upon the unique situation of each campus.
Using 2005 as a baseline, Hoke's presentation claimed that through increases in efficiency and monitoring, Denton ISD has saved approximately $28.3 million as of fiscal year 2018-19.
Missing minutes
Just under 15 minutes of audio were missing from the meeting recording the district posted online. District officials said technical issues created the problem. By law, the district is required to either take minutes or provide a recording of public meetings. District spokesman Derrick Jackson said Thursday afternoon that no votes were called during that time.
Since board members only went over their upcoming schedules, no minutes were taken, he said.
Tucked into the tail end of each regular board meeting, voting members, the district attorney and Wilson go into closed session to discuss topics not declared open record by law. For instance, the board went into closed session Tuesday in order to discuss the purchase, exchange, lease, sale or value of real property; deliberate the appointment, employment, evaluation, reassignment, duties, discipline or dismissal of a public officer or employee; and consult privately with the district attorney.
Afterward, the board returns to open session. Sometimes, nothing particularly important is discussed at that point. Other times, important land deals are voted on or pay raises are finalized, which was the case on Sept. 10 when the board unanimously decided to raise Wilson's base salary from $288,915 to $310,000 shortly after 10 p.m.