The late artist Dick Hendricks had a fascination with hands.
"When you look at someone's hands, you can tell a lot about them," said Natalie Nichelson, the operations director for the Denton Black Film Festival. The annual film festival features exhibits each year, and this year's festivities include both a gallery exhibit and virtual art events.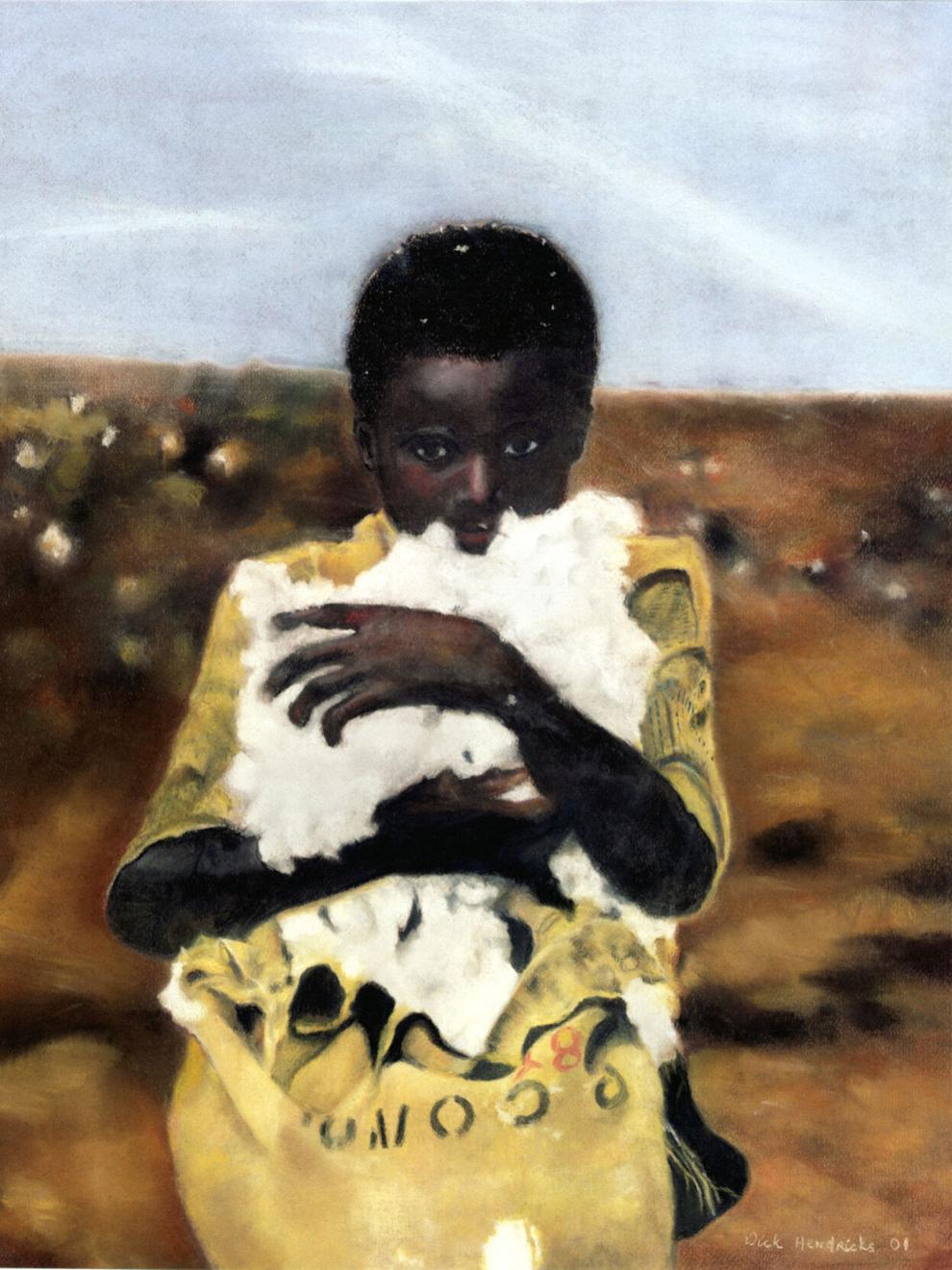 The late Hendricks was Nichelson's father, and a self-taught artist. The festival presents "With His Hands: A Dick Hendricks Retrospective" online and in the Gough Gallery through Feb. 13.
"My father would say that you could tell a lot by people's hands, and he also told me that hands could look hard and calloused, but then touch you softly. He was fascinated by hands and would do portraits of hands."
Nichelson said her father's work seemed to be a natural fit for the 2021 Denton Black Film Festival.
"It goes along with the theme, which is 'Telling Our Stories,'" she said. "He wanted to tell the story of whoever he was doing a portrait on, and what he was working on. Particularly the hand series. He was interested in the stories of the people he was doing portraits of, and he was willing to learn from them."
Nichelson said her father worked on his art after hours. Hendricks was a company, designing the catalog for J.C. Penny for 35 years. She said she figured her father's attention to hands and faces was a respite from work and family.
"My father was in a house full of women, a house with four women, with my mother and sisters and me," Nichelson said. "I always thought he was just trying to get away for a while, so I thought when we left for college he'd put it away. He didn't. He was making art because he saw beauty all around him. No matter where he went."
The retrospective tells Hendricks' story as much as those of the subjects he tenderly depicted. There are highlights from his hand series, careful studies of hands holding fractions of life — a large hand holding a bouquet of flowers, small hands cupping fresh picked blueberries — portraits and pastels of people, and later more abstract work Hendricks made when diabetes claimed his eyesight. When he began to lose his sight, he began to experiment with collage and assemblage, which is a form in which artists use objects to piece together sculpture figures and forms.
"With His Hands: A Dick Hendricks Retrospective
"My father was a Type I diabetic, which was almost a death sentence at the time her was diagnosed," Nichelson said. "He knew losing his eyesight was an eventual part of the disease. There was no grief period for him. He would have been in his 80s at this point. He was just grateful for everything he could do."
Later in his life, Hendricks met and befriended Ernie Barnes and Frank Frazier, Black artists who were celebrated for their style and vision.
"It wasn't until we left for college that my father started showing his art," Nichelson said. "We always thought of his art as daddy's escape. But when we were leaving for college, that was probably the time we said 'You know? Your work could be in this show, too.' He was like 'It could?' And we told him it was good enough. He did shows later in life. He didn't set out to show his work."
Nichelson said she had roughly 50 of her father's pieces — most of them pastel, a medium her father loved because of how easily he could blend colors — to choose the show from.
"What I wanted to show was that, as he progressed in creativity, his art wasn't focused on one thing. He saw beauty around him. In his travels, everywhere he went, he saw beauty in people and his surroundings. I wanted to show that he had a very diverse interests. It wasn't just hands."
Nichelson said her father traveled in his work, and had a practice of making notes throughout his first day in a foreign country. Mostly, he made sure to note his first thoughts and feelings.
"I was able to travel internationally as well, and he always told me to do that, and when I went back, he said I should see if anything had changed from the first visit," she said.
Nichelson said her favorite works are the pieces that reflect her own realizations about her father's vision and sensitivity.
"So, the ones that speak to me the most speak to me because they were my aha moments with my father," she said. "When I went away to college, we didn't think he'd do more. But he started doing portraits. He did a portrait of a monk. I saw it and I said 'Dad, this is really good.' I remember him saying 'Is it?' I told him 'Yes, because you can see the emotion.' I also love his piece of the birds in flight. You look at it and you don't know are they landing or are they taking off. It could be either. They could be beginning something or ending something."
The exhibit is free. Gallery hours are 11 a.m. to 5 p.m. Friday and Saturday.