Forecasters expect Tuesday to be the relative calm before Wednesday's storms.
The setup and timing of the thunderstorms — expected later in the day Wednesday — will be better understood in the morning, when forecasters have the latest measurements from the atmosphere, said Monique Sellers, a meteorologist with the National Weather Service office in Fort Worth.
Tuesday's computer models show that large hail, damaging winds and a tornado threat are all in the mix Wednesday afternoon. The potential for severe weather is higher in southwestern Denton County, but that doesn't mean residents in the rest of the county can let their guard down, Sellers said.
"Storms don't follow map lines," Sellers said. "Any shift in the tracking can pull the storms further north."
Meteorologists expect a line of thunderstorms to form to the northwest of the Dallas-Fort Worth region on Wednesday afternoon and roll through during the afternoon and evening.
The current forecast calls for fast-moving storms that dump less than an inch of rain, Sellers said.
But the area's saturated soils are unlikely to soak up much, if any, of the rain that falls, Sellers said.
"It won't take much to cause flooding in some areas," she said. "We may start to see flooding in areas we've not seen before [this spring]."
A total of 1.58 inches of rain have been recorded at Denton Enterprise Airport in the past three days. All three area lakes were storing water above full pool as of Tuesday morning, with Lewisville Lake at 2.8 feet above, Ray Roberts at 2.52 feet above, and Grapevine at 4.43 feet above.
Two northwest Denton County roads are closed for high water — Jackson Road on either side of FM156 near Krum, and the low water crossing on C. Wolfe Road.
That means other western Denton County roads could see flash flooding, as could some city streets in low-lying areas, during the storms and the hours that follow.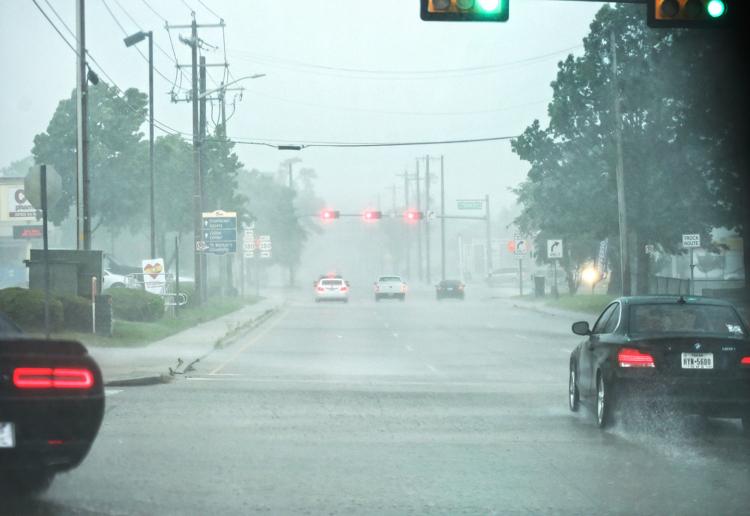 The National Weather Service issues local alerts on weather radios. In addition, residents in the city of Denton and Denton County can receive weather alerts by phone.