Correction: An earlier version of this story misreported that the Los Angeles concert performance featured John Beasley's big band performing live scoring to Clint Eastwood's film 'Straight No Chaser' about Thelonious Monk. The concert featured footage from a 1968 documentary 'Monk In Europe.' Eastwood's later film used footage from the 1968 film. It also including incorrect spellings of Lida Beasley and John Haynie's names.
John Beasley has been nominated for nine Grammy Awards. As he waits for this year's ceremony, though, he's already thinking about the commission he's got to celebrate the school district music program that launched his career.
"I wouldn't be doing what I am if I hadn't lived in Denton," said Beasley, jazz pianist, composer and arranger.
But Beasley wouldn't be drafting a special piece of music for Denton High School Lab Band I if it weren't for Bronco band's associate director Jesse Woolery. The piece will celebrate the 100th anniversary of the Bronco band program in 2023.
Roughly four years ago, Woolery and his colleagues decided to take the full band on a trip one year and then take the jazz band program on a trip the next year. In 2018, Woolery said the program opted to take jazz students to Los Angeles. Part of the trip was to take the young musicians to a big band jazz show. Woolery researched live music for the week-long trip and saw MONK'estra was performing a concert: "Monk + MONK'estra."
The show was Beasley's project, a live scoring of music to concert footage of Thelonious Monk from the 1968 documentary Monk in Europe. It blended Monk making magic on the big screen with Beasley's arrangements of Monk's best music, played by Beasley's big band, itself named MONK'estra in tribute to one of the great bebop pianists of all time. The show was at in L.A.
Woolery bought about 60 tickets for his students and their chaperones.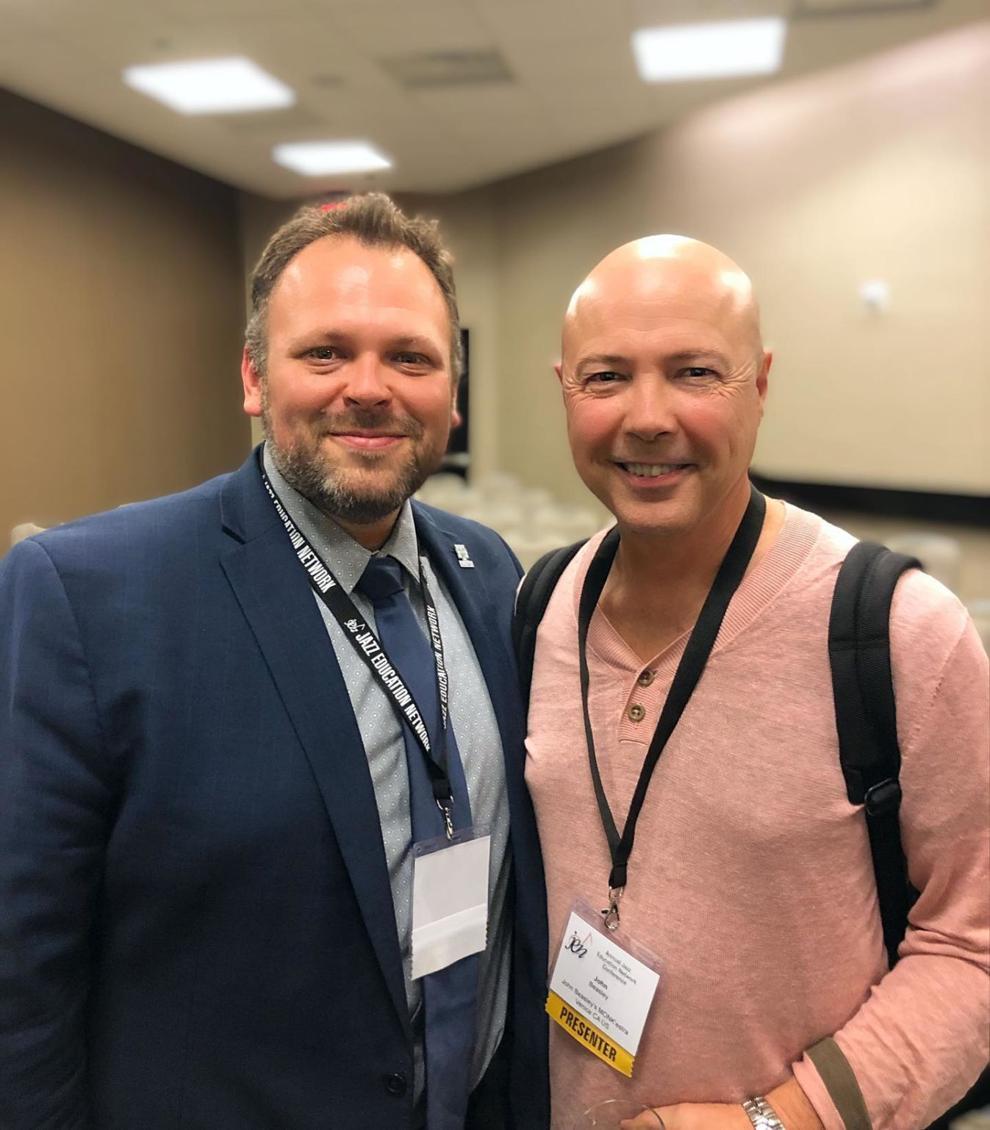 "There really aren't very many opportunities to take kids to see big bands," Woolery said. "I saw it was scheduled, and I was immediately drawn to it. On a trip like this with students, we invest money, and it needs to have the value of that amount of money that we put into it. The whole trip is going to revolve around the show."
Woolery didn't know Beasley at the time, but he knew a saxophonist in MONK'estra — Tom Luer.
"It was definitely a who's who of jazz in the hall that night," Woolery said. "After the show, I'm there talking to Tom, and in walks another composer I know, Jeff Beal, who has some pretty big projects to his name in film scoring, like House of Cards. Well, it ended up that Jeff invited us to his apartment. There are 60 kids in the apartment looking at the compositions Jeff is working on at the moment. During all that, Jeff started showing me some things he was working on with Thomas Newman (the Oscar-winning film composer for Skyfall and The Shawshank Redemption). That was a huge fanboy moment for me, because I love Thomas Newman. Then he was talking about how John (Beasley) had worked with Thomas Newman and was like 'You know John is from Denton, right?' I couldn't have written a script to make this happen."
Nurtured on Congress Street
Beasley wasn't born in Denton. He moved with his parents and brother in 1966, when Beasley was about 8. His father, Rule Beasley, taught bassoon, arranging and jazz improvisation at what is now the University of North Texas College of Music. He was also a band leader for one of the college's lab bands, competitive ensembles that still teach emerging musicians how to be in a big band, and how to compose and arrange jazz charts.
His mother, Lida, taught band at then-Congress Middle School. Rule Beasley played for the Fort Worth Symphony and Fort Worth Opera.
The Beasley boys were handed musical instruments as children.
"My mom was teaching a summer marching program in Shreveport," Beasley said. "She was teaching me and my brother to play cornet. She was kind of dragging us along because we didn't have daycare or babysitters. I probably started playing piano at 8 years old. I think I probably started band at Woodrow Wilson (Elementary School). I played oboe. My dad was a bassoonist and they were both double reed instruments, so oboe is what I started with."
While he was in middle school himself, Beasley would sit in on his dad's lab band rehearsals. He watched and listened to college students revive music by jazz greats. He also got to sit in master classes at the university, where the occasional star would lead the band.
"I got to see some really amazing musicians come through back then," Beasley said. "I think it was maybe the 25th anniversary of the jazz program at North Texas, and (saxophonist) Oliver Nelson and the great big band leaders Thad Jones and Mel Lewis came in to play with the band. I must have been 12 or 13 at the time. My dad was giving me his college homework to study."
In his freshman year of high school, Beasley moved with his family to California, but the bug that was Denton and jazz had bitten.
"Music can kind of kidnap you, you know," he said. "At that age, when you're getting into music, you can't wait to get your hands on your instrument. You spend all day waiting to jam with your friends."
While Beasley's career was taking off and leading him to nine Grammy nominations for big band, arranging and composing, Woolery was sharpening his own chops. Woolery is a Kansas boy, and like Beasley's father, he was a serious bassoonist. He was set to go to the UNT College of Music or Berklee College of Music in Boston.
Woolery landed at UNT. He studied with Kathleen Reynolds — a protégé of Rule Beasley. Then Woolery earned a plum position 15 years ago: Associate director of bands at Denton High School. Woolery said he and his students are the beneficiaries of Lida Beasley's work. Lida Beasley is part of the district's pantheon of invaluable music educators, including Caroll McMath and Carold Nunez.
When he bought 60 tickets for "Monk + MONK'estra," Woolery was only counting on a memorable concert for his students.
"I have some students who are still talking about it," he said. "This was back in 2018, and they're getting ready to graduate."
Woolery said seeing the footage of Monk scored live on stage by a big band taught a lesson about art.
"There are these pivotal moments going on when you do these things," Woolery said. "For some of them, it was abstract. For some of them, they were witnessing something on a whole new level. When I take them to the Meyerson, or Bass Hall, some of them realize they're seeing something on a different level. And you know, for some students, the first concert they ever went to was at (Walt) Disney (Concert) Hall. Wow."
Beasley said his manager mentioned that a big block of tickets sold to a single buyer the night of the show, but a few weeks after the concert, Beasley was due in Denton for a UNT Fine Arts Lecture Series. He contacted Woolery to meet for lunch. A friendship bloomed, and with it, a plan for Beasley to write a composition written expressly for Denton High jazz musicians.
"John was part of this legacy, his parents were," Woolery said. "His mom planted seeds and affected everyone who was coming up through the feeder schools. It wasn't a stretch to see that John is a part of this fabric. We're all moving to a brand new space in 2022 — so when it comes time to perform the music, it will be in a state of the art [facility]. People are coming to Denton from all over the place... I have alums who plan to sit in and jam during the performance."
Beasley said the 100th anniversary of the Bronco band will be meaningful, even though he moved away before sitting in one of its sections.
"It will be emotional for me, too," he said. "Denton made me what I am, the experiences I had there made me the musician I am."
Grammy-level music for student players
Woolery and Beasley haven't hammered everything out yet, but they imagine a three to five-minute piece of music with solos and room for improvisation. Beasley said he'll treat the high school players the way he leads professionals and college students: Make them aware of the parameters of the piece, but cut them loose to be creative. He'll lead the musicians to listen and respond to each other as they play.
"I want it to be interesting and just hard enough for them to be inspired to learn it," Beasley said. "Ideally, I want to make it so they can't wait to get to rehearsal. I know Jesse will have them sounding like it's not just on the page. With jazz education, sometimes the message gets diluted by the pedagogy. That's what I mean about internalizing it and putting it out there and not playing it just like it is on the page."
Woolery said he expects an "all-encompassing process" when his musicians start working on the piece.
"We start with a piece months before it's performed at times," he said. "They get immersed on things like chord progression and techniques. It's about the journey to get to that point where you perform."