Eric Helland stopped assembling pastries after seeing a familiar customer step into his bakery. He walked toward the journalist buying bread and croissants.
"Hey, can I talk to you for a minute?" he said.
He wanted to know more about video gambling machines. A neighboring business had installed eight-liners, and trouble soon followed — illicit drugs, trespassing, loitering — at Elm and Prairie streets.
"I know they're legal," Helland said.
Communities ought to be able to say where eight-liners can go, he added. He wondered aloud why the Texas Legislature had written laws that left local governments with little say in the matter.
"It's like the frack ban," he added.
The analogy means something to Helland and others with scars from Denton's epic battle to say where gas drilling can go. Texas cities have zoning powers that can keep a bakery like Helland's out of a neighborhood, but not so with gas wells.
This week marks five years since Denton voters banned hydraulic fracturing, or fracking, in the city limits.
Frustrated by years of industry maneuvers around zoning powers, residents became activists. They wrote a citizens referendum that tapped the city's police powers in public health and safety to ban hydraulic fracturing. Voters made it local law on Nov. 4, 2014.
Mineral owners, operators and related businesses would have none of it. The state and the industry sued Denton. Then, in one fell swoop, the Texas Legislature passed a law undoing Denton's vote and putting an end to most local rules for urban drillers.
No one has tested in court what House Bill 40 did to the zoning and police powers of Texas cities.
But the community battle for self-determination left wounds. Presuming those deep and complicated scars have healed would be a mistake.
The predictions
Critics claimed the ban would trigger economic decline in Denton. Fracking blasts sand and chemicals down the well hole to release oil and gas from the rock, and when combined with horizontal drilling, boosts productivity in old vertical wells. With a ban, workers would lose jobs. Government coffers would shrink from tax losses. Regional productivity would suffer. A spate of copycat bans would roil the state, creating unpredictability that spooks business investors.
The ban didn't last. The decline came anyway.
Randy Sorrells still has old vertical wells on his land in far west Denton. After EagleRidge Energy bought them, the company brass asked Sorrells in 2014 to help with the fight in Denton. He and the late Bobby Jones became the faces of land and mineral owners opposing the ban. Sorrells knew a lawsuit against the city was possible, though theirs was never filed.
"They orally promised to redo our wells, with our input and help on the campaign," Sorrells said.
He thought his wells were first on the list to get redone, he said, but the company told him its crews were working elsewhere for now.
"Jones' wells were grandfathered in, so they went right over there and reworked them," Sorrells said. "I told them, 'You guys didn't get to me.'"
Five years later, he's still waiting on that handshake promise.
"I feel a little bit taken advantage of," he said.
Most of the jobs left for the Permian Basin in far West Texas and New Mexico. The Barnett Shale, which covers about 20 North Texas counties, was already dwindling when voters passed the ban. The Texas Railroad Commission — the state agency that oversees the oil and gas industry — issued more than 1,000 new drilling permits in the Barnett in 2014. So far this year, it has issued 42. The city of Denton has issued no new gas well permits to operators since November 2014.
Investors left for the Permian, too. Many companies sold their Barnett interests to small operators. Colorado-based Vantage Energy sold its wells after the headline-grabbing drama of local protests when Gov. Greg Abbott signed HB 40. Gas wells near South Lakes Park and along South Bonnie Brae Street have been plugged. The lone gas well at Texas Woman's University got plugged, clearing the way for new sports facilities, dorms and more. Earlier this year, Denton ISD officials announced that half the gas wells on the Guyer High School campus would be plugged, too.
Ed Longanecker, president of the Texas Independent Producers and Royalty Owners, called the current market conditions challenging for the Barnett but said the field also offers a strong pipeline infrastructure and a lower long-term decline rate than some other fields.
"With the right operating methodology, it's possible to make money in the Barnett Shale," he said. "Regardless of economic conditions or anti-oil and gas rhetoric, the Barnett Shale will continue to be a key contributor to domestic production for many years to come."
With the exodus, local tax revenue dwindled. In 2014, oil and gas facilities totaled $99 million on Denton's property tax rolls. That shrunk to $73 million this year. Denton also took in $5 million less in sales tax from the oil and gas sector this year. The city finance staff isolated the decline to one field services company and doesn't expect the collections to rebound.
The sector's regional productivity declined, too. The oil and gas sector made up less than 10% of the Dallas-Fort Worth region's gross domestic product in 2014. By 2016, the latest year of available data, the sector slipped to 3% of an otherwise healthy and growing $503 billion GDP.
But no spate of copycat bans followed.
Instead, legislators wrote state laws quashing local ones.
Much of Denton's campaign "was based on misinformation about fracking and failed to correctly portray the significant regulations and industry practices designed to protect air and water quality, as well as the safety features of drilling activities," said Todd Staples, president of the Texas Oil & Gas Association, which sued Denton over the ban.
"The state appropriately clarified the role of cities to reasonably regulate traffic, noise and lighting, and the appropriate state regulatory agencies regulate the remaining items," he added, referring to HB 40.
Longanecker agreed, saying the law affirmed the state's exclusive jurisdiction over oil and gas mining.
"HB 40 was necessary to prevent the spread of potentially hundreds of local ordinances that would seek to slow or stop the development of hydrocarbons in Texas, which would be devastating for our state and country," Longanecker said.
Sam Burke, a member of the Corinth City Council and the Denton County Transportation Authority board of directors, wondered aloud what many local officials have muttered for some time: Was the undoing of Denton's ban the state government's opening salvo against local control?
"Was that the start?" Burke asked.
Plats as dominoes
If HB 40 was such a salvo, then legislators first tested their political firepower against local issues through skirmishes over annexation before going after other local issues, said Denton City Attorney Aaron Leal.
Annexation redraws boundaries the way a city is growing. Annexation is fundamental to how a community plans and provides for itself. For years, most of the drilling was along the city's western boundary.
"Where they were drilling in Denton was seen as rural back then," Leal said, adding that they also weren't viewed as long-term uses.
Denton adopted its first rules for drillers in 2001, the same year that Devon Energy bought Mitchell Energy & Development for $3.1 billion and set off a rush of speculation and investment.
To regulate the land use, the city required drillers to submit plats. Plats show the dimensions of the property, often including details of flood zones and easements. Gas drilling plats worked fine for several years, Leal said.
But that move would eventually be Denton's undoing.
"I'm not aware of any other city that followed it," Leal said.
The 2001 ordinance, for example, didn't say anything about "protected uses." After Range Resources drilled and fracked wells near a hospital and a children's playground, the city added protected uses in 2010. Since then, Denton has required a certain distance (called a setback) between a gas well and a protected use — that is, places where people gather and their public health is of interest, such as schools, homes and hospitals.
Leal got his education in Indiana and first practiced law in Michigan, where there was little drilling. He came to Denton in 2011.
"This was all new to me," Leal said, adding that he started going to oil and gas seminars to better learn how to write rules that would protect the public.
Leal did a lot of the grunt work, writing many of the revisions to gas well ordinance since then, including adding more places to the list of protected uses. Other revisions were farmed out to expert firms. Before the ban, the city's legal department spent untold hours and $920,000 in consulting fees between 2010 and 2014 writing and revising the gas well rules meant to protect public health.
Now, any Texas city's rules for urban drilling and fracking need to stay on the books, essentially unchanged and unchallenged, for five years before the community has any legal advantage at all.
The ruins
Cathy McMullen saw what was coming after city leaders buckled and allowed Range to drill and frack close in, instead of pushing the gas well site back near the freeway. She and her husband moved to Denton from Wise County to get away from the drillers.
"If Range had put it in by [Interstate 35], instead of by a park and a hospital, maybe this would not have happened," McMullen said.
The city's weakness emboldened other operators, she added.
"I do think a bunch of investors and lawyers saw that they could buy up leases cheaply and that our ordinances were lame," she said. "They were smart enough to realize they got plats issued in perpetuity. They could drill in neighborhoods."
McMullen and her husband loved the life they built in Denton. They'd often talked about retiring to the Texas coast, but they didn't want to leave. She was ready to fight.
She served as president of the Denton Drilling Awareness Group, which worked for stronger ordinances. When the city lost a key court battle over the plats, she worked on the referendum and defended the citizens' ban for as long as possible.
"We tried so hard," McMullen said. "But I couldn't see anywhere else to take it."
The city and the activists joined together to defend the community's decision after the state and the industry sued to take down the referendum. After HB 40 backed them into a corner, they stopped defending the ban.
"I knew my commitment, but some people called me a sellout," McMullen said. "I took it from those crazy lobbyists — but these were my friends."
She and her husband moved to Rockport. They started their retirement just before Hurricane Harvey hit.
McMullen and her husband rebuilt. But so few nurses returned to the peninsula after the hurricane that McMullen is back working full time as a home health nurse. Her husband, a retired law enforcement officer, works full time in H-E-B's produce department because there aren't enough workers.
McMullen watches as state officials pose for Harvey recovery photos, but those stories don't show the problems she still sees during her patient rounds, more than two years after the hurricane.
"When you dig into the second and third layers, people are still living with blue tarps on their roofs, or in an RV, especially the older people," McMullen said. "They are struggling to live in torn-up houses. Maybe rich people are recovered, but the others, they don't have the money to get out now."
"It's exactly like the shale," she added.
"It never changes — just the method of ruination."
The long haul
Ed and Carol Soph had seen it before, too. In 1998, they fought against city, university and state officials as well as a developer and a multinational company that was planning to build a copper smelter in Denton and won. (Smelting releases toxic heavy metals into the atmosphere.) Since then, environmental causes land on their doorstep like the occasional homeless animal. They champion the precautionary principle — the idea that a new technology must demonstrate its safety before it is widely adopted, rather than the other way around.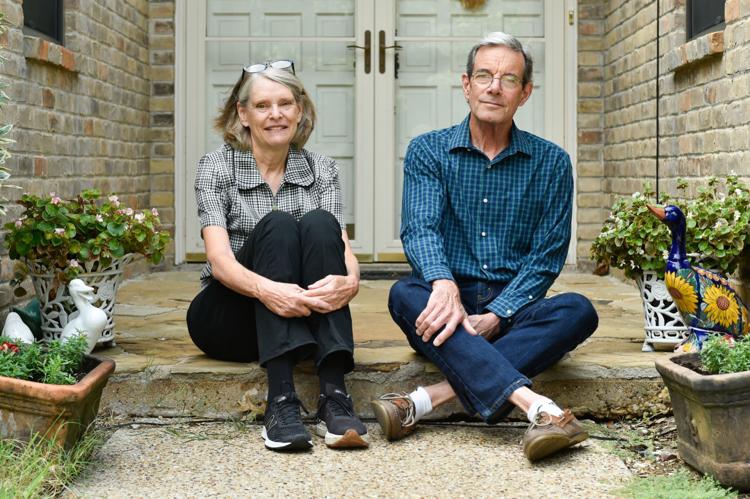 The Sophs didn't see the advancing threat to the community as soon as McMullen did. But while vacationing in northern Colorado, they stumbled on an essay by a former oil and gas industry worker. The cautionary tale was in a chamber of commerce publication.
They returned home and connected with other people who were questioning urban drilling and fracking, including McMullen, Adam Briggle, a philosophy professor at the University of North Texas, and Rhonda Love, a retired public health professor, to form Denton DAG.
"No one had granted permission to harm the community, and the community didn't condone it," Ed Soph said.
While the Sophs had learned how to organize the community with the smelter fight, this battle was on a whole different scale.
"Both were all grassroots, but the frack ban was going up against the basis of the state's entire economy," he said.
Carol Soph set up tables outside businesses and events, inviting people to look at a map. After someone pointed to where they lived, she'd point to a nearby gas well. People were often surprised that not only were gas wells in the city but that a well was close to home or their child's school.
"We brought the city together in no other way — it had nothing to do with politics," she said. "It had to do with their kids and where they lived."
Public health officials are supposed find ways to use the precautionary principle, even if few politicians act with that principle in mind, Love said. A longtime resident of Toronto, where she taught at the University of Toronto, Love noticed Texas public health officials couldn't do what their counterparts in Canada and other wealthy nations could do for public health.
"In trying to explain obvious concerns, I have since learned that local officials don't own their turf — they are limited in what they can say," Love said. "In Texas, the state seems to have more control over public health than the county or any locality."
There is ample evidence that urban drilling and fracking can be bad for public health, she said, but people don't willingly give up political power either.
On that long, hot night in July 2014, as the City Council took hours of public testimony and ordered the referendum to the ballot, Love spoke soon after then-state Rep. Myra Crownover, R-Denton. Love brought the 2011 study on fracking from the New York State Department of Public Health, which formed the basis of New York state's fracking ban, for her testimony.
"She [Crownover] said there was no scientific evidence," Love said. "I held up the 2011 study. That's when I knew that science was not driving the decision."
The activists turned their attention to campaign tactics and strategies, although they sometimes disagreed about what to do.
As Election Day approached — and the momentum was on their side — two group leaders of Denton DAG received death threats, Love said.
"It bothers me that some people were so ugly and vicious," she said.
The activists not only formed lifelong friendships but also stitched the community together in new ways, even though that wasn't something they were aware of at the time, she said.
The core remains, Love said, "and we can do it again if we have to."
"We had to rest because it was exhausting," she added. "But the board of Denton Drilling Advisory Group hasn't quit. We meet every month at my house. I'm still the secretary."
The last straw
For a while after HB 40 passed, Briggle thought the whole effort was a waste of time.
"Initially, it was devastating," he said. "David had defeated Goliath with that ban. But then super-Goliath came and just crushed it.
"When you drive down to Austin, it's different than the City Council and working with all your neighbors," he added. "They don't get it, and they don't want to get it."
Like McMullen and others, Briggle had stayed engaged for several years before the ban, trying to get city rules strong enough to protect neighborhoods. As the city was bulking up through the work of a task force, activists were working on their own. They managed to get their issues outlined in a minority report from the task force.
"We were trying to work it out as a community," he said.
When EagleRidge moved into the Vintage neighborhoods in southwest Denton, activists and the city were ready. They wanted to see the zoning and the new rules enforced. But EagleRidge's lawyers were ready, too. They brought out the old plats in court. They argued before former Denton District Judge L. Dee Shipman that the city had granted permission long ago and that it couldn't be taken away — they had "vested rights." They cited a recent Texas Supreme Court decision in Harper Park Two v. Austin as the basis for those rights.
Shipman sided with EagleRidge. For residents, that was the last straw.
When Briggle, Love, McMullen, the Sophs and others launched the referendum, they reached out for help. Sharon Wilson, who, like McMullen, had moved from Wise County to Denton to escape the drillers, was publishing a popular blog on fracking and got hired by Earthworks as a community organizer. She was ready to help.
A national nonprofit, Earthworks works with community groups that are pushing against adverse impacts of mineral and energy development. These days, Wilson spends a lot of time in the Permian Basin, too. The communities there are more isolated and low-income than Denton, so even though residents are as affected, they struggle to speak out, she said.
Wilson brought resources from skilled and knowledgeable people around the state and the country to the campaign.
Nongovernment organizations don't get many victories against the oil and gas industry, but there were two times after HB 40 that Denton activists could still declare one, Wilson said. The first came with Crownover's vote for HB 40 and the community's response to that vote.
"She voted against her people," Wilson said.
Crownover announced she would not run for reelection after she canceled an appearance before a young business professionals group. Word leaked that some people would be there to protest her HB 40 vote.
A political strategist showed Denton DAG how they could go after 16 state incumbents — their political organization was that strong and widely recognized, Ed Soph said.
But it was not to be, Briggle said.
"We were all so exhausted and stretched," he said. "Thoughts of Austin — who was going to do that? Somebody could have stepped up on the issue, but it didn't happen."
The other time to declare victory after HB 40, Wilson said, came with an unexpected move by Denton police.
Briggle was one of the first protesters arrested outside Vantage's gas well sites on Nail Road, the first wells to be fracked in Denton after HB 40 became law in 2015. The protesters affixed a door-sized copy of the frack ban ordinance on the entrance gate and sat down in the driveway. As Briggle was taken into custody, a Denton police officer shook his hand and thanked him for all he'd done to protect the city. A freelance photographer captured the moment.
The photo went viral, Wilson said.
"People in Thailand saw that photo," she said.
Briggle agreed the photo ended up being deeply symbolic.
"It was an acknowledgment that we tried to do the right thing," he said.
"And we tried everything."
The sit-ins
Tara Linn Hunter was arrested along with Briggle and another volunteer in what would be a summer of protests — and arrests — on Nail Road.
Denton DAG had hired Hunter to lead the block-walking campaign for the referendum. She studied city maps and trained and organized volunteers to speak to voters across the city.
Denton voters knew what was on the ballot because of Hunter. More Denton residents voted on the frack ban referendum than in any previous city election or on any other issue on that crowded November ballot, which included a proposition to allow liquor stores. Nearly 59% of those 25,473 voters agreed that the city should ban fracking.
"After the state shut it all down and we had exhausted all our resources and ourselves in the process, I had extruded all the extrovert I'd had in me," Hunter said. "We'd been down the path of regulation over and over again. After HB 40, all that was left was aesthetics, surface things and absurd things. It felt so pointless.
"I was so done. All that was left was to sit in front of that damn well," she added.
The sit-ins needed organizing, too. Another volunteer, Cindy Spoon, said 50 to 60 people showed up for that training.
Many rights that Americans take for granted — voting rights and civil rights, for example — are the result of direct action by citizens, Spoon said. Training for direct action teaches what confrontation feels like, as well as how to support each other.
"People learn to take on fear and move through fear," Spoon said. "They find it very empowering."
Volunteers arrived regularly at 6 a.m. on protest days, she said. One protester, Elida Tamez, emailed Spoon to say she had missed the first day of training and the first protest. When Spoon arrived the next day, the confrontation had already begun. Tamez saw trucks arriving early, so she ran over to sit by herself, blocking the semis from entering the gate.
Tamez died of ovarian cancer earlier this year.
"As we were going over there, Rodney Love was telling me that he just couldn't get arrested, but when he saw Elida there, he said, 'I've got to go sit with her,'" Spoon said.
By the fourth day of sit-ins at the gate, police changed tactics. The protesters then changed tactics, too, Spoon said.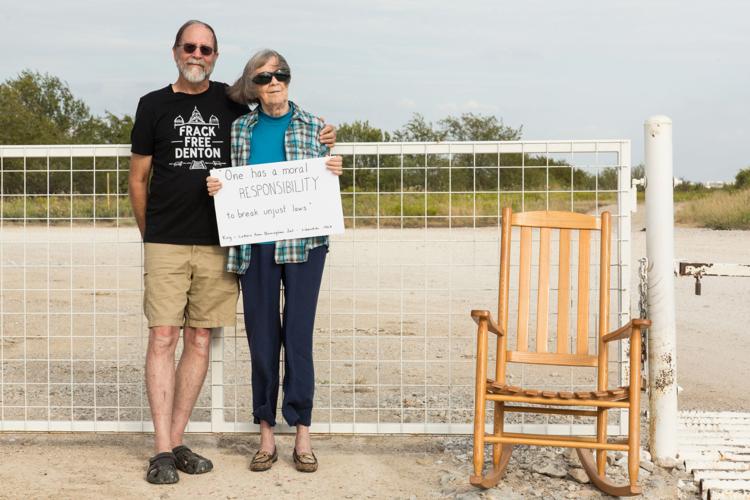 A week went by. Theron Palmer, Tamez's husband, chained himself to the gate holding a sign quoting Martin Luther King Jr.'s "Letter from a Birmingham Jail": One has a moral responsibility to disobey unjust laws.
His mother, Violet, sat with him. They were both arrested.
"We put them on notice that we were watching," said Violet Palmer, who is now 97 years old. None of the 10 people arrested in summer 2015 ever faced misdemeanor charges for criminal trespassing.
A sustained civil disobedience campaign wasn't possible, but Spoon, Briggle and Hunter all noted that they would face much different consequences for sit-ins today. In its latest session, the Texas Legislature made it a felony to protest fossil fuel development in this way.
Spoon is challenging Louisiana's version of the law after being arrested and charged with a felony.
Both the Texas and Louisiana protest laws are like a "model" bill drafted by the American Legislative Exchange Council. ALEC is an alliance of conservative legislators and private-sector representatives that drafts model state legislation for distribution among state governments.
"One major takeaway I have looking back, in retrospect, is just how deep the ALEC tentacles go into our country," Hunter said. "HB 40 was a model bill of theirs. It didn't come from the people or the minds of our legislators."
"All of those decisions were bought and paid for before we, the community, ever showed up," Hunter said. "I think that's what people should take away from all this."
Former Denton City Council member Sara Bagheri shared that dim view, saying it sometimes felt like a live-action play that you couldn't awaken from.
"They [state officials] pretend they are middle of the road, and somehow we are the weirdos and not them," Bagheri said.
The political fallout
Palmer still has a bumper sticker on his car that says fracking is not welcome here.
While it's impossible to imagine Texas imposing a statewide ban on fracking the way New York did, when such sentiments are widely held, they tend to express themselves politically.
After the Denton City Council buckled under HB 40 and voted 6-1 to repeal the ban, activists circulated recall petitions against two council members. Joey Hawkins survived a recall election but did not run again. The petition against Kevin Roden was disqualified, but he left public service after terming out. Council member Dalton Gregory didn't seek another term, and Bagheri ousted Greg Johnson.
"The complexion of the City Council changed," Palmer said, noting a broad range of liberal and conservative views on both the council and its many boards and commissions today.
"We've got a better city as a result of that battle at that time," he added.
Mayor Chris Watts was first elected mayor as the referendum was coming forward in 2014. He was already on the record as saying he regretted his vote that allowed Range Resources to drill where they did by McKenna Park back in 2009.
He was a new council member at the time and felt unsure about whether the city could be accused of inverse condemnation — taking the mineral owner's rights — since the city was never involved in selecting the location in the first place.
"It was a private negotiation," Watts said. "Next time I won't worry about lawsuits, especially something that limits use, or what we can do as a city, because you [a property owner] did it privately."
As a new mayor, he'd had enough political experience to know that the referendum vote would speak louder in Austin than anything the City Council could ever do.
"We'd already been threatened," Watts said. "If the council had done the vote, it would have been just seven people, and it could've been written off at the Capitol.
"It was an important decision for the people, probably the most important decision in a long time," he added.
Watts often says that he "trusts the process," but he knows many people in the community don't think the process worked this time.
"If you judge a process by its outcome, I can understand feelings by some that the process didn't work," Watts said.
But he didn't see it as a zero-sum game, either, he said.
"The residents had voted to ban hydraulic fracturing, and the mandate was from the people of my community — a vote that's clearly overwhelming in the face of a 10-to-1 spend on the campaign by industry," he said.
That meant it was up to the state Legislature to undo the vote, which triggered anger in Austin.
"There were a lot of people working to mitigate the ire it brought," he said, suggesting that local government champions were able to get compromises in HB 40 that might not have been there but for Denton's vote.
Council member Keely Briggs was the sole opponent to repealing the ban — among her earliest votes as a new council member. She, too, understands why people are still hurting. HB 40 was just the beginning of state officials clawing back local control, she said.
"The state doesn't want us to work together within our own local community to face challenges and issues," she said. "It doesn't want people to have a hands-on approach to setting the standards of quality of life and quality of community. There is and has been a deep-rooted resentment from our state Legislature toward local control.
"It does hurt," she said. "That has to change."
Local decisions must change, too, she said. Too many decisions in the past didn't take the long view — otherwise, city officials might have foreseen the nightmare of drilling in the middle of a neighborhood or next to a hospital and a park, she said.
"We have to have the best buffers we can have between us and these uses," she said. "We are going to be wrestling with this for a long time."