Sgt. Kevin Crawford says the purpose of his existence is "to be a guardian of others," and that's why he's proud to be part of the University of North Texas Police Department.
Crawford, who grew up in Fort Worth, said he became interested in police work after he did a ride-along with his older brother, a police officer in DeSoto at the time, whom he describes as his role model.
Crawford said he loved everything about the ride-along. From looking out for criminal activity to watching his brother take one call after another, the experience enticed him to the point that he wanted to change his path from the military to policing.
When his brother had to respond to a call, Crawford, a teenager and a civilian, was not allowed to leave the car. He hated not being able to be involved and having to watch from the car window.
That experience lit a fire in him.
"Man, I don't want to be in a car watching," Crawford said. "I want to be able to help those people and do stuff."
He served in the U.S. Army for eight years. He was stationed in Fort Stewart, Georgia, as well as in South Korea and Italy. Crawford became a military police officer, and his work involved patrolling areas during 12-hour shifts. Beyond the day-to-day routine work, his job was to look for criminal activity, help anyone needing assistance and identify suspicious activity.
Crawford said his MP experience "helped me develop communication skills when talking to people." When he was a military police officer, he thought he was getting the best of both worlds. However, he left the military because his wife wanted to move home to Texas.
After leaving the military, Crawford kept talking with a friend about the work he really wanted to do. This friend was a UNT student who told him the university was a great place to be.
As Crawford looked more closely into the Denton County Sheriff's Office and the UNT Police Department, he found lots of reasons to come. He also enrolled as a student at UNT, where he's working on a degree in applied arts and sciences.
"I am currently just a part-time student so I can balance work and family," he said.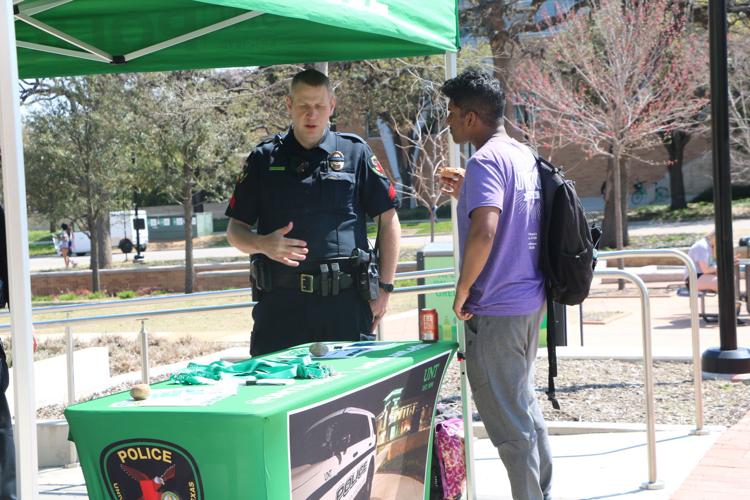 His advice to other students: "I would suggest taking one bite at a time. As a full-time employee and father of three, life can be very demanding. Taking just a couple of classes at a time allows me to focus on work and what really matters. Personally, I am treating this as a marathon and not a sprint."
Crawford said the determining factor that brought him here was the community feel. On the military base, it was a community within the community. He said it was very tight-knit and in its own bubble. He got that same feeling with Denton and said he thought, "This is my community. I can care for these people and protect these people."
At UNT, his official position is sergeant of community relations and training. From a community relations standpoint, much of his work is behind the scenes, including identifying and addressing community needs, as well as finding opportunities to collaborate with other departments and organizations on campus.
His role also entails creating the next 12-month training program for officers. Crawford has worked with UNT for four years but has 12 years of police experience overall.
Crawford says he wishes people would understand that police officers are not robots. At the end of the day, they are still vulnerable to things, just like everyone else. For instance, the future of Crawford's family remains top of mind.
"As a parent, you always worry about the future," he said.
Crawford and his wife — his high school sweetheart — now have three children. The couple met when they were both around 16 years old, then dated until he had to leave for the military. He said he thought he would need to end their relationship at that point, but he didn't want that — so they got married.
Now, he says he's just a regular dad who loves taking pictures.
Just because cops put the uniform on, it doesn't mean they aren't human and aren't insensitive to situations. Crawford said he has taken people to jail although he didn't really want to, but they broke the law and it couldn't be helped.
For people who may fear the police, Crawford says they should take time to get to know an officer. You'll find out they are people, too. Let biases go away. On campus, if you see a police officer, walk up and talk to them, ask them about themselves.
Crawford also hopes the way younger generations view police will change.
"The police department is having trouble finding new recruits for their department because there is a commitment that is required to be a police officer," he said. "You have to work on days off, holidays, night shifts — and to the younger generations, that is not really the lifestyle that they want."