Backing the Blue Denton hosted a car wash fundraiser Saturday morning at the Colorado Boulevard Arby's to raise money for Urban Rodriguez, the police officer who was shot last October during a traffic stop and is currently recovering.
Rodriguez was allegedly shot in the head and leg by Antwon Pinkston, a passenger in a vehicle that was pulled over in what police described as a routine traffic stop. In November, he was moved to an out-of-state rehabilitation facility and he has since returned to Denton.
The proceeds from Saturday's fundraiser will be put toward a van for Rodriguez and his family as he continues to recover. Prior to the event, just over $11,000 of the $45,000 goal for the van had been met.
The carwash was Backing the Blue Denton's fifth annual fundraising event. The organization began in 2016 in response to the Dallas shooting of several police officers and provides resources and support to police families. Board member Lisa Grelle said the organization started because she and others wanted to do something to help support officers.
"We generally support all law enforcement officers and their families in Denton county, however they need it," Grelle said.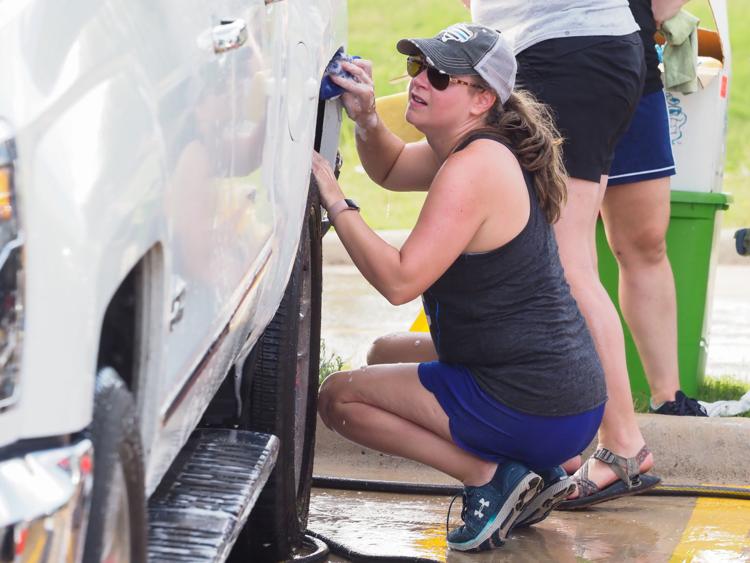 Board member Lisa Mayfield said that while Saturday's fundraiser was for a specific officer, the organization uses its funding to help police families in all situations.
"Primarily, it's to help law enforcement families as a whole, whether it's in good times or bad," Mayfield said.
Heather Godi, a board member from the organization's start, said she's seen growth in the support of their efforts over the past five years, even from people without direct ties to officers.
"We've seen people we wouldn't expect saying, 'Hey, we support y'all,'" she said.