Bo West has been confused lately. Confused because a man who had been like a son to him was killed Sept. 16, and he still doesn't know the full story.
Kris Adams, 37, was shot by a Denton County sheriff's deputy while running away and pointing a gun toward pursuing deputies, according to the sheriff's office.
Adams died less than an hour later at Medical City Denton.
Deputies were investigating the theft of a stolen pickup, which they said they found on Adams' property in the 4300 block of View Road northwest of Sanger.
Adams allegedly escaped his house through a window before trying to outrun deputies. According to a news release issued by the Denton County Sheriff's Office last week, he dropped a handgun at one point, looked back and forth between the two pursuing deputies and continued to run while pointing a gun behind his back.
Based on how well he knew Adams, West said he finds that story hard to believe, but he also knows people in Adams' situation can behave unpredictably: "I suppose the body cameras will play that out," he said.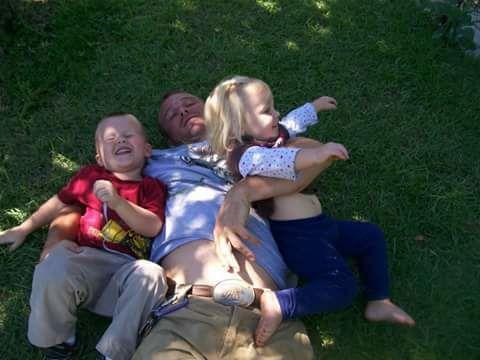 So far, the sheriff's office has not responded to a request filed under the Texas Public Information Act seeking several pieces of information related to the shooting, including video from body cameras on deputies involved. Also not available is the autopsy report from the Tarrant County Medical Examiner's Office. It is still pending, according to the medical examiner's website.
"I can see him jumping through the window, I can see him with the gun, I can see him facing the officers," West said. "However, knowing Kris, if he was wanting to fight, he would have got it right then. Him turning and running — to me — was saying that he wanted to get out of there safely."
Adams didn't want to hurt anybody, and he didn't want to die, West speculated. Still, West said he can't fault the deputy, whose name has not been released, for taking the shot if they had a gun pointed at them.
West sees himself as a strong proponent of law and order, a trait he said he tried to instill in Adams.
West's support for law enforcement, coupled with the lack of information he has gotten about the shooting, has created just one more internal conflict he's had to deal with for the past few days.
He's torn between the sheriff's office account of the shooting, a perceived lack of information and his memories of Adams.
West met Adams' mother, Kristin Adams, when she was pregnant, so he feels he has known Kris Adams since before his birth.
West said Adams had a hard childhood and faced a lot of rejection early in life, but he was reluctant to talk too much about what that entailed. By the time he was 14, Adams was living with his grandfather and getting into trouble at school in Denton ISD. West and his then-wife agreed to take him in and get him enrolled in Era ISD.
"They helped him get caught up, and it seemed, too, that he enjoyed the little country school rather than the bigger schools," West said.
He remembered Adams as a polite, hardworking kid.
While living with his grandfather, a University of North Texas professor who died in 2011, Adams had lived a life of privilege, but the Wests' horse farm was a place of work.
"He always was willing to get out there and work and do his part as a member of our family at that time," West recalled. "Whether it was hauling hay or cleaning stalls or breaking the horses, whatever, Kris was there: ready, willing to do it with a smile."
West saw the teenager less often after he had an amiable split with his ex-wife in 1999. The pair reconnected a few years later, with Adams coming around to West's house frequently to sit and talk on the porch when things were going really well and when they really weren't.
"Me and him got along really well," West said. "As a matter of fact, up until the day he died, I guess, he called me 'Pop.'"
The final spiral
Through his adult life, West described Kris Adams as a normal, kindhearted man with one major flaw — "to be quite frank, the power and the hold of the meth — he could never get away from it."
West said he didn't know when it started with Adams, but the cycle of addiction followed him through most of the young man's life. Through talking with him, West knew his friend didn't want to live that way, describing methamphetamine as a demon Adams tried to fight.
Adams would find a good job, get clean and do well for a while before hitting another downward spiral. The final spiral that led to his death was particularly bad, West said. He'd warned his friend the path he was on would eventually lead to his death.
"I guess it's sad to say it wasn't a total shock that this happened," West said.
Tuesday morning, West struggled to find the words to wrap up how he felt about Adams' death, an event that was both expected and a sudden, tragic end to a difficult life. For now, West said he just wants to know the full story. He said he's tired of the rumors he hears flying.
Lack of information is part of the distress felt by Adams' family, West said.
"I guess I include myself in 'family,'" he said. "Even if they can't give us everything — something. Something that can help."