In 1999, Ryan Matthews was sentenced to death for a murder he didn't commit. Now, he's set to walk the stage Saturday, graduating from Texas Woman's University with his bachelor's degree.
Matthews was arrested two weeks after his 17th birthday on a murder charge after a Bridge City, Louisiana, grocery store owner was killed during an attempted robbery in 1997. He was sentenced to death in 1999 after he refused plea deals, and was on death row until DNA evidence found at the scene identified the murderer as Rondell Love, a man who was in prison for a subsequent murder he committed.
"That was during an important time in my life," Matthews said. "I was transitioning into adulthood. That crucial time was taken away from me."
While in solitary confinement for 23 hours a day, he pored over books preparing him to eventually go to college, inspired by Plato's writings and psychology books. Matthews was released in 2004, a year after the DNA on a ski mask left at the scene identified Love.
"I didn't believe it until I was released," he said. "I felt elated."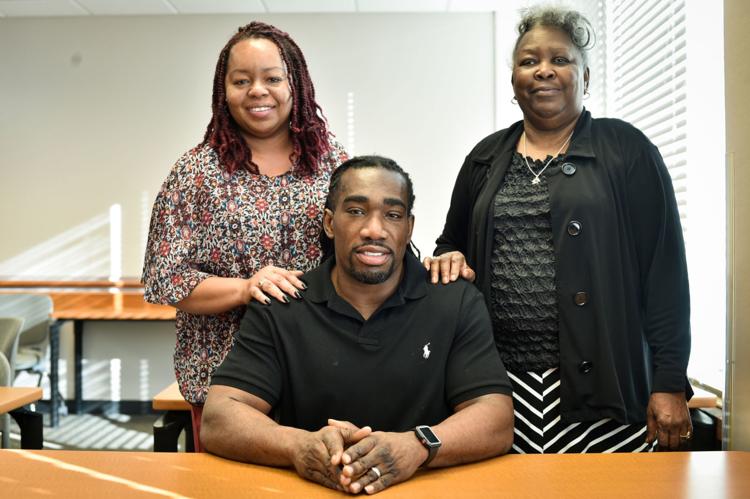 His mother, Pauline Matthews, and sister, Monique Coleman, would drive about two and a half hours each way to visit him at Louisiana State Penitentiary, nicknamed Angola. The nights Pauline Matthews came home after visiting him were her most peaceful during that time because when she got home she could relax, she said.
A year after his release, the family moved to Texas in 2005 because of Hurricane Katrina. Ryan Matthews moved back to Louisiana briefly, but returned to Texas for good in 2009.
Now a father of four, the 39-year-old Denton resident started his higher education journey at North Central Texas College before he transferred to TWU in 2017. Matthews chose TWU because his sister earned her undergraduate degree there. Coleman is now in a doctoral program at TWU focused on family studies. Their mother, who also lives in Denton, is enrolled at TWU as well and just finished her first semester studying social work.
Even though Ryan Matthews was exonerated more than a decade ago, challenges continue. The arrest for the capital murder charge is still on his record and pops up on background checks. Still, he's hopeful he'll be able to find an entry-level job to learn more about the business world before he goes to graduate school for financial planning and accounting, he said.
"If I have any problems with the hiring process, that's not going to stop me," Matthews said. "I'm going to just try another route."
Meanwhile, Coleman hopes to become a social worker to work on legislation for people who are wrongfully incarcerated. While she continues working on her doctorate, for now she's excited to see her brother cross the stage Saturday morning.
"It's so surreal," she said. "I can't believe where we came from and this is where we are. It seems like just yesterday we were at Angola visiting Ryan, eating snacks out of the machine while he was shackled, handcuffed and chained from his waist to his feet. It just doesn't seem real."
For Matthews, his graduation is a culmination of one of his biggest life goals: be a college graduate.
"This is one of my dreams come true," he said. "I don't know if it's because the fact my opportunity was taken away from me, but I always thought I'd like to do this. I'm not going to prom or graduating from high school, but I'm over that. This accomplishment feels good, like I'm heading in the right direction. No matter what happens from here on, I did this. I didn't give up."