FORT WORTH — Prayers work. Just ask Johnny Pate.
The 58-year-old former Texas Christian University basketball player always believed himself to be fit, but this year he learned how fragile a human heart can be, how close death lurks and how miracles happen.
On Aug. 25, Pate died on the TCU basketball court at the Schollmaier Arena.
"I didn't have any idea that it was that day because I couldn't have been happier," said Pate, whose medical records read, "Sudden cardiac death successfully revived."
That day Pate was among dozens of alumni athletes participating in TCU's annual Alumni Student Athlete Weekend. He was running up and down the court when he suddenly fell.
Pate's head hit the court with a thud.
Chris Hall and Matt Herrill, athletic trainers and sports medicine experts, moved to handle the emergency on the court. When Pate stopped breathing, Hall used an automated external defibrillator and helped save his life.
Within minutes, Pate's heart rhythm was restored and emergency responders took him to a nearby hospital. Months later, Pate continues to mend.
"He is on his road to recovery," said Hall, who worked as director of sports medicine at TCU for 30 years.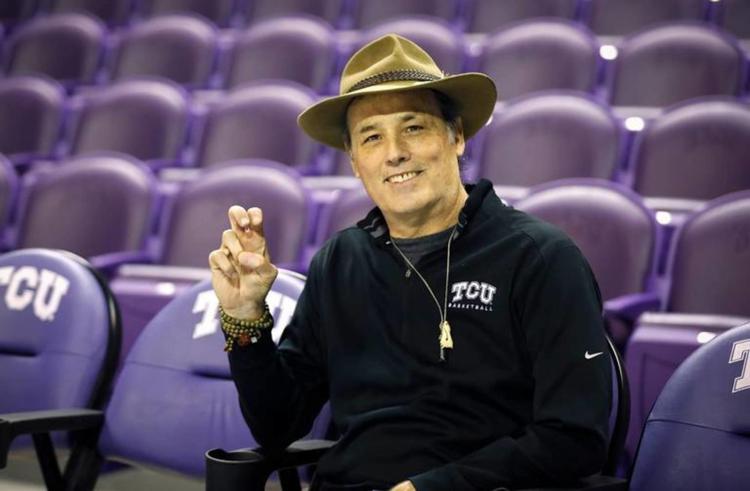 Pate is participating in cardiac rehab at Texas Health Fort Worth and he celebrates life with a large circle of friends and family.
"It's quite miraculous that I recovered so quickly," Pate said.
TCU reunion game
Pate, who graduated from Denton High School in 1978, has long ties with TCU. His mother, Gail Gear, was an art history professor at the university for 27 years. Pate attended Tyler Junior College before he transferred to TCU.
Pate played basketball for TCU in the 1980s. His jersey number was 31. He played when the team was coached by Jim Killingsworth, who died in 2007. The team was coined "Killer Frogs" under that coach's leadership.
The nickname alludes to 1981 team triumphs. That's when TCU beat Texas A&M University in a first-round game at the Southwest Conference tournament.
Pate was featured in a TCU team poster in which players dressed in Al Capone-style suits.
Each year, the alumni weekend allows players and TCU sports staff to reconnect with such glory days and catch up with each other, Hall said.
"We get to find out about careers, marriages, divorces and grandkids," Hall said.
Hall, who is a manager with the sports medicine program at Texas Health Harris Methodist Fort Worth, has a soft spot for the alumni weekend.
"These are all my kids," Hall said of the athletes he gets to see again. "They are grown adults now, but they are still my kids."
About 85 former TCU players showed up for this year's event and they represented different lineups under different coaching staffs.
"It is really great to have multiple generations," Pate said.
The alumni basketball event included a 3-point shooting contest and a pickup game.
Pate was ready to play. On Aug. 25, he put on his alumni uniform and started shooting.
"It was a blast until I ruined it a little bit," said Pate with a chuckle.
Hall said he couldn't tell if Pate tripped, but what he did see and hear prompted swift action.
"He fell and he hit the back of head," Hall said. "I heard the loud thud."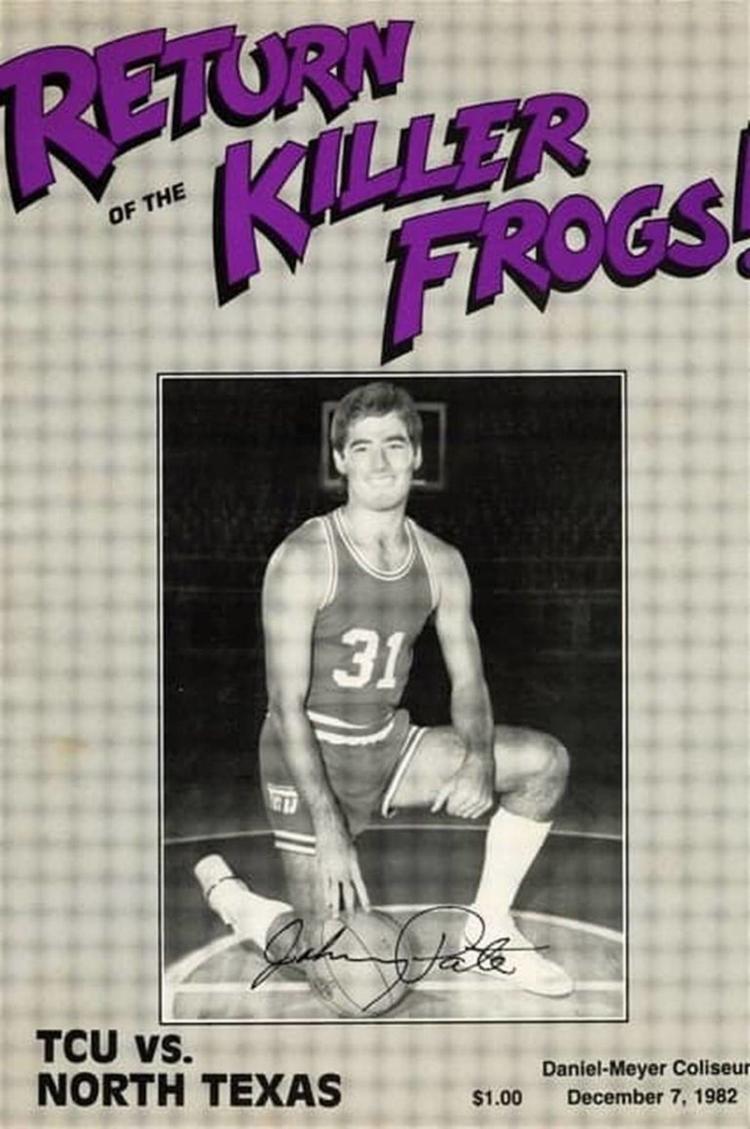 People were hollering for help as Hall ran to Pate. Hall realized that Pate was having a grand mal seizure. Hall said during these types of seizures, the brain basically "begins to reset."
Hall said Pate was convulsing and had deep labored breathing. His teeth were clenched and grinding. Hall reassured Pate. When the seizure ended, Pate took a deep breath, exhaled and his body relaxed.
"He stopped breathing and his heart stopped beating," Hall said, adding that at some point he suffered a cardiac arrest. Herrill brought him the AED and someone called 911.
"I heard a gurgle come out of his lungs," Hall said. "I knew that we had to take action quickly. There was no pulse and his lips began to turn a different color."
Hall attached the AED and followed instructions. Hall and Herrill cared for Pate until emergency responders arrived. Pate was taken to Texas Health Fort Worth and admitted to the emergency room.
"I don't remember what I was thinking because I was trained to do this. It just kicks in," Herrill said, recalling their actions to save Pate. "We got to do CPR. We got to get the AED on him."
Pate said he remembers shooting and running on the court before the incident. He said people said he shot an air ball and then was running backwards. He remembers falling down.
"Next thing I know, I was fishing with my ancestors," Pate said, alluding to visions he remembers. While Hall, Herrill, TCU and others tried to save him, Pate couldn't move, but he could hear voices.
"I could hear people saying my name. I could feel them praying for me," Pate said.
'The warmth in their hands'
Pate ended up having triple bypass open heart surgery. Medical experts put him in an induced coma and woke him up slowly on Aug. 27, he said.
"When I woke up, it was all good," Pate said. "My family was there, my sons, my girlfriend, sister and mom. Jamie Dixon [TCU basketball coach] was there smiling. My friends were coming by holding my hands."
Pate added: "I could feel the warmth in their hands."
He emerged from the coma asking about the alumni game. "When I woke up, it was like what happened? Who won the game?" he said.
Pate said he was loved by a large extended circle of family and friends. TCU players and his neighbors, including children, sent him "Get well" notes, he said.
While unconscious, the experience also took Pate through a series of images and conversations with family members who told him it was time to keep living. These visions showed him there was nothing to fear.
"I got to see my grandmother," Pate said. "She told me to eat berries."
Pate said his grandmother, who died in 1977, was young and beautiful in his vision. She carried a basket full of berries. Other relatives were there too, including ancestors fishing in a crystal clear river, he said.
Pate said, in his vision, he stood up and looked down at the river and fish were all around him. He saw his relatives fishing with 10-foot poles. They pointed to him and told him to bait their hooks. When he scooped down to get minnows, he noticed that his jersey was split.
"I wake up every day and it's like, 'Oh, OK. Good. Nice,'" Pate said.
Pate said he drew emotional support from his Choctaw and Chickasaw family.
"I had all of that positive energy coming," Pate said.
Pate, who is an artist, said he wants to describe his experience in a graphic novel. Hall and Herrill, who had the training to handle such an emergency, are the humble heroes in that story.
"It's difficult to face death," Herrill said. "Really, he was dead. ... I know doctors face it. Nurses see it every day, but in athletic training this isn't something we see on a daily basis so it kind of shakes you a little bit."
Recently, Pate gave Hall and Herrill Olympic-style medals to thank them for saving his life. The medals have special significance since he earned them during a horseshoe championship held during a family reunion in Oklahoma.
"It could have happened anywhere, but fortunately they were prepared here," Pate said.
Since his collapse, people tell Pate they've never prayed so hard in their lives and he responds: "It worked."