FLOWER MOUND — Angela Rosencrans leaned on her knowledge as a Denton County Master Gardener and as the owner of a garden design business to turn her "hellstrip" into something prettier than a weedy, patchy island at the curbside of the Flower Mound home she shares with her husband, Dean.
What's a hellstrip? It's that narrow plot of soil, grass or rocks between a curb and a sidewalk.
But the plants she chose for the hellstrip — 'Blonde Ambition' blue grama grass (Bouteloua gracilis) and monkey grass (Liriope muscari) — earned a letter from the Wellington of Flower Mound Residential Association informing them that they had violated homeowner association rules, and asking for a change.
"I think part of what bothered them about it is that there is mounding, but that eventually settles, and the soil will be even with the curb," Angela Rosencrans said. "They want us to remove it and put Bermuda grass, or some other sod or turf, in its place."
The Rosencranses want to be good neighbors, but they also want to save water, a resource that's dwindling as Denton County's population surges. With new homes springing up everywhere (and developers rolling out the St. Augustine by the acre) water will only get more scarce, Angela Rosencrans said.
The couple said the state Legislature is on their side, citing the section of the Texas Property Code that limits homeowners associations from interfering with a homeowner's efforts to conserve water by using rain barrels (the Rosencranses have several) and landscaping with drought-tolerant plants, trees, shrubs and grass.
The association, which told the Denton Record-Chronicle it would not comment on the matter, sent a letter May 12 to the Rosencranses informing the homeowners they were out of compliance with association rules in two instances: The couples' composting bins could be seen from the street, and the flower bed next to the curb had been modified without approval from the association's architectural control committee.
The Rosencranses said that letter tipped the first domino in a chain of letters and communication about the small strip of property. As it stands, the association said the Rosencranses' property is out of compliance with association rules.
The composting bins had been shrouded by shrubs that were killed by the winter freeze in February, and the couple compromised by screening the gate and fence to obscure the large bins that allow Angela Rosencrans to add nutrients to her flower beds and landscaping using materials she gathers from her yard. Soon, she said, the shrubs will grow back and screen the yard from view from the street or sidewalk.
The hellstrip, though, is a sore spot.
"Bermuda grass isn't going to grow here," she said. "I can't think of a turf or sod that's going to do well here. There's too much shade from the tree; you see that all over the neighborhood. Anywhere there is a mature tree, the turf planted under it isn't growing because it can't get enough light."
The Rosencranses appealed to the association with information about plants, photographs of association-maintained hellstrips and entrances that use rocks, stones, plants and no turf.
In addition to completing the Denton County Master Gardener program, Angela Rosencrans and her husband participated in a yearlong Denton County water conservation study that helped the couple plan and plant a landscape that keeps their water costs at less than $200 a year.
"If you look at our yard after we get a downpour, you won't see runoff into the street like you'll see in other yards on our street. These houses are built on a hill, and the runoff comes from the backyard to the street. But we've been careful, and the water stays in the yard, where it helps the plants and trees," she said.
Angela Rosencrans said most of her landscaping uses native plants, with the remainder being reliable adaptive plants that do well in Denton County's searing sun and paltry rainfall. She installed drip irrigation, which uses less water but puts it in focused spots. Her hard work has resulted in more than one Yard of the Month award.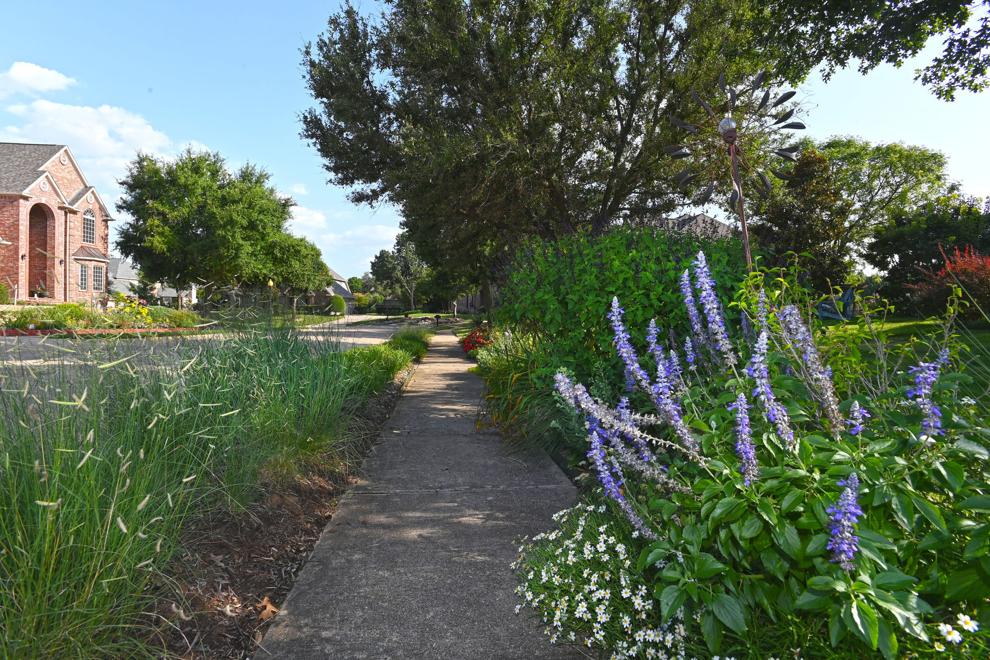 The Rosencranses don't dislike Bermuda grass, and they have a soft, green patch of Zoysia in the front yard. Angela's objection is that, in some spots, Bermuda grass isn't a water-wise turf.
"Watering Bermuda grass is one of the most wasteful practices using city water," she said. "People think it's water-wise, but that's not always the case."
Becky Bowling, a professor at Texas A&M University and an AgriLife Extension urban water specialist, said turf isn't the problem in North Texas yards. The problem is ignorance.
"Turf grass itself is not inherently bad," Bowling said. "But it can be mismanaged. Sometimes it's the right plant, and sometimes it's not. What we've found is that the expectation for turf don't change in aesthetics."
Texans, and homeowners all over the country, yearn for rich green lawns that have no weeds. They love the traditional lawn because it's great for children and pets to play on. But the problem is that so many people want the grass to be mown too short and to be green year-round.
"When it's managed properly, turf grass does offer some benefits. … If we compare turf with impervious materials, like concrete, it doesn't compare," Bowling said. "It protects the soil from erosion. But the way you manage turf in one community isn't going to be identical in another, because what does well in one city won't do well in another."
Texas homeowners should learn how to properly irrigate their turf, and Texans could incorporate summer dormancy — when the roots dive deeper starting in July and green gives way to gold — into their yards.
"We call it letting it go blond," Bowling said. "People actually do a lot of damage by going out and watering. Similarly, we see people overdo nutrient and pest management. There's a way to manage turf grass where you get more environmental benefit. But mostly, this is about expectations around aesthetics. In Texas, we should not expect that everything stay green and beautiful year-round."
Bowling said homeowners associations want the best for their residents. They want homeowners to be confident that neighbors will care for their property.
"I think communities can set new standards for what is beautiful," she said.
In the longer term, Bowling said homeowners, retailers, landscaping businesses and installers need to get on the same page to conserve water.
Angela Rosencrans said she plans to comply. But not immediately.
"I'll change it in October, when it's the right time to plant," she said. "But this isn't a good use of our resources, and I'd love to see the homeowners association let the Texas property code stand."