Drug addiction was once a "full-time job" for Victoria Markle.
She spent much of the last decade revolving through the criminal justice system for drug-related charges.
Now, at age 37, the recovering methamphetamine and heroin addict is a nearly two-year member of the Denton County Drug Court — a treatment program that aims to assist high-risk felony drug offenders in their rehabilitation and reintegration into their families and communities.
The drug court, which is in its third year, operates out of Judge Brody Shanklin's Denton County 211th Judicial District Court and has an enrollment cap of 30 participants, according to Kevin Edwards, probation officer for the drug court.
Shanklin presides over the drug court and is assisted by Judge Steve Burgess, who oversees the 158th Judicial District Court. Shanklin was not available for comment for this story.
Before entering the drug court program in 2017, Markle had been homeless, living between a trap house in Dallas' Oak Cliff, under a bridge and in people's cars. She said she was facing her sixth felony drug charge in nine years when she failed to appear in court.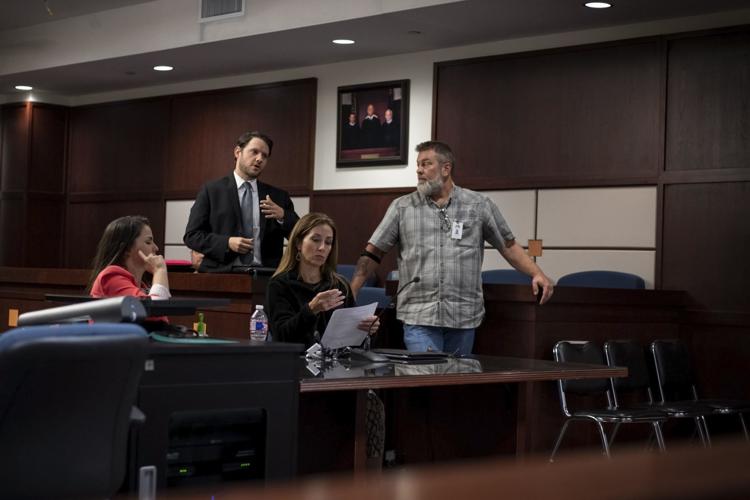 After a warrant was issued by Denton County, Markle said her addiction began to spiral. In the time frame leading to her arrest, Markle said she had woken up in a hospital four times after having overdosed on meth, heroin and cocaine.
Despite her brushes with death, she sought maintain her addiction through whatever means possible.
"[Addiction] was a full-time job for me," Markle said. "It was staying up for a week at a time. It was shooting things that kept me up while maintaining my heroin addiction, while selling drugs, while robbing people — I was OK with that."
Markle spent 90 days detoxing in Denton County Jail leading up to her court date for a felony possession charge. She said she was ready to "sit out her time" in a cell — that is, until prosecutors sought to enhance her penalty to a third-degree felony because of prior run-ins with law enforcement.
Markle, who had no home or vehicle at the time, said she had to get on board with the idea of drug court after her bail was denied. In addition, she said her court-appointed attorney, George Roland, acknowledged the court would most likely make it "impossible" for Markle to "accomplish this easily."
Roland and his sister, Sarah Roland, who are both criminal defense lawyers in Denton, are involved with the drug court. They also help organize North Texas Overdose Awareness Day, which will have its second annual event Saturday on Denton's downtown Square.
George Roland said Markle deserves "all the credit in the world" for pursuing membership in the drug court. He credits a change in mindset and greater access to available resources as factors that assisted Markle's ongoing recovery.
"[Markle] has already changed the way she's thinking about things. She's thinking long-term now, not short-term," George Roland said. "She's saying, 'I want to do something to stop this and stop getting arrested.'"
Sarah Roland said there has been a "market shift" in the way people think about substance addiction, although not everyone considers it a disease like diabetes or cancer. Still, the change has led to positive outcomes for members of the drug court, such as Markle.
"You don't overcome it, right? You treat addiction much like you would treat diabetes, cancer or anything like that," Sarah Roland said. "I think the similarities of those things are, they're all influenced by environmental, behavioral and genetic factors."
Sarah Roland said that much like any disease, addiction is typically a combination of factors that require treatment, rather than simply "getting over it." Instead of a cure, she said, addiction can only be treated and the disease can only be managed. She said Markle is doing "remarkably well" at accomplishing this, as well as many others who are involved with the court.
Edwards, who has worked with the drug court for three years, said there was little offered in terms of treatment for drug offenders when he began working for Denton County 19 years ago.
When he was hired, Edwards said, the criminal justice system tended to be a very punitive-based system — a person could face jail time after failing two or more drug tests. However, over the years, Edwards said the justice system has experienced a shift toward a more progressive model that includes therapy.
"Over the years, we've seen the shift to progressive sanctions, where if you tested positive, then yes, you may get a week in jail," Edwards said. "But we'll also increase the amount of therapy that you receive, as to match punitive and therapeutic sanctions."
Edwards said he is encouraged by the problem-solving courts that have popped up in the county within the last five to 10 years. Denton County's specialized treatment court programs are available for first-time drug offenders, military veterans, DWI offenders and people who need mental health treatment.
Markle, now 18 months into her sobriety, said she believes the drug court is designed to set people up for success. She said the program and its administrators realize that relapse is part of the recovery process, and the program is there to help.
"Yeah, there's a small punishment when people fail a drug test, like a weekend in jail or something like that," Markle said. "But ultimately what the program does is offer them help or to go back to treatment, or if they need to get a person into sober living because they need more accountability."
Now in Phase 3 of her program and expecting to graduate in March, Markle said she credits her ongoing recovery to efforts of the drug court, a newfound relationship with God and her three kids.
"I have been taught and learned from my own experience that anything I put before that power is the first thing I'm going to lose," Markle said. "So God has to come first, then my kids, my job and carrying the word is equally important, because I can't let my job substitute my program."
Markle has worked as a recovery advocate at the Stonegate Center in Azle and occasionally at the MHMR of Tarrant County's Pine Street Rehabilitation Center in Fort Worth, as part of her mandated drug court work requirements, for nearly 10 months. She meets with recovering addicts either one-on-one or in accountability groups. Although this work is required by the program, she said it helps keep people sober when all else fails.
"It's necessary for me to give it back, and actually, it's actually the main purpose of the program," Markle said. "On Step 12 of the program, we carry the message to the addict that still suffers — that's the one thing that helps keep us sober."
Drug court members are required to complete a set number of community service hours, which is typically determined during the plea agreement, according to Edwards. This year, drug court participants will be able to earn "two-for-one" service hours for volunteering at North Texas Overdose Awareness Day, Burgess said during a drug court meeting Thursday.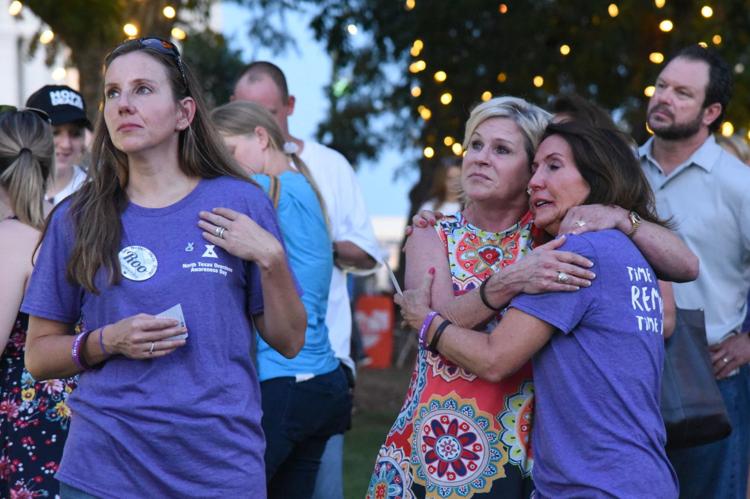 Cross Roads resident Sharon Roland — who organized the event with the help of her children Sarah and George and daughter-in-law Rachel — said the awareness day is in memory of her eldest son, Randy, 32, who died of an overdose in 2016. The event, Sharon Roland said, aims to educate the community and provide resources for those struggling with addiction.
Near the conclusion of Thursday's drug court meeting, George Roland addressed the packed courtroom, asking for volunteers to "come out and help."
"We could really use as many of you that are available to come out," he said, as one hand, followed by another, shot into the air and people asked who to contact to be involved. "You can contact me, and I'll set it up."
Markle, who participated last year and intends to be at Saturday's event, said seeing the Rolands rallying the community around the issue is "inspiring."
"Unfortunately, there's such a need for [North Texas Overdose Awareness Day], and it sucks that it took an epidemic that was very much present 10 years ago," Markle said, referring to the opioid crisis and the influx of fentanyl over the years. "But I hope that this year is even bigger than last year — it was very inspiring and the Rolands are amazing."
The second North Texas Overdose Awareness Day will be from 6:30 to 8:30 p.m. Saturday on the south lawn of the Courthouse on the Square. The event will feature guest speakers, educational materials, and demonstrations on how to administer naloxone, which reverses the effects of an opioid overdose.