With classes beginning soon at North Central Texas College's new Denton campus, surrounding businesses have differing perspectives on its potential impact.
The First State Bank Exchange at NCTC Denton campus is located downtown on East Hickory Street in the former Denton Record-Chronicle building. For students and faculty, a four-story parking garage with more than 300 spaces was constructed on East Mulberry Street behind the new NCTC building.
NCTC had the downtown parking situation in mind when officials decided to build the garage, according to Vice Chancellor of External Affairs Debbie Sharp, who said students will have the cost of using the garage worked into their fees.
Sharp said the long-term plans for the garage are not yet set in stone, but that at least for the campus's inaugural semester, the garage will not be available for public use.
"There's still a couple things that are up in the air," Sharp said. "We're going to take this first semester to look at demands of our students."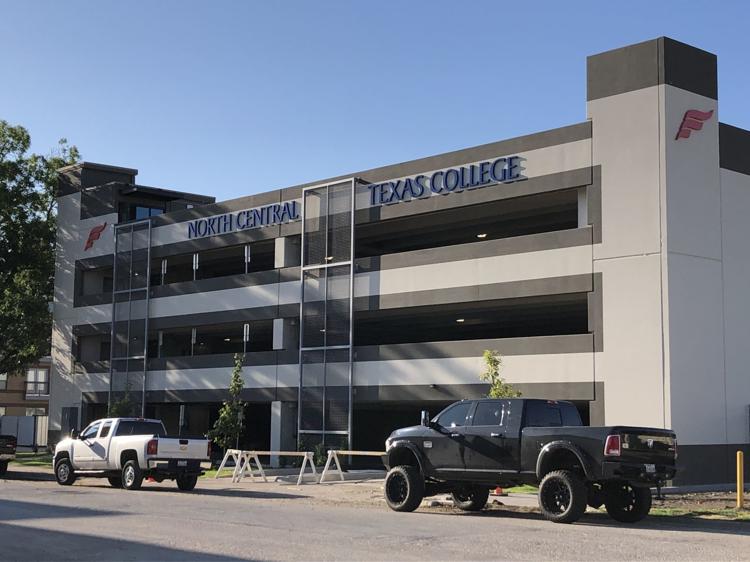 The garage is designed to contain vehicles of students and faculty so that they don't add to downtown parking congestion, but some nearby businesses have reservations.
Kevin Jones, owner of Shine It Auto Detail, an automotive detailing shop next to the new campus, said that while he doesn't foresee the college influencing his business, he does think it could impact the area's parking.
Shine It customers drop their vehicles off and pick them up later, making it self-sufficient when it comes to parking. Many of the surrounding businesses, however, could be affected if the garage isn't properly used, Jones said.
"I hope the students realize they need to park in there," Jones said. He added that NCTC representatives have communicated with him and been transparent throughout the process.
Across the street, Jeremy Carroll, owner of the Campus Barber Shop, said his shop has already experienced a drop-off in business stemming from the construction and its effect on parking.
Carroll said he believes garage fees being worked into students' tuition will entice them to park inside it, but there's still a degree of uncertainty over how effective the system will be.
"I wouldn't say 'confident,'" Carroll said of his current outlook. He said he's hopeful students will use the garage as they should and provide his shop with additional foot traffic.
Other businesses are more optimistic.
"I'm certain it's going to bring us some business," Hoochie's owner Sam Solomon said.
Solomon, who believes NCTC's arrival will be a net positive for his seafood restaurant, said he would like for the public to be able to use the garage after class hours even if there is a fee involved, but that he isn't overly concerned with the campus' impact on downtown parking.
"As far as I'm concerned, the campus is more than welcome here," Solomon said. "I look forward to them coming."
Alan Pierce, director of operations for restaurants Rooster's Roadhouse and Tex Tapas, said he thinks the influx of students will be beneficial for the downtown community as a whole.
"I think it's going to be a boon to the area," Pierce said.
Students will begin using the garage when fall classes start on Aug. 26.