When a sheriff's deputy fatally shot Kris Adams last month, Kamren Adams had to break the news to their 9-year-old daughter and 11-year-old son. The children had questions she couldn't answer. She can't answer for them what the Denton County Sheriff's Office won't answer for her.
"At this point, my husband is dead, and shot in the back," Kamren said in an interview. "That's all I know."
A deputy who was after Kris, who was wanted by the Florida Department of Corrections, shot him and killed him on Sept. 16 near Sanger. The sheriff's office says Kris Adams pointed a handgun at deputies as he was running away from them.
Kris Adams had interacted with lots of police agencies throughout his 37 years. But only one shot and killed him. And from the sheriff's office, his family has heard from nobody with updates. The Texas Rangers were not invited to investigate the officer-involved shooting. Stacked on top of the fact that Kris is dead, and that he went down this way, not hearing from the sheriff's office is making things worse.
"It has totally added to my pain and grief," Kamren said.
Since Kris' death on Sept. 16, Kamren Adams has filed public information requests for police reports and body camera footage and has hired an attorney to fight for answers. She said she answered investigators' questions after the shooting, so now she wonders why they won't answer hers.
Depending on what the Tarrant County Medical Examiner's Office rules, Kamren's attorney said they'll pay to have an independent autopsy done to check the work. She's after the details: Where on Kris' body was he shot? Who shot him? Precisely how many times did the deputies tell him to stop or put down the gun, and did the deputies attempt to deescalate the situation?
"The details are going to help me and them," she said of her kids.
If the authorities want the family to trust them, it's going to require showing them what their officer-involved shooting investigation has found and letting them watch the body camera footage of the shooting.
Kamren said she'd watch it. And so would Kris' mother, Kristin Adams.
"Because right now, at this point," Kristin said, "I don't trust anybody."
Of two sons' deaths, this one is more painful
Kristin Adams is waiting tables alone on the last Friday night in September. On the shorter side, Kristin steps up on a counter's bottom shelf to reach the plates waiting for her in the window.
"To take someone's life," she says, narrowing her eyes and shaking her head before running out the two plates in her hands.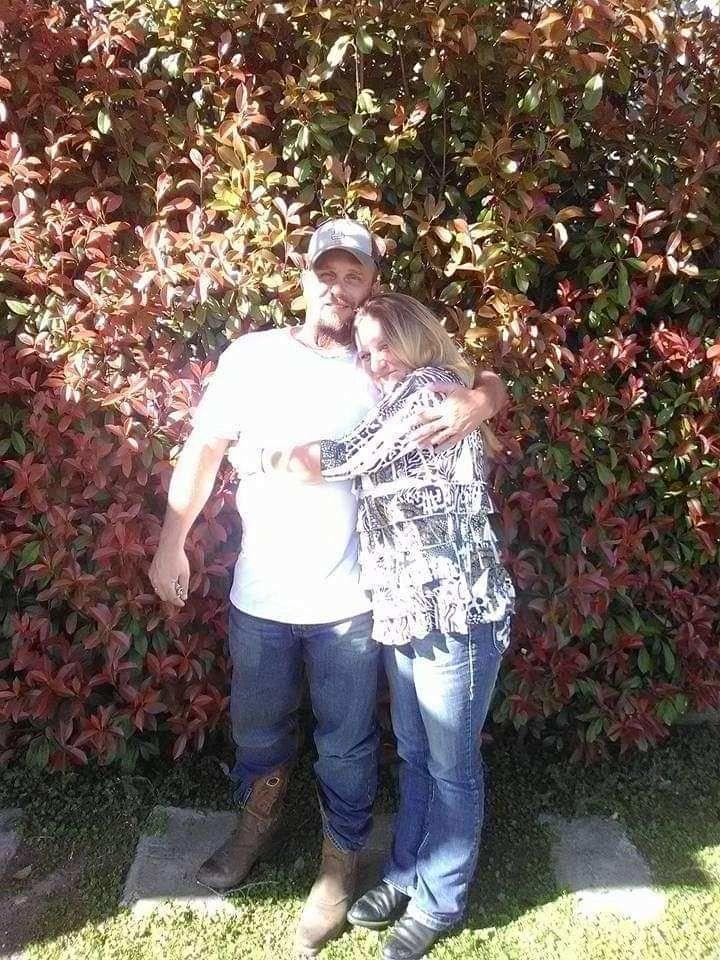 She rushed from this Denny's, in Corinth off Interstate 35E, to Medical City Denton the evening of Sept. 16 when somebody from the medical examiner's office told her Kris had been shot. Kristin worked at this Denny's location for about four years.
"Off and on, in between sons dying," she said.
Before Kris, it was Jonny, the oldest of her four sons. He died two years ago after suffering a traumatic head injury at work, Kristin said.
This week, Kristin Adams said she quit her job. While Kris was in town, for the last six months before he was killed, he would stop by and see her at the restaurant. He left her three grandchildren, the two in Florida and a 16-year-old who lives with his mother in central Texas.
"I keep waiting on [Kris] to walk through the door," she said during the shift in September.
Losing her eldest and youngest sons is distinctively painful. But for Kristin, it's Kris' death that has wounded her the most. A police shooting is something different.
"Jonny just went to sleep," Kristin said, but Kris, "I can picture him getting shot, I can picture how much pain he was in. It's ripping at my heart."
Sheriff defends police in 'crazy' America
While Kris Adams' family is left to play offense for basic information, Sheriff Tracy Murphree is on defense for his deputies.
Murphree won't release the name of the deputy, in order to protect the deputy and their family. He said his office's attorney, Mary Miller, has advised him not to release the name. But he said he would not release the name regardless of what the attorney advised. That's because of the "crazy" political environment that law enforcement officers live in here in 2019, the sheriff said in a phone interview.
Whereas the Texas Rangers oversaw an officer-involved shooting investigation this summer when another deputy shot and killed another man in the Lantana area, the Rangers did not investigate Kris Adams' case. Murphree wrote a nearly 1,000-word Facebook post Thursday defending his office after it was reported that his office asked the Denton Police Department, instead of the Rangers, to oversee the internal investigation into the shooting only after trying to rush the Rangers' review of the Lantana shooting, according to sources close to the sheriff's office and Denton County law enforcement.
What's known publicly is what the sheriff's office said in a news release. The release said Kris Adams ran from deputies and pointed a handgun at deputies who were chasing after him. They said Kris "refused to obey" deputies' commands and was shot from behind.
Wanted in Florida
Kamren Adams ended up in the hospital on Sept. 22 when she arrived in Pensacola, Florida, after spending five days in Denton County. When she got a minute for herself to sit and think, so much was on her mind in the aftermath of Kris' death that her heart began to pound, beating into a panic attack.
"It literally consumes every second of my day," Kamren said.
Her mother-in-law, Kristin, moved to Pensacola to help her raise the children while Kris was in prison. Now that he's gone forever, Kamren will have to figure out how to raise her kids without their father.
When he died, he was wanted out of Florida, where the state's Department of Corrections currently lists him as a fugitive. That's ultimately why Denton County deputies tried to arrest him, they said.
Kamren said Kris had moved back to North Texas about six months ago when they decided they couldn't be together every day. Married since 2007, Kamren said she and Kris still talked, nearly every day, over the phone.
"It kind of makes me feel guilty," Kamren said. "I had actually tried to contact him that whole day. I had just talked to him the night before."
He had his problems with the law and struggled with addiction, a friend said, but Kamren said Kris was never violent toward her or their children.
Both Texas natives, Kamren and Kris got married in East Texas, on a piece of his grandfather's land at Lake o' the Pines, where eventually she'll spread his ashes. They moved to Florida in 2010 with dreams of starting a family and a home together. Kamren said Kris, a welder, wanted to start his own company one day. They'd go to the Florida beaches together and go on hikes.
Raising her kids now will be even more challenging. But she knows she'll make it happen.
"I expect somebody to get a hold of me," she says, "but is it going to happen? I don't know."