There is a need for more robust public access to coffee in the Denton County Courts Building, sources close to the situation say.
One suspects it could be due in part to the bailiff barking to potential jurors as they file through security at 7:30 a.m. on a Monday, "Take everything out of your pockets! Not a few things, not some things — every-thing!"
Hundreds of Denton County registered voters are summoned each year to the courts building for jury duty. And the clear majority of them will never get to stir powdery, court-funded creamer into a Styrofoam cup filled with coffee. Only the people selected to an actual jury panel have the privilege of drinking the government's coffee.
"You have to be one of the 12 or 13 to get coffee," District Court Clerk David Trantham said.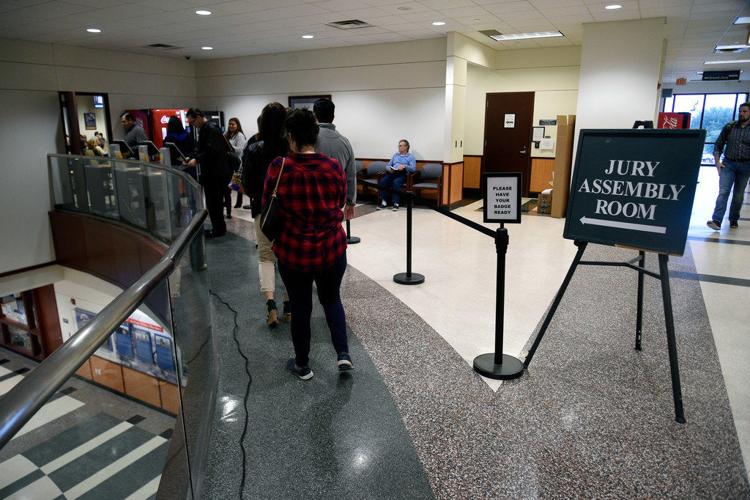 The Denton County District Attorney's Office provides grand juries with coffee, officials said. And some judges' offices give jurors coffee.
Everybody else simply must endure days away from work, hours of waiting around for directions, a riveting introductory video about the justice system and the honor of serving on jury duty. Aside from a couple vending machines, the courts building has no cafeteria or coffee filing station. And officials say there won't be one anytime soon.
So, it seems, for potential jurors, the worst part of showing up is having nothing in your cup.
"I don't normally get up this early," one woman inside the jury duty room on the second floor of the courts building said Monday about 8:30 a.m.
Flower Mound resident Mark McWhorter said Monday morning, "I've had to bring it from the house. You'd think they'd have some."
Officials said there used to be a public coffee station in the building, but it became a hassle to keep it clean and full of coffee. It was more of a chore than a service.
Jury clerk Carla Coleman said of this coffee crisis: "It's always being talked about."
Plans to install a coffee kiosk have floundered as the county's officials prioritize the buildup of several projects, including the construction of the new Denton County Courthouse on South Loop 288.
This conversation poured into Denton County Commissioners Court on Oct. 9. A vendor bid to construct a coffee station in the courts building came in thousands of dollars more than what county officials and judges had hoped for. What was expected to cost around $40,000 swelled to about $216,000, officials said in court.
"I'm thankful you all provide me with a very sturdy chair in my office," District Judge Sherry Shipman told the commissioners, "because when I got the email and saw the price tag on this, I was in danger of falling out of it and hurting myself."
The struggle, officials say, has to do with a lack of space in the courts building and the specifications an entity has to meet in order to serve food and drinks.
Commissioner Hugh Coleman, whose Precinct 1 covers the courts building, said the building is maxed out on space. Courts have been shuffled around the building like a jigsaw puzzle. A coffee kiosk is not a priority right now.
"The problem is, where would we put it?" Coleman said.
If the coffee kiosk serves creamer and milk, Coleman said, Denton city ordinance would require the county to remodel the building, costing more money than intended, to add equipment like a grease trap.
"We want to avoid having to redo a whole bunch of plumbing," he said.
Beth Fleming, the county's director of purchasing, said in Commissioners Court Oct. 9 it's even difficult to solicit vendors to serve coffee or food in the court because, she said, there is little indication of how much revenue will come in to make it worth a vendor's while to sell at the courts building.
On top of all that, there aren't many restaurant options near the courts building. Head over to the Chevron or 7-Eleven for coffee or a snack. There's also a Subway and about a dozen taco shops on McKinney Street.
Good news is, help is on the way across East McKinney Street from the courts building. A development is under construction that will include 40,000 square feet of retail space along with about 30,000 square feet of office space.
Nathaniel Dodson, an attorney with Dallas-based Dodson Legal Group, said his law firm was looking for a new place to house its Denton office, currently located at 121 S. Woodrow Lane. The search for a new office has turned into what he said will be called "Justice Plaza."
"The lack of office space for attorneys, [and] the lack of restaurants led me to want to create a home for the legal community," Dodson said.
Dodson said the first businesses will open there later this year. He said the public can expect a quick sandwich shop, a sit-down restaurant and, in the name of justice, a coffee shop.