Denton County's COVID-19 disaster declaration has been extended through Jan. 4, nearly two years after it was instituted in March of last year. From its operations at Texas Motor Speedway to the management of its vaccine portal data vulnerability, here's how officials have utilized the declaration throughout the pandemic.
The process
Broadly, the purpose of the county's declaration is "emergency protective measures, mitigation procedures and response plans to the current public health emergency." In the pandemic's early stages, officials used the declaration to issue restrictions on gatherings, closures of businesses and, eventually, a full stay-at-home order.
But for well over a year, the county has stuck to Gov. Greg Abbott's statewide orders. In practice, that has left one primary benefit: purchasing flexibility. Through local government code, the declaration allows officials to "exempt bidding requirements for the purpose of purchasing items necessary to preserve or protect the public health or safety of the residents of the county." Put simply, that means purchases can skirt the standard purchasing procedures if officials identify urgent circumstances.
Scott Arledge, director of the county's purchasing department, said that typically, the county works in thresholds. Under $5,000, any department can simply call a vendor or contractor and get a quote for the purchase. Between that and $25,000, departments must get multiple quotes from different vendors, and for products nearing or exceeding $50,000, the purchasing department goes through a competitive bidding process before recommending a vendor for approval.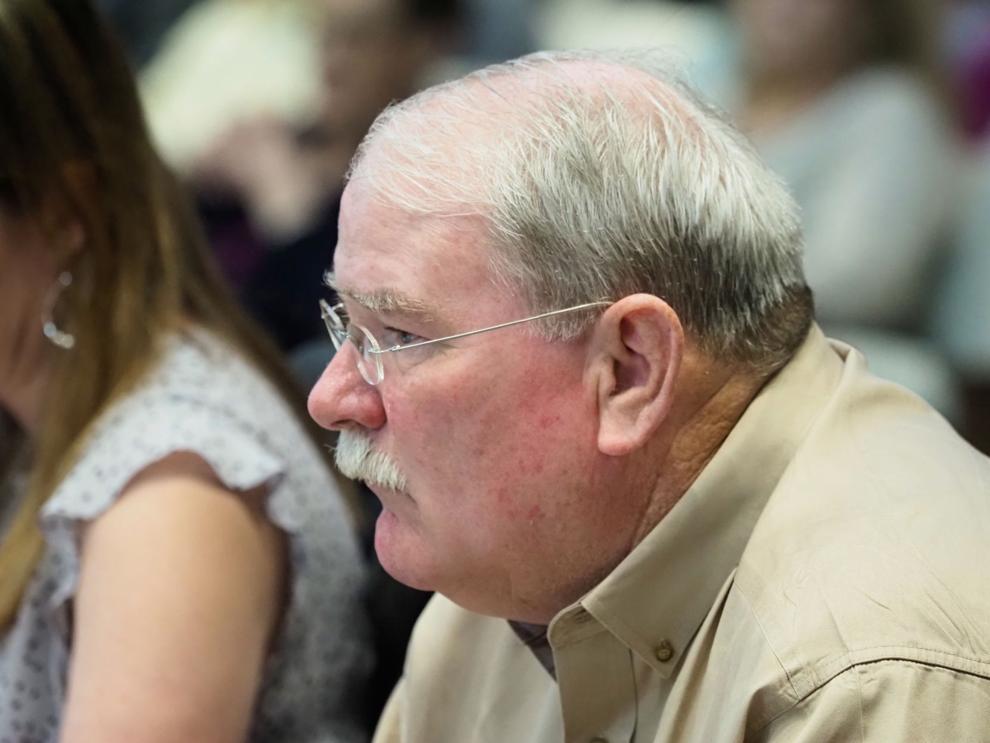 But during the pandemic and under a disaster declaration, Arledge said things work differently. That's because the county has made heavy use of CARES Act and American Rescue Plan Act funding, and as federal funds, the thresholds are separate. Small purchases are considered up to $10,000, with multiple quotes "encouraged" for everything up to $250,000. Over that amount, the competitive bidding process is required.
If the county believes a purchase needs to be made urgently or can be fulfilled only by one vendor, the emergency management department can write a letter of exigency, bypassing the need to get multiple quotes or go through a typical bidding process — which could take well over a month. That letter has multiple steps, including a description of the product or service, an explanation of why the purchase should be excepted and a disclosure of any conflicts of interest.
Records obtained by the Denton Record-Chronicle showed 17 instances between March 13, 2020, and Oct. 11, 2021, where purchases were made using exceptions, with millions of dollars spent between them. Arledge said that's far more than in a typical year, where officials might make an emergency exception two or three times. All of the purchases, he said, were made with federal relief money.
"We've never worked an emergency that's lasted almost two years," Arledge said. "This is a once in a lifetime event. … As the money was coming out of the federal government to the local agencies, you got direction day one, but their direction on what you could do and how to do it kept changing throughout the process."
The largest individual purchase order was for eight "FORTS" portable buildings with add-ons, costing a total of $1,244,400. The buildings, deployed at county vaccination clinics, were bought from Florida-based Elite Aluminum Corporation, identified as the only company providing the model the county wanted.
"We started looking to see if there was anybody else that had anything that was comparable to it, and we only found one company in the U.K.," Arledge said. "The feasibility of making that type of purchase overseas and getting something shipped over here was just not going to happen. That's when the decision was made to use the emergency process."
Supplies and testing
Arledge said the county set up a system early on in the pandemic for procuring COVID-19 supplies such as masks and gloves. The county wanted to buy personal protective equipment by the thousands, but vendors were selling out fast, so staff bought the equipment in whatever quantity they could find. Exigency letters established long-term urgent circumstances so that purchases could be made as soon as the stock was available.
"Everybody wanted everything that every vendor had on day one," Arledge said. "We were wanting to buy 5,000, 10,000, 15,000 [PPE]. We would find 1,000 with this vendor and 500 with this vendor, so our people in the office here were chasing those rabbits around trying to find them wherever we could."
Larger purchases were made as well, including for masks, gloves and hand sanitizer. In one purchase order, the county bought nearly one million pairs of gloves, costing a total of $146,962.
Three more exceptions were made for continuous COVID-19 testing contracts with three separate laboratories: Livingston Med Lab in San Antonio, AIT Laboratories in Denton and Principle Laboratory in Houston. Those included costs of the equipment for hosting testing clinics, as well as the tests themselves, which ranged from $70 to $89 per individual test.
Texas Motor Speedway operations
Several large purchases were made related to the county's vaccine clinic operations at Texas Motor Speedway, including the rental contract itself, two transport vehicles, and even a contract with CoServ for the continued delivery of food to staff and volunteers. Arledge said TMS made more sense as a site than other options, so the emergency exception was used to get started as soon as possible.
"There was just no other facility in the county that could handle that volume of traffic," Arledge said.
Rental and service fees alone totaled $941,045 by the end of the county's time at TMS. Two utility task vehicles specifically for use at the clinic cost $62,396, with another $37,845 spent on 11 portable heaters.
The county also organized a contract with electric company CoServ for the continued delivery of food. The company had been previously feeding clinic staff and volunteers for free, though the county began reimbursing it for the cost of the food on March 23, paying up to $72,000 over the next two months. CoServ continued to deliver it free of charge.
Vaccine portal data vulnerability
An early July data vulnerability in the county's online vaccine portal ended up costing over $400,000, according to purchase records made with the emergency exemptions. Chief Information Officer Kevin Carr said that amount was paid through the county's cyber liability insurance.
The vulnerability was discovered in a third-party application that potentially exposed data from anyone who signed up. County officials have not had any indication the data was accessed. While no sensitive information such as Social Security numbers, driver's licenses, financial accounts and insurance was at risk, Carr said the county was still legally required to contact anyone whose information was potentially exposed.
"We're required to make notification to those who were impacted and also give those persons the ability to contact us," Carr said. "If you had the capability of handling maybe hundreds or thousands of calls, you could have someone in your office handle your calls. A lot of [agencies] go through call centers because they're experienced in setting up for large call volume."
The bulk of the cost — an estimated $382,000 — went to ConsumerInfo.com, a part of business services company Experian. It handled sending out notifications by physical letter and email, as well as a 90-day call center, which Carr said answered 618 calls.
Another $40,000 went to Pennsylvania-based cybersecurity law firm Mullen Coughlin LLC, with an additional $25,000 paid to crisis communications firm LEVICK in Washington, D.C. Carr said the vendors were selected through the county's insurance broker, USI Insurance Services.
The county's disaster declaration will stick around at least through January and can be extended further. As long as it remains active, the purchase exceptions will remain available.