Sheriff Tracy Murphree is crafting a resolution that would declare Denton County a "Second Amendment sanctuary," he said Wednesday.
Murphree did not have the details of the resolution Wednesday morning. He said he is researching what the other counties have done and will present a resolution to Denton County commissioners and work with them toward approval. But the sheriff did characterize what he thinks the resolution will essentially say. He said his version of a resolution would reassert his and other officials' constitutional oaths in the face of any new legislation.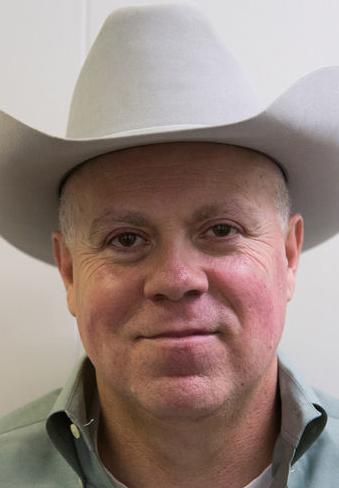 "I firmly believe what we have on the books right now is sufficient," Murphree said of policing gun violence.
"Red flag" laws have been passed in states across the country. Six states and Washington, D.C., have passed these laws since the 2018 Parkland, Florida, mass shooting. Such laws grant courts the ability to authorize police agencies to confiscate firearms from people if a judge deems them an imminent threat. Family and friends and law enforcement alike can advocate for confiscation.
Currently, agencies in Texas can confiscate weapons from people. But that comes into play when someone is charged with a gun-related crime — such as an aggravated robbery with a deadly weapon or possessing a gun while on probation. Officers and deputies can detain a person who police say shows risks of an imminent threat during a mental health crisis. In certain cases, police can confiscate that person's firearms.
Murphree said lethal violence protective orders under "red flag" laws will encroach upon people's due process rights.
Others in Denton County have called for a similar resolution. Last Tuesday, during the public comment period at the Commissioners Court meeting, three people showed up to ask county officials to adopt a resolution. Among them was Ryan Williams, a Republican running in the 2020 primary against Denton County Commissioner Hugh Coleman.
"Let's not be the last county to do it," Williams said.
Murphree is working on this resolution in advance of the 2020 election. On Wednesday morning inside the Denton County Sheriff's Office, Murphree admitted it is a gesture with no real, foreseeable consequences. It is meant to reassure conservatives who may be nervous amid political discussion, he indicated.
He kept naming Beto O'Rourke. The former congressman-turned-presidential candidate from El Paso said that if elected, he'd have every assault-style weapon confiscated from every American. O'Rourke is now long gone from the presidential race, but that he came out and said it ("Hell, yes, we're going to take your AR-15 and AK-47," the candidate said in September) is why Murphree thinks the public needs a formal resolution.
Asked who among the Democrats still in the race have concerning gun policies, Murphree named only Mike Bloomberg, characterizing him as "anti-gun." Overall, Murphree said, Democrats have been ambiguous on their stances on gun rights.
"Which is very scary," Murphree said.