Denton County officials approved a $620,000 voting software and equipment purchase earlier this week despite continued resistance from some county GOP members who insist on a return to using only paper ballots because they allege systems with electronics are insecure.
In recent months, precinct chairs from the Denton County Republican Party have given county commissioners several complaints and concerns, focusing almost entirely on the electronic elements of the county's voting system. Officials have heard complaints that the voting machines aren't certified, that the system can be easily manipulated and even that votes are changing from Republican to Democrat.
When a $619,500 purchase of voting software and equipment showed up on the agenda last week, the Republican precinct chairs urged county commissioners to hold off on its approval. Some of them had attended a paid Dallas event they claimed showed irrefutable evidence of voting machines not being secure. They wanted commissioners to view the video before approving the purchase.
Elections Administrator Frank Phillips said the elections department needs the equipment to keep up with additional voting precincts following last year's redistricting. Adding to the urgency, he said, are supply chain issues that have necessitated a faster timeline this year for getting in purchase orders. Despite that, officials honored the precinct chairs' request by waiting a week. Precinct 4 Commissioner Dianne Edmondson, a former chair of the county Republican Party, said that "it's helpful to our citizens to know they can come to us with a reasonable request, and we'll listen."
Tuesday, the purchase was back on the agenda, and four speakers were there to oppose it. Among their claims were that the county's poll pads could be used to change votes and that people could simply use phone apps to manipulate voting systems. Many of their beliefs were attributed to the recent event several had attended, called "Election Transparency on Trial."
The event featured purported demonstrations of how the voting system can be tampered with, and a video recording was given to county officials. However, as county officials pointed out, the demonstrations were conducted using the Dominion system. Denton County uses Austin-based company Hart InterCivic for its voting system, which is one of two companies approved by the state of Texas.
The company that produces the system that was the focus of the Dallas event, Denver-based Dominion Voting Systems, has become central to claims that the 2020 presidential election was rigged against incumbent Donald Trump. The company has filed multiple defamation lawsuits over the claims, including a $1.6 billion suit against Fox News, alleging the media company promoted false narratives about the election to boost its ratings.
County takes its turn
While Denton County officials agreed last week to table the voting equipment issue, they appeared lukewarm on the concerns, bringing up the accuracy shown in the recent Texas House District 64 election recount and the fact the county simply doesn't have the authority to overhaul its election system under the state's code.
Tuesday, officials made perhaps the most direct counterattacks to the claims since the issue started gaining steam. Phillips was at the helm, answering a series of questions from County Judge Andy Eads. He laid out that the county has been using Hart as its election system provider for 20 years. He said Dominion tried to get certified in Texas years ago but was rejected, which Eads said "sounds like a good call" by the state.
Eads said he called Connie Hudson — the GOP precinct chair who had alleged votes had changed from Republican to Democrat — and didn't get a call back. Phillips said the elections department hasn't been given any additional information to look into the allegations. He then addressed the event video directly.
Phillips said the video was the result of people having full access to an election management system. He said he didn't know exactly how they got that access, but that in one case, a county clerk in a different state has been indicted for releasing the system passwords on the internet.
"When you hand the keys to the house to somebody, don't be surprised when you get burglarized," Phillips said.
Phillips then addressed the role poll books play in the voting process. Many allegations have focused on the electronic poll pads, purporting they have vulnerabilities that let people change votes. However, he said changing votes with a poll book is "not even possible in the remote sense," because a poll book is essentially an electronic version of a spreadsheet of the county's registered voters. He explained that stops someone from voting at multiple locations, which is one flaw of paper poll books.
"No offense to our speakers, but I can tell by what they say that they don't have a fundamental understanding of what a poll book even does, or the people they're getting their information from are misleading them," Phillips said. "The worst thing you can do with a poll book is make a human error, check in the wrong person. Which happened with paper poll books, too."
Eads asked Phillips to address another point from the event, which he called "gross misinformation and misleading to the public." The event showed an email from a Dallas County elections administrator regarding Scytl, an electronic voting company that hosts the election websites for Dallas County and Denton County, among others. Organizers alleged the company is "deeply embedded" in the election process, but Phillips explained it's typical to create sample ballots and send them to Scytl Election Technologies to be put on a website.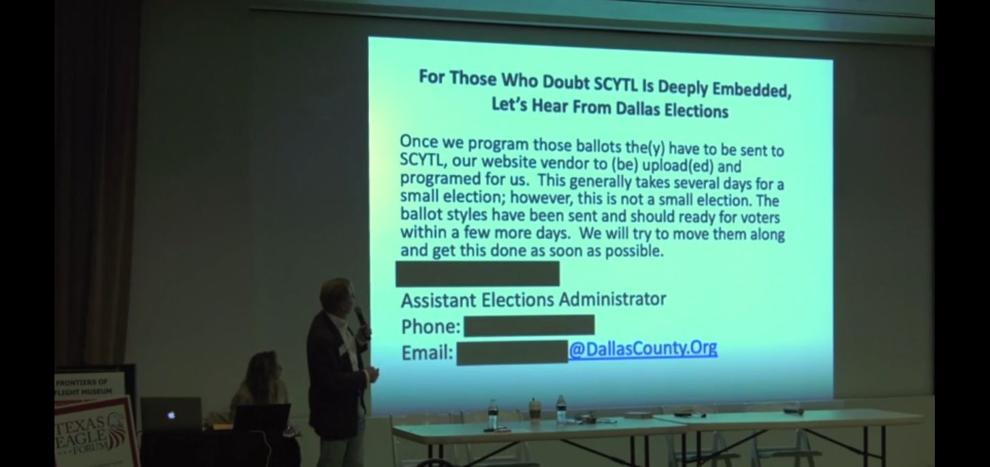 "They don't have access to our voting system," Phillips said. "What [organizers] didn't show was the email before that, that prompted the response from Dallas County. … It was clear to me that someone was asking about, 'Where's our sample ballots?' and they were simply replying, "Well, we're still waiting on Scytl to connect them.'"
Ultimately, Phillips and Eads established that the county doesn't have much of a choice — either it buys the additional equipment or it would be out of compliance with the Texas election code. Commissioners also backed the security of the current system.
"This is the same system that was purchased without objection about five years ago, and it does have a voter-verifiable paper audit trail," Edmondson said. "This isn't new; this is just making our election more efficient in the fall using the same equipment."
The commissioners approved the $620,000 purchase unanimously. Phillips suggested the conversation about election integrity won't soon be over.
"I have no doubt we're going to continue to have this methodology discussion, but right now, we've got to have this equipment," Phillips said.