Out of the city's eight fire stations, it's no surprise to the Denton Fire Department that Central Station is the busiest.
Since March 1, when Denton's newest station was fully up and running, Central Station on Hickory Street has answered the most calls, followed closely by Fire Station 8 on Colorado Boulevard. Of 13,866 calls between March 1 and Nov. 12, Central Fire Station has yielded 2,361 calls, with Station 8 trailing closely behind with 2,149 calls.
These calls only range back to March, and Denton Fire Chief Kenneth Hedges told the Denton Record-Chronicle earlier this month that call volume grew astronomically this year and they'll have a better picture in January of what the city needs in emergency response.
"That's completely expected [for Central Fire Station]," Battalion Chief David Boots, a spokesperson for the department, said Friday. "There's a massive amount of people downtown. There's a huge commercial area downtown. There's a very large population of people experiencing homelessness. All those things combined tend to make a busy downtown district, and the nightlife is very busy there too."
Central Fire Station has four units: a truck company, an engine company, an ambulance and a battalion chief.
While its crew responds to calls in its own district, they also go to neighboring districts if those crews are tied up on other calls.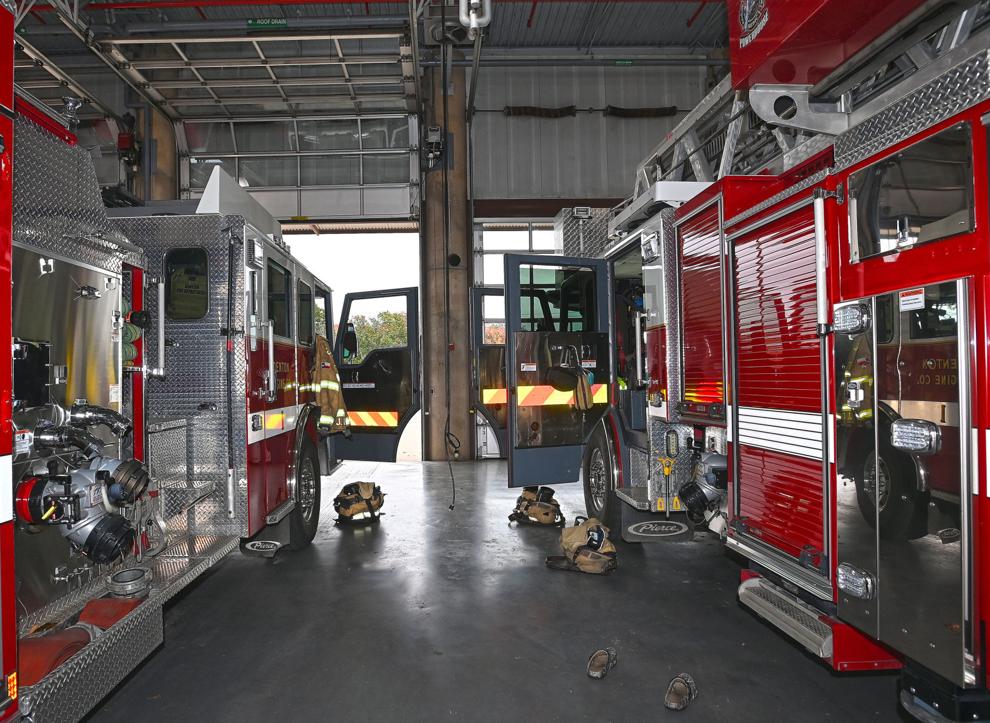 The other stations in the middle in call volume are Station 2 with 1,759 calls, Station 3 with 1,909, Station 4 at 1,538, Station 5 at 1,874 and Station 6 with 1,560.
Even though it's the newest station in service, Denton Fire Station 8 quickly became one of the busiest ones in the city.
Station 8 has technically been in service with the Denton Fire Department for several years as a paramedic-only station, but the crew has only been up and running fully with its ambulance and fire engine since late February.
Boots said they expected Station 8 to be busy, but they were still a little surprised.
"We didn't realize it'd be No. 2 in response," Boots said. "They cover all of the mall area and a portion of Loop 288 and I-35. There's a huge amount of doctor's offices. And they also have a heavy transient population there too."
Station 8 is also the Lake Cities Fire Department's first stop for mutual aid. The Lake Cities department provides service to Corinth, Hickory Creek, Lake Dallas and Shady Shores. Mutual aid is an agreement for departments to help each other out across jurisdictions when needed.
With Station 8 also being so close to the highway, Boots said that the crew responds to many crashes that happen along Interstate 35E.
On the other end of the spectrum, Station 7 on Vintage Boulevard is the least busy of the city's eight stations with 716 calls in the specified time frame. It's in the southwest part of Denton, near several existing developments and two future developments.
"It's the least populated area — however, close to that area there's Hunter and Cole Ranch, and there's 15,000 houses on track to be developed in that," Boots said.
The lower call volume doesn't mean those firefighters are sitting around waiting for the next emergency to come up. Boots said they spend extra time training.
"People don't realize we have to have 200 hours of [continuing education] a year," he said. "Every day you work, at least two hours are training or education instruction. Every day in addition to making calls [there are] station chores, station maintenance, cooking meals — that sort of thing."