CORRECTION: A caption with a photo of a public meeting for a future skate park has been corrected because it misstated two dates: when a petition circulated for Denton's first skate park, and when the city started construction. Eric Hutmacher, shown in the photograph, was 14 when he signed the 1998 petition at the Foundry, a former skate shop off Fry Street. The city started construction five years later, in 2003.
Outside the blue and white tile of the 1940s-era Gulf Oil station, about 20 cars fill the lot of Station Motors on the corner of Locust and McKinney streets. Peer beyond the garage doors, and you'll see skateboards framing the office of Denton Skate Supply. A multicolored bench by the window is made up of used skateboards, cut and recycled into a unique piece of art for customers to sit on.
Skate shop co-owner Crit Kiley, 29, leans on the glass counter, his sandy hair topped by a dark blue hat, a master chef of the Denton skate culture, standing before boards of all shapes and sizes. The bell above the front door jingles and Kiley greets two customers, both girls. One is buying her first skateboard.
"I wanted to learn, but nobody would teach me," she says. So she taught herself, skating with friends from high school who had left skateboarding but have picked up their boards again. "Eventually, we are going to cruise LA."
There's been an increase in skateboarders around town, and many of the new customers are girls.
This girl decides on the multicolored Alien Workshop deck, and shop employee Derek Vitiello exits the office to help Kiley mount trucks on her new board. The drill isn't working. Each takes a side and starts ratcheting.
"There's maybe five shops like us in the whole metroplex," says Kiley, telling the story of a different kind of skate shop.
Since opening in 2013, the Denton Skate Shop has become more than a popular place to buy boards, trucks and wheels. It's the hub of the Denton skating community, supporting local skaters through acts of kindness that cut against the stereotype of the callous skateboarder only interested in defacing property for a good ride. This welcoming skate shop and its employees also are engaged in their own brand of community activism. For the past four years, they have been working on a project to build a new outdoor skate park in Denton.
"I mean, that's what it's all about, that's why we do this," says Vitiello, "to share what we love with the community."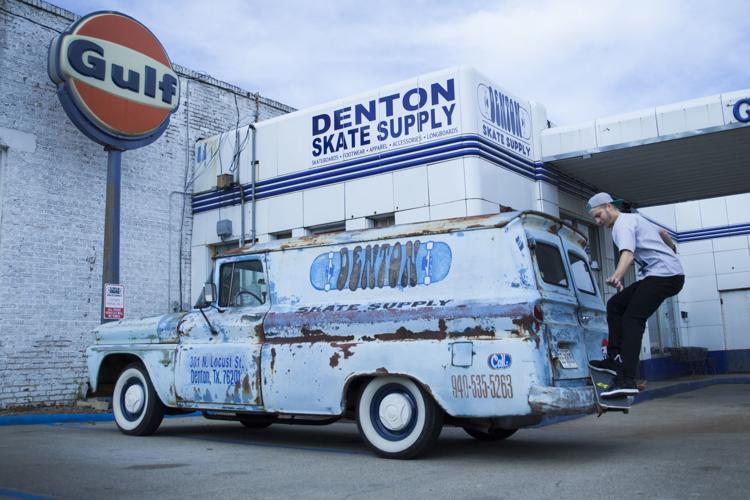 Just getting by
Kiley is the youngest of three brothers who started Station Motors, a used-car dealership that now funds their love of skateboarding. The reality is, Kiley says: "Skate shops don't make money.
"This place could not be here if we did not sell cars," he adds. "We do what we do to keep open."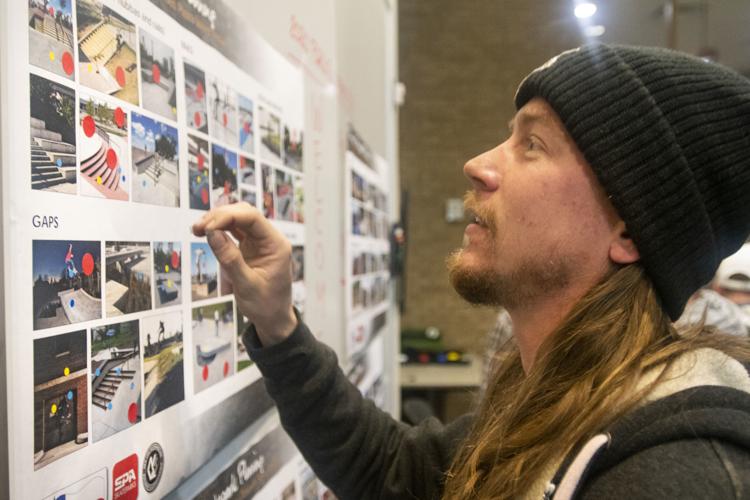 Kiley always knew he wanted to work for himself. Growing up in Flower Mound, the brothers worked for their dad's lawn mowing business. "[He] had us pushing the mowers at [age] 12, every summer. He taught us how to make money."
Kiley also learned from the mistakes of others. Young skateboarders often face the challenge of being exposed to a culture of drugs and excess, notes Kiley, and there's a real choice involved in overcoming these obstacles or risk being conquered by them.
"Because I passed off on [drugs] in the beginning, I saw how everyone else changed, and I kept going and going, and I thought, 'I don't ever want to be tempted to be that.'"
The Kileys started their business in 2013 under the banner of G5 Threads, selling skate apparel and hardware. It wasn't until 2015 that the brothers moved into the old Gulf Oil station and started selling their own boards.
"The skate shop definitely helped me find a whole local group of people," Crit Kiley says. "They have become my family."
The shop has become a place for other skateboarders to find family, too.
Aiden Strand begged his parents to go to a real skate shop. His mother, Dianne, says he wanted desperately to look at "real skateboards." He had only used the starter boards found at Walmart, she says. Finally, Dianne took Aiden to DSS.
"[Aiden] has Asperger's [syndrome]," she says. "He's always had a real difficult time with social cues, facial cues; he has to be taught how to recognize sadness, happiness, frustration, especially the subtle ones."
Vitiello was working that day and recalls when they entered the shop. "You could just tell he wanted to blow some money on something. He asked about everything."
Vitiello patiently answered Aiden's many questions and made him promise that he would save his money for a board. When Aiden agreed, Vitiello reached behind the counter and handed him a used skateboard, taken from a batch DSS loans to customers whose skateboards are broken.
"I had a used complete [skateboard] that day and just kind of ... gave it to him," Vitiello says.
Diane confirms her son still uses that same board, skating every day. He also continues to save up for the day he can return to DSS to build his own board.
The Kileys and Vitiello have a soft spot for hopeful young skaters like Aiden who daily come through their door looking for repairs or new gear. Some of them have lost their boards or had them stolen, and occasionally a homeless person will enter the store with a skateboard, trying to trade or sell it. Rather than turn away the homeless person, Kiley says they might buy the board for $5 or $10 and notify the community on social media to locate the rightful owner.
"That's what skateboarding is to me," Kiley says. "It is a community thing. It is a family thing."
Skate park problems
Kiel Grove launches down the ramp, wheels whizzing above the slick, hot metal surface at Denton's skate park.
Grove quickly approaches the 6-foot quarter pipe and crouches down. Wheels enter the curved metal with a loud "ba-dum!" and Grove extends his legs, lifts his front wheels over the metal coping and starts to boardslide.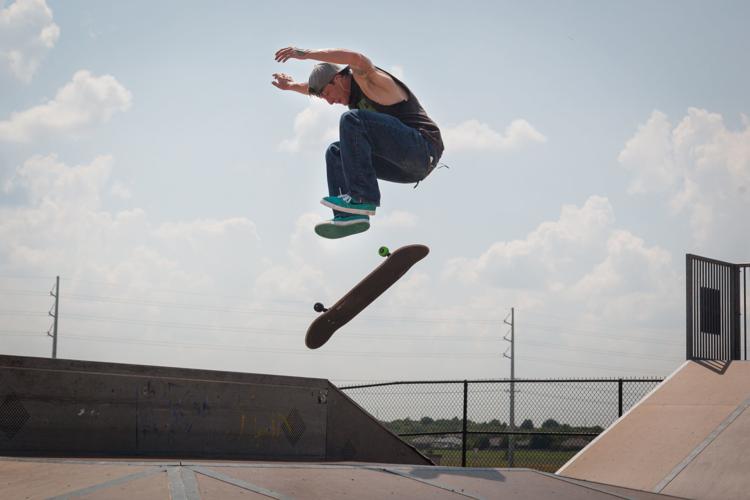 The board slips. Grove loses control. Stretching out his arms to brace the fall, bare hands slam into steaming metal, and arms protect his body from burns.
Drew Huffman, the city's parks superintendent, is at Denton Skate Works this summer day in 2018. He has been taking temperature readings of the ramps. He checks the reading: 180 degrees.
The Denton Parks and Recreation Department recognizes the problems with the current skate park: metal structures that can overheat, water damage, a small area that gives little room for additions, and ramps worn down and in need of replacement within the next few years.
The skate park opened in 2004 with some $32,000 worth of equipment shipped from Belgium plus parts of the old Eagle Mountain Skatepark in Azle, west of Fort Worth. Denton won the equipment in an auction, and crews in Azle had to saw out the pieces and bring them back to Denton, Huffman says. Denton Skate Works is in the northern part of the city, next to Water Works Park.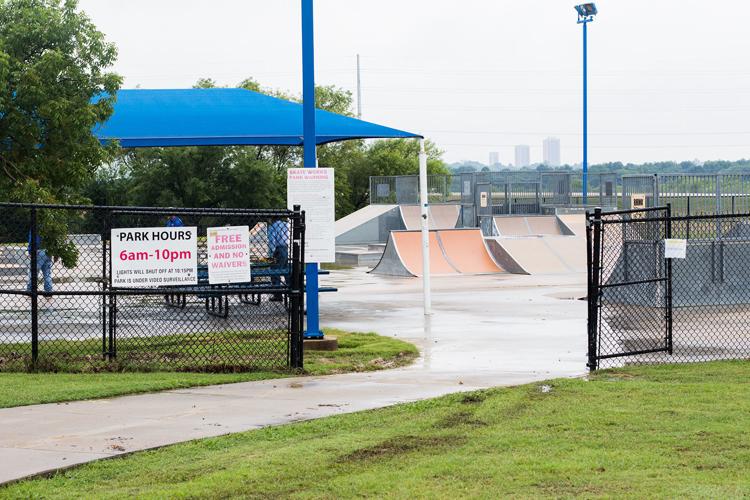 "It was a huge step up," recalls Denton resident Eric Hutmacher, who as a young skater supported building the park. "You didn't have to skate parking lots anymore, look out for the property owners to ask you to leave. And let's face it, the property wasn't the same when you were done with it," he says.
Denton police Sgt. Daryn Briggs says that a city ordinance prohibits skateboarding down city streets. No dismount is required when using a crosswalk from sidewalk to sidewalk, however.
"In a subdivision, are we going to go tell a kid to get off a skateboard? We may go talk to the parents, tell them what the laws really are," he says, adding that skateboards on major thoroughfares are not tolerated unless equipped with a motor that does not exceed 35 mph.
Vitiello verifies that the tickets involved with skateboarding are not cheap, with citations reaching upwards of $500 for a trespass. Kiley says he has been ticketed for trespassing while skating on the University of North Texas campus.
The legal traps skateboarders must navigate contribute to driving the sport underground.
"Skaters, by nature, they hide," adds Hutmacher. "A skate park brings them out of hiding."
New park wanted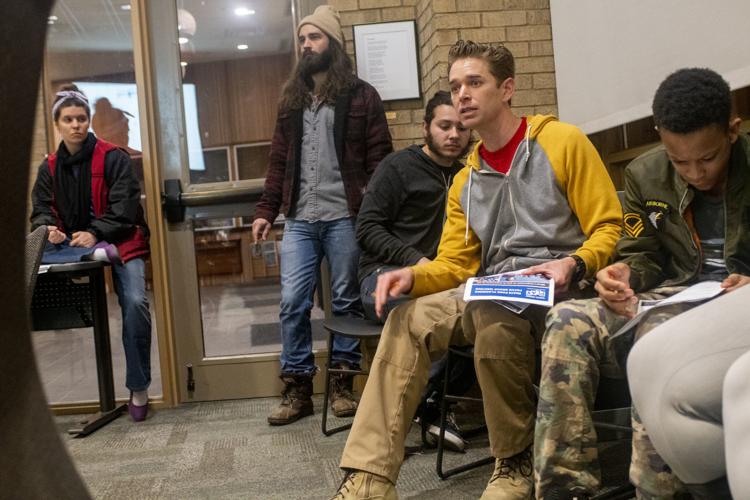 About 40 action-sports enthusiasts — skateboard, scooter, BMX, inline and quad-skaters — fill chairs lining the walls of the community room at the Denton Civic Center to address concerns about the old skate park and advocate for the construction of a new one.
The city held this first focus group Feb. 11, to hear from the community about the current park and receive input on ways to make the new one better.
Among those in attendance, Vitiello and Kiley listen quietly — until Parks and Recreation's Huffman asks for suggestions on the new location.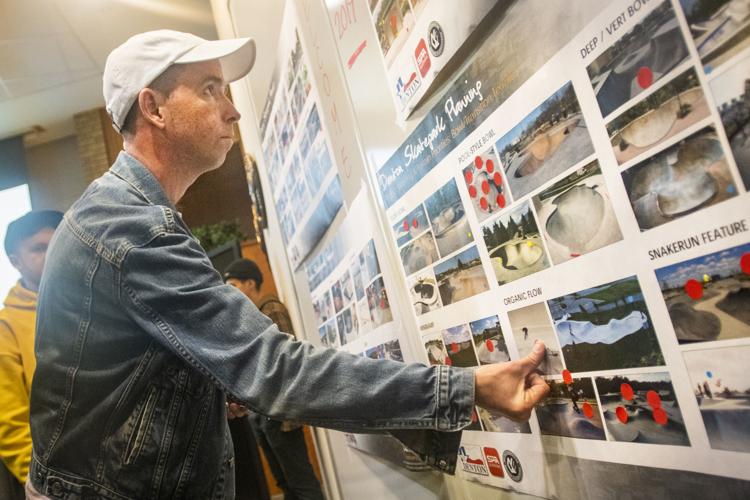 "Mack Park!" shouts Vitiello, as other skaters raise their voices: "McKenna!" "Central!" "Downtown!"
They have been waiting, after all, for five years, when the guys at DSS put together a petition for a new skate park in Denton. That dream has begun to look like reality, as city officials hold surveys and focus groups to inform a 10-year parks master plan, due for approval by the Denton City Council by the year's end. Denton residents are encouraged to offer feedback in a needs assessment survey, available at www.dentonparksmasterplan.com.
While some skaters express frustration at the lack of a more immediate fix, Vitiello and Kiley are encouraged to see the city taking important steps toward a more permanent solution. A $40,000 metal pyramid was added to the current skate park in summer 2017, but Vitiello says some skaters saw it as a waste of funds.
Huffman says the city now has $60,000 set aside for a new park. Altogether, a new park could cost anywhere between $250,000 and $1 million depending on the size.
Even if taxpayers are not on board with funding the park in the next bond election, the city can apply for local grants to subsidize the park, explains Huffman. Gary Packan, Denton's parks and recreation director, says the positive turnout at the meeting "will help move the timeline up" for park planning.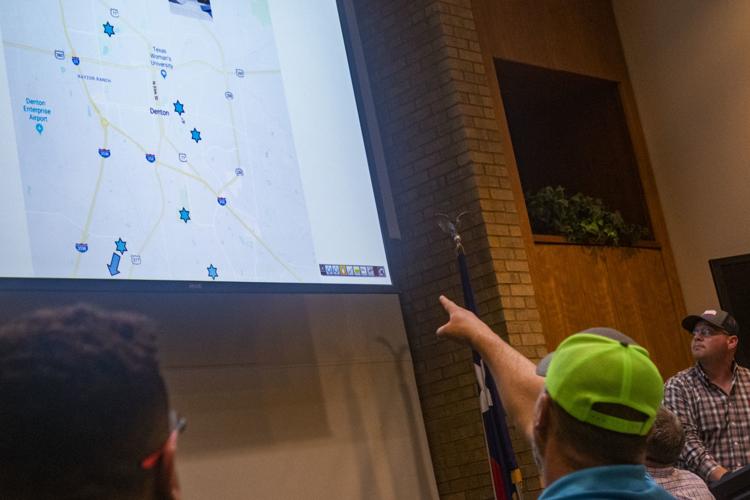 Pressed by skaters for a timeline on when ground might be broken for the new park, Packan's words are like a pin dropping in a quiet room: "Right now, we can't tell you how long that will be."
Only the presence of Yann Curtis lifts their spirits. Curtis, co-owner of SPA Skateparks, is the nation's leading developer in skate park construction, having developed 34 of Texas' newest skate parks. He presents a slideshow, soliciting wide eyes as skaters salivate over projects in Frisco, Conroe and Plano.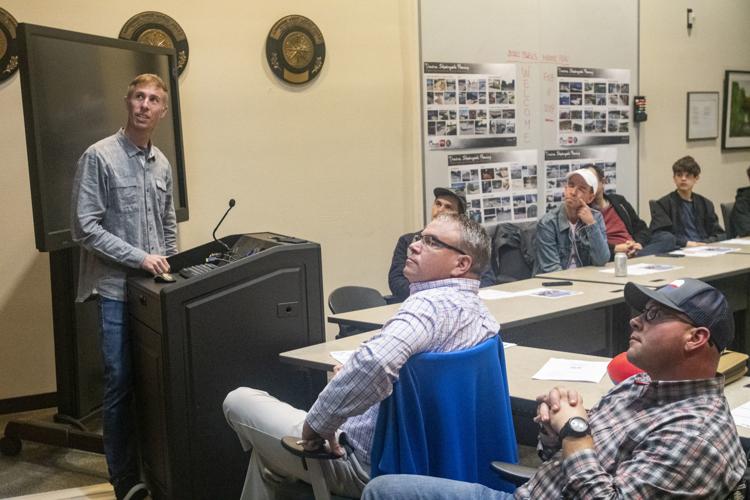 "Hopefully it's a match made in heaven, but either way I want to be involved to some degree," Yann says, noting that DSS owners reached out to him when the petition started in 2014.
Curtis uses an equation to figure out the approximate size that Denton's park would need to be to satisfy demand — about 12,000 to 20,000 square feet — for a "community" park. A "destination" skate park is 40,000 square feet or larger.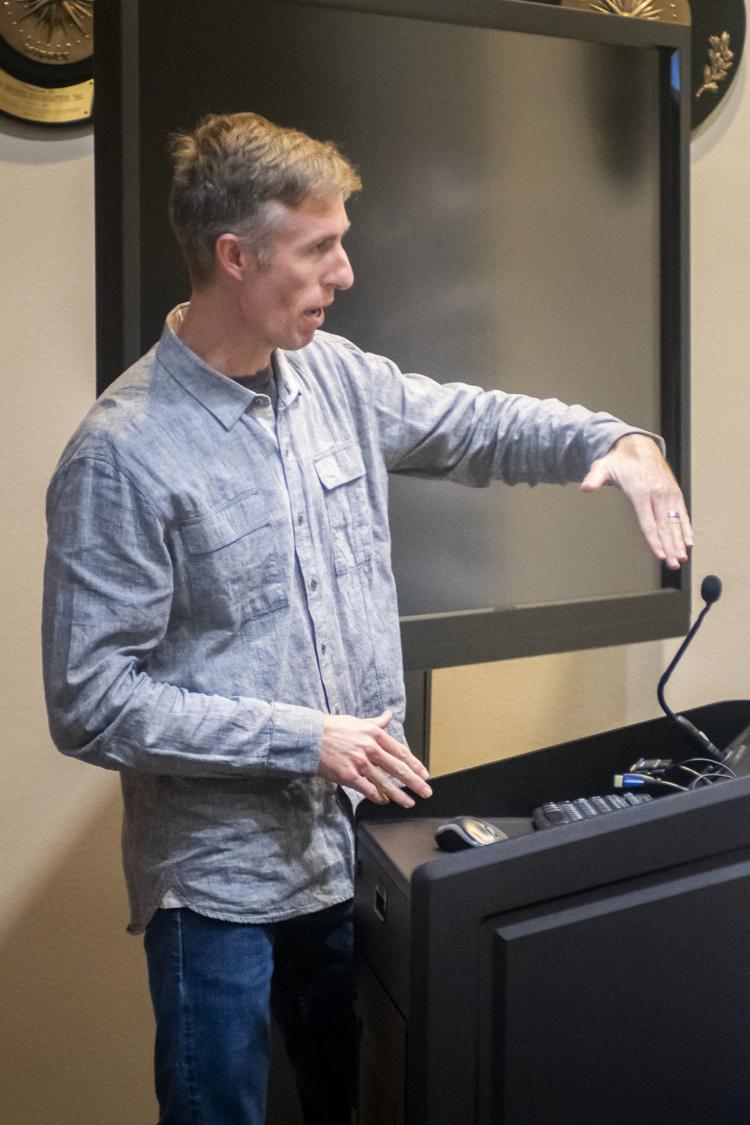 After the presentation, attendees excitedly select their favorite skate park features by placing stickers of various sizes and colors on photographs. Hutmacher is at the meeting. He was 13 when he signed the petition for the first skate park in Denton.
"I'm here for my kid," he says. "We want to do it right this time."
Matter of time
The water fountains aren't working again at Denton's skate park due to maintenance at the water park next door.
It's a cold and wet morning in March, and though no skaters are out today, it's going to be warm next week.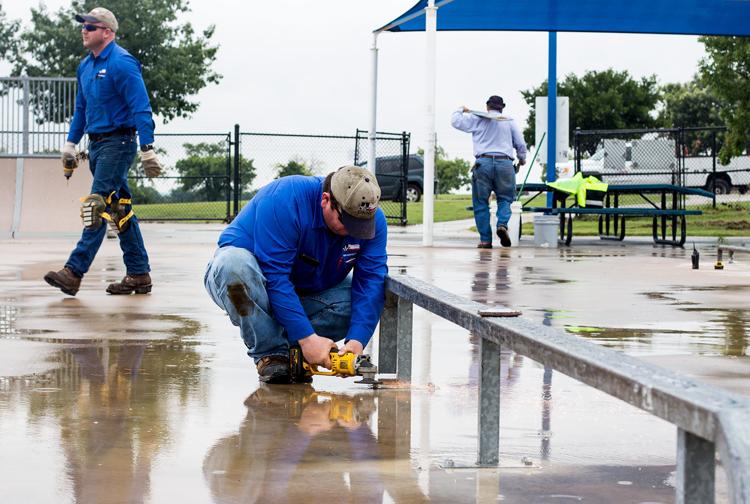 Later that week, outside the skate shop, Kiley emerges from beneath his 2001 Acura Integra, its yellow paint dirty with oil and grit. It's the start of the day, and Kiley is swapping out the tires before working on other cars. About four or five today, he says.
"Ninety percent of my time up here, it's under the hood of a car," he says. "You know, event-wise and community-wise. I'm hoping one day to switch over and do a lot more of stuff like that."
Inside the shop is a map of Denton where skaters have labeled spots around town — ditches, stairs and hills. The No. 1 spot on the map sits just outside North Loop 288 off Sherman Road — Denton's original skate park.
Kiley is convinced that it's just a matter of time before Denton builds a new skate park. Not only is the demand for the sport too great — what with skateboarding making its debut in the 2020 Summer Olympics in Tokyo — but so is the passion of Denton skaters. The driving force behind the new skate park, says Kiley, is the same driving force behind skateboarding as well as his skate shop.
"It's pushing your homies. It's being more stoked for them to land something that you know they've been waiting for, than you landing something," he says. "The philosophy is pushing the community more than pushing ourselves individually."