Thousands of people marched through the streets of Denton on Monday night, echoing frustrations and calls for accountability from law enforcement after the death of George Floyd.
Floyd, a black man, died last week after Derek Chauvin, a white Minneapolis police officer, put his knee on the handcuffed man's neck until he stopped breathing. As Denton protesters held signs reading the names of black men and women killed by police action, such as Tamir Rice, Botham Jean, Sandra Bland and George Floyd, all yelled with resounding frustration, "Black lives matter."
An estimated 2,500 protesters, or more, participated in Monday night's march, filling East Hickory Street from the Square all the way to Bell Avenue.
A third night of protests in Denton
"My son is gone, and a lot of you might not have been able to know him personally, but he was a UNT student, and he wanted to make a difference," Kevin Tarver said to a group of about 1,000 protesters. "He wanted to be an officer himself, because he's seen the indifference and wanted to make change, and the very thing he wanted changed is the thing that killed him."
As members of the community marched for several miles, from the Square to Denton County's juvenile detention center and courts building and beyond, the protest remained peaceful and calm despite filling roadways. There were no reported confrontations with Denton police or the Denton County Sheriff's Office, although a significant law enforcement presence was on the scene. A police escort was provided while protesters marched in the streets.
Marchers stopped at certain spots, such as Emily Fowler Central Library, to allow speakers to air grievances.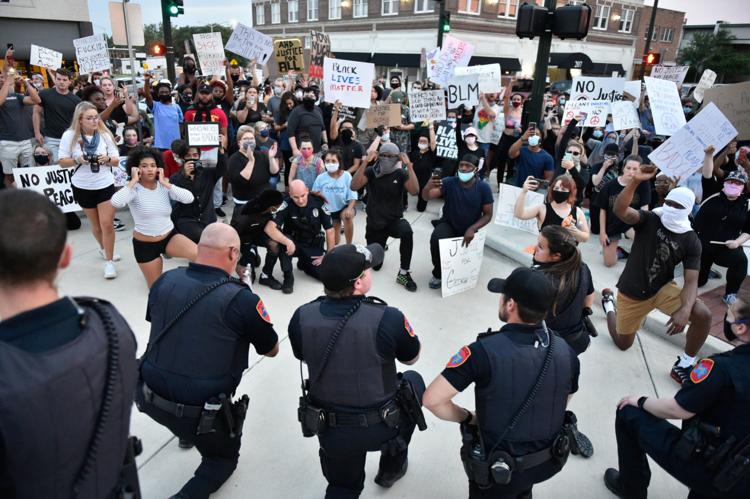 One speaker in Monday's protest, which was organized by the local Black Lives Matter movement, said protests were only the start.
"This is the beginning of hearing black voices, the beginning of calling out racial ignorance, the beginning of educating so that the ugliness that is swept under the rug is wiped out," the protester said. "We are not broke, we are woke."
Denton Police Department spokeswoman Allison Beckwith said protesters vandalized the veterans memorial on the Courthouse on the Square lawn. Police Chief Frank Dixon said on Twitter that some people had thrown items at Denton officers, who "remained very professional."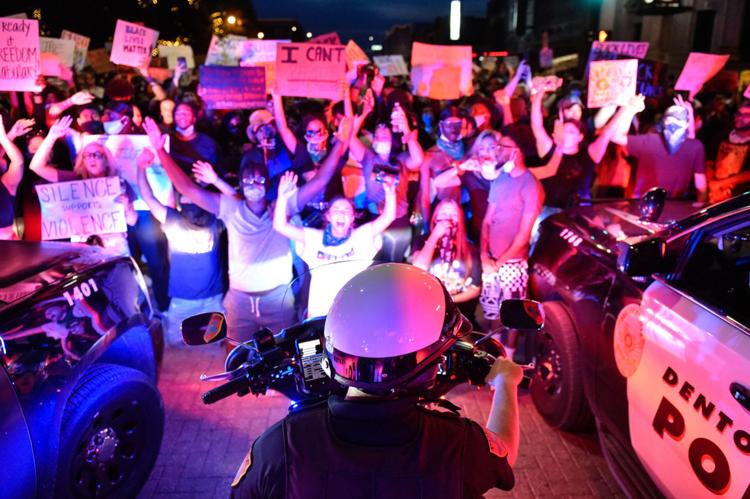 As several hundred protesters remained on hand past the 9 p.m. curfew, Denton Police Department spokeswoman Allison Beckwith said late Monday that officers had not made any curfew-related arrests but were trying to get demonstrators to leave.
Denton jail custody records showed that two people were booked on city ordinance violation charges shortly after midnight.