Debbie Weigenant loves her daughter, but she says it has been a tough road watching her daughter, now accused of arson, struggle with mental illness and addiction for the past 21 years.
Jennifer Spillane, 45, has been charged with three counts of arson in connection with three recent fires in Denton. One of the fires was early Monday at the Denton Sewing Center, her family's longtime business.
"The person that set my building on fire wasn't my daughter," Weigenant said through tears Thursday morning. "She hasn't been in her body for a long time. … People can be so mean because they don't understand mental illness. … Until you actually experience what it's like living with or having a child or someone that you love mentally ill, you don't understand it."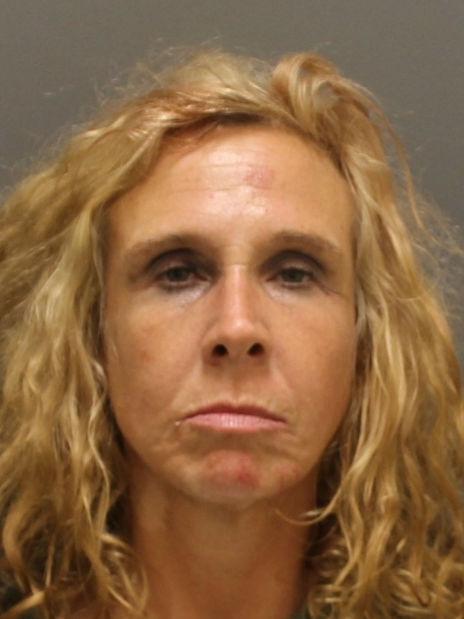 Spillane started using heroin in 1999 and was diagnosed with three mental disorders in 2003, her mother said.
The sewing center at 1504 Malone St. has been in business since 1986. After the fire, Debbie Weigenant and her husband, Paul, are rebuilding and on Wednesday reopened their business on a smaller scale in one of their adjacent buildings.
The fire
The fire at the Denton Sewing Center, which started around 2:27 a.m. Monday, caused more than $500,000 in damage, according to a news release.
Spillane was arrested Tuesday and booked Wednesday into the Denton County Jail, where she was held in lieu of $125,000 bail. Records show she has been booked at the county jail at least six other times since 2002 and also has spent time in a state prison.
"She had a really hard life," Weigenant said. "She got on the wrong road and couldn't get off, and mental issues took over. But we knew something was going to happen.
"Am I angry at her? No," Weigenant said. "I'm relieved for her because when I got that phone call at 3 o'clock in the morning, I was awake … and I thought, 'Oh my God, this is it.' This is the phone call they're going to tell you to come down and identify a body."
In the past year, Weigenant said her daughter has shown up at the family's home and business. She has been criminally trespassed from both and was arrested for showing up.
"The system has failed us," Weigenant said. "The system has failed a lot of mentally ill patients. … The best I've ever seen my daughter was when she was in prison, and they sent her to, I believe it was [in] Conroe, and there's a state hospital there. I actually [saw] my daughter, and I got a whole lot of hope."
Records show Spillane spent a little more than a year at a state prison in Huntsville and was released in 2016 after being convicted of possession of a controlled substance in Penalty Group 1 under 1 gram. Six months after she was released, Weigenant said Spillane was back on the streets, and her downward spiral just progressed.
Mental health and addiction
Weigenant said her daughter was diagnosed in 2003 with paranoid schizophrenia, bipolar disorder and dissociative identity disorder, formerly known as multiple personality disorder. It was much easier to help her manage her mental illnesses back then because she wasn't so far gone and mostly stayed on her medication, Weigenant said.
While Pam Gutierrez at Denton County MHMR said she doesn't know Spillane personally, she was able to speak broadly about those three diagnoses. With paranoid schizophrenia, she said those who are diagnosed with it can seem like they're out of touch with reality, as they decrease their participation in daily activity, tend to isolate themselves and sometimes have compulsive behaviors.
Gutierrez said the paranoia can make them feel like someone is after them.
Buck Riddle, a client at Our Daily Bread Denton, said on Tuesday that he spoke with Spillane and spent about 30 minutes with her the night of the fire. During some conversations with her and during her stays at Clayton House Motel, Riddle said Spillane would mention a man she believed was after her.
"It's possible her motive [with the fire] was to get warm … but I don't really know her," Riddle said.
People with bipolar disorder can experience extreme emotional highs and extreme lows, Gutierrez said, as well as depressive episodes that can vary in length.
"With a lot of these individuals, if they can get on medication, it can clear up immediately, but a lot of people don't want to take medication because it affects their weight," Gutierrez said. "Some people like that high too — that euphoria they feel when their mood is up. So it's difficult for a lot of individuals."
Dissociative identity disorder is accompanied by memory gaps, Gutierrez said. She said it can stem from post-traumatic stress disorder, usually overwhelming trauma from someone's youth.
Spillane's heroin use preceded her diagnoses by about four years, her mother said.
"She was a beautiful girl," Weigenant said tearfully. "And heroin, this is the outcome."
Heroin is an opioid that enters the brain quickly and binds to opioid receptors on cells, according to the National Institute on Drug Abuse. It especially binds to receptors involved in feelings of pleasure and pain, controlling the heart rate, sleeping and breathing.
It's highly addictive, and people who use it regularly can develop a tolerance for it. This means they'll want heroin in higher and/or more frequent doses.
"There was no avenue I could win that battle with her," Weigenant said.
Gutierrez said substance use can exacerbate mental health problems.
"The people who need [the help] are the most vulnerable people," she said. "A lot of our [clients] are homeless and use drugs to cope. And then that exacerbates it further."
The future
Weigenant said she never visited her daughter when she was jailed in Denton. She said she's not ready to see her daughter yet and believes it will hurt more to see her right now.
"I do want to see her," she said. "I do want to talk to her, hoping that I'll see something different. But I don't believe I would. I think it would be worse. … She'll end up writing letters to us. I'll base that on whether or not I need to go see her."
Arson is a second-degree felony if it's shown the offender intended to cause, and only caused, damage to the property. Weigenant said her daughter likely will stay locked up for many years.
"Nothing is ever going to change the fact that she's my daughter, and that I do love her," Weigenant said. "I don't know if what I said is going to make any difference to anyone about the cruel things that have been said.
"Yeah, she did a bad thing, but that wasn't her. And I still love her."