DUNCANVILLE — Even the light through the stained glass at Trinity United Methodist Church seemed to second the rainbow shirts, stickers and logos around the Duncanville sanctuary. Flecks of red, orange, yellow and green danced on the carpet. Thin strands of blue, indigo and violet light painted the white walls around the windows.
The congregation had just made the decision: Trinity is officially a reconciling congregation. As of now, the church doors are open to everyone — regardless of sexual orientation or gender identity.
And on the altar? The Rev. Jane Graner, who makes the trek from Denton to Duncanville each week to serve the congregation, is the first openly gay pastor ordained to serve a United Methodist Church in the denomination's southern jurisdictions.
"It's been a long time," Graner said in an interview before the congregation voted to become a reconciling congregation. "I'm happy to be here. It's been a lot of work, and sacrifice."
The celebration in the air at Trinity two weeks made the bitter denominational feud over same-sex ordination and marriage in the United Methodist Church last February seem faint. During the special conference, United Methodist delegates voted to strengthen church rules that ban LGBTQ candidates from ordination — specifically "self-avowed practicing" homosexuals. The conference vote passed the Traditional Plan, which hardens church laws barring LGBT candidates from ordination and prohibits clergy from officiating same-sex marriages or even hosting them.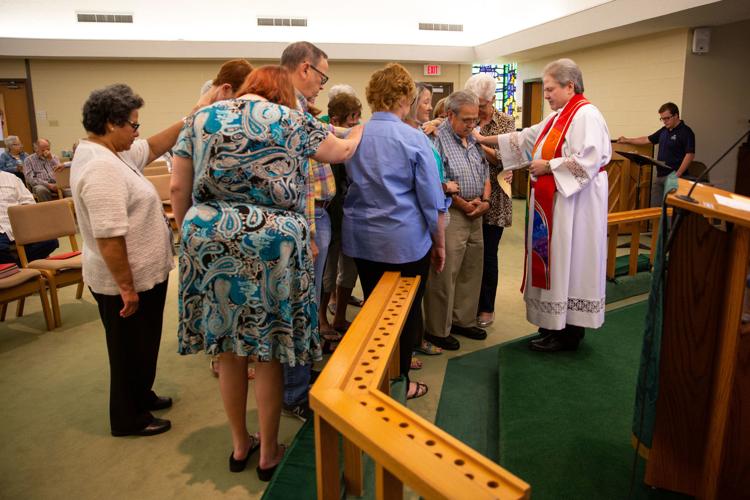 The vote moves forward to the general conference in 2020. With more American Methodists moving toward full inclusion of LGBT people, the United Methodist Church could be facing a costly and emotional split.
But just a few months after her appointment to the Duncanville church, parishioners have embraced their first openly gay minister — several longtime members said the church might have been served by an LGBT pastor in the past, but that church law and the broader culture would have required secrecy.
"It's a really supportive congregation," Graner said. "There are a few members who opposed our becoming a reconciling congregation, but overall, they're ready to be a reconciling congregation."
Graner was born into the United Methodist Church, and by the time she was in high school knew she wanted to serve the faith and God's people. The call to ministry came shortly after she discovered she was gay.
She found a deep and profound influence in her parents' faith — she wore her mother's cross to every ordination interview, and stowed her father's Rotary medallion in her pocket.
It wasn't an easy path, given the lack of legal protections and equality for gay, lesbian, bisexual and transgender Americans. Popular culture wasn't welcoming, either. But Graner pressed ahead, attending worship, studying Scripture and even attending seminary at Perkins School of Theology at Southern Methodist University in Dallas in the 1990s.
"Perkins was really more personal fulfillment," she said. "I knew I wasn't going to get ordained. I was gay. Everyone knew I was gay. It was never a secret. But there wasn't a place for me, not as a pastor."
Graner said she knew there was nothing ahead for her but uncertainty, but her faith wouldn't burn out or die down.
"I prayed about it. I thought about it. I decided that God and I were going to wing it," she said.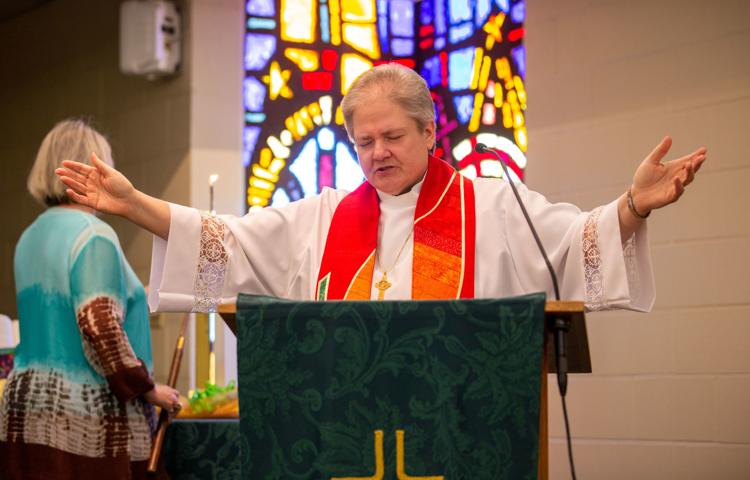 Winging it bore fruit. She and her partner — who split years ago after 28 years together — joined First United Methodist Church of Denton and got "deeply involved."
"I was involved in small group study, adult study groups, and I was head of the church's missions outreach during [Hurricane] Katrina, which was probably my biggest challenge. I wasn't on the staff, though I wanted to be," Graner said.
Her work caught the eye of the local church's leadership, who asked her to apply for a new staff position to lead adult religious formation. But a group of church members who were more fundamentalist in their understanding of Scripture lobbied against her hiring, Graner said. Then, in 2009, another group of members rallied for a nondiscrimination stance in staffing.
"By then, though, I knew I'd burnt too many bridges," Graner said. "Thirteen years I spent there. It was like family, and it was hard to leave."
Graner moved on to Northgate United Methodist Church in Irving, where she was hired as the assistant minister for discipleship.
"I knew there was no long-term future in that position," she said. "I was on the walkway between my office and the main building. I heard a voice say, 'You're going to be here three years.' I was there two years and 11 months. I prayed some of the angriest prayers during that time."
It was at Northgate that she met the Rev. Gregory Neal, a minister who strongly supports ending restrictions that keep LGBT Methodists from the ministry.
"We became almost instantaneous close friends," Graner said. "He wanted to know why I wasn't ordained yet. He was like, 'I don't get it. Where are you in the process?' And I had to tell him, 'I'm not,' and the reason why. He sort of teared up and said he was sorry. He was a major support for me."
With support from Neal, and as the country grew more accepting of same-sex marriage and equal rights for the LGBT community, Graner pursued the ministry again. She became a licensed local pastor in 2013 — a step away from ordination. She pastored Oak Haven United Methodist Church in Irving from 2013 until this year.
Over the years, when Graner interviewed for positions and the ministry, she didn't keep her sexual orientation a secret. When she was asked by the committee on ordination if she was in compliance with the church discipline on human sexuality, she confirmed that she was — her long-term relationship had ended. She was self-avowed, but not in a relationship. Graner was commissioned as a provisional member of the clergy for the North Texas Conference three years ago and was on track to be ordained in 2018. But she was deferred for a year.
"I was always honest about my sexuality," Graner said. "But I couldn't tell you whether I was deferred because of that, or because I didn't satisfy the committee on a theological question. It's hard to say. But that is one of the most devastating things that has ever happened to me. I had to watch the two other candidates get ordained."
Graner was ordained into the ministry on June 3. On the first Sunday of July, she joined Trinity as its pastor.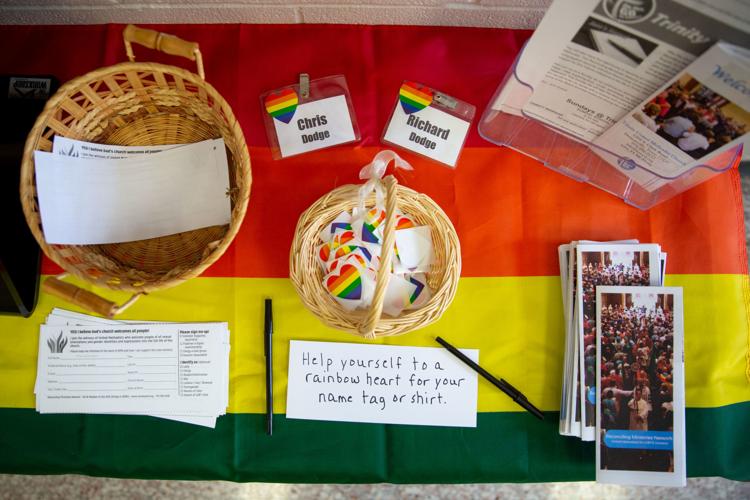 The Elliotts are among members who count Graner's arrival as a bright new chapter for the small church.
The family started coming five years ago, when Janis Elliott's sister was appointed the pastor.
"When we got here, I was really frustrated with the United Methodist Church," said Bill Elliott. "They had this 'Open hearts. Open minds. Open doors' thing going on. The thing is, it was anything but. We came here and it was like these people had their heads screwed on differently. We visited here and ended up staying. Everyone was really open — really friendly."
Janis and Bill Elliott said the openness mattered because their young adult daughter, Jennifer, is part of the LGBT community.
"We wondered, 'Are they just being friendly because they want us to stay, or are they really like that?' Turns out they are just like that," Bill Elliott said.
Jennifer Elliott admitted that she's waited to join the church.
"I'm on a lot of committees for someone who isn't a member," she said. "But I wanted to wait to find out which way the church would go [on becoming reconciling]. The people seem to get it. They're glad to see you here."
Jennifer Elliott said she's still deciding what her future in the church might be in light of the passage of the Traditional Plan at the General Conference.
"You're saying you don't want me," she said of the vote. "I'm a member of the LGBT community, but you don't want me in the church. Then when I heard about the Reconciling movement, it made me think that this isn't the end."
There are several LGBT members attending Trinity, among them a young gay couple rearing a child in the faith. The first Sunday after the vote, most members wore rainbow stickers or even rainbow-themed shirts. The rainbow flag stands for LGBT equality.
Carolyn Manuel and Evelyn Glass are a lesbian couple who have split their attendance. Glass, who mostly attended black churches, found her way to Trinity while leading a Girl Scout troop that needed a place to meet. Trinity welcomed the scouts, and Glass stumbled on a Bible study that hooked her. ("They didn't have all the pat answers," she said.) Manuel was a longtime member of the Cathedral of Hope in Dallas, a Metropolitan Community Church, which has a special outreach to LGBT seekers. When Manuel started having issues with her eyesight, she started attending Trinity with her partner.
"Everyone was very welcoming," Manuel said.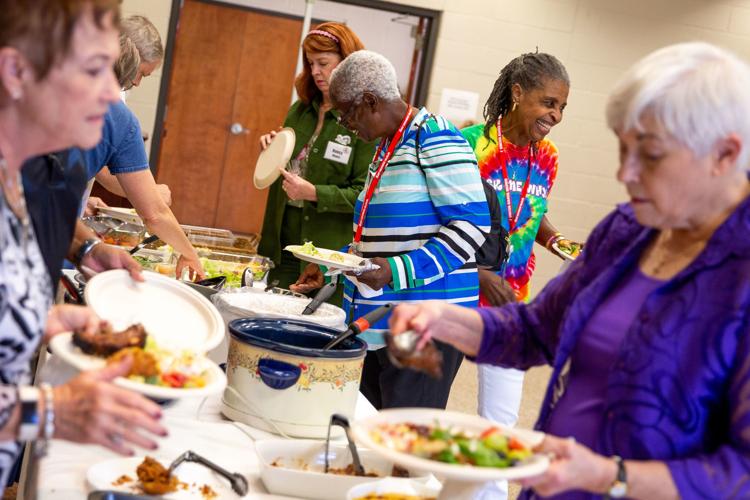 Glass has been a Reconciling Methodist for years, as the movement allows individuals to join from non-reconciling congregations. She said she urged her Sunday school class to take up the discussion about offering full inclusion to LGBT members about four years ago.
"The church was not going to take up that conversation," Glass said.
Slowly, the pastor who served before Graner started advocating for voting to join the Reconciling movement. About a month ago, the congregation voted to take the step.
"About 50 or 60 members voted," Manuel said. "If you look at the vote among the active members, it was almost a mandate."
Glass said that the vote is just the beginning.
"For me, reconciling means ordination and marriage," she said. "Anything less than that means we aren't really welcome. It means acknowledging what it means to be reconciling. When we encounter someone who is counter to this, it means to be bold and speak up about what inclusion means, and how the church is supposed to be."
"It means continuing to work and educate people," she said. "There is a deeper level of understanding to living this out. Some people are already there. But there are those who are a little more tentative. But you get there by being together and supporting each other."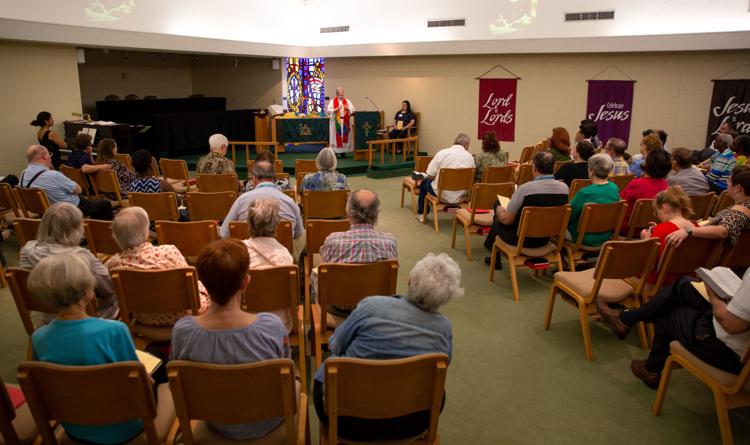 Janis Elliott said the church will need Graner as it moves forward.
"A lot of churches aren't relevant," she said. "They don't speak to today. Jane gives a lot of biblical context to her sermons. Not just a short verse. She really dives in. She explains what was going on 1,000 years ago, but then she tells us why it matters now, for us."
Graner spent years wandering, trying to find a place to put her gifts to work. She never really considered leaving the denomination.
"One of the reasons I'm drawn to Wesleyan theology is that I think it's an incredible, grace-filled interpretation of the Christianity that needs to be out there in the world," she said. "This church is the second largest Protestant denomination in the United States. Thousands of children and teenagers will come to Christ in this denomination. I need to be there for them. I need to be there for the young people who are in the LGBT community."