This story has been updated to reflect that Saturday's game was the Diablos' next-to-last regular-season game.
The Diablos show Denton's soccer community is as active as ever.
The Denton Diablos are a semiprofessional team headed to the National Premier Soccer League playoffs in their inaugural season. To the local soccer community, however, the team means more than just its on-field results.
Founded last year by co-owners Damon Gochneaur and Michael Hitchcock, the Diablos began their season in May as Denton's second semipro soccer team. The first, FC Denton, formed over a decade ago in 2006 — but the arrival, and success, of the Diablos is significant because it echoes an emerging trend: Soccer is surging in America.
An April Forbes magazine article cited data showing that Major League Soccer, the top domestic soccer league, has experienced a 27% rise in interest since 2012. The article also referenced a 2017 Gallup poll in which 7% of Americans said soccer was their favorite sport to watch, a number barely lower than baseball's 9%.
"The popularity of soccer — both in participation and interest — is increasing in the United States," the article reads. "There's no doubting that."
There's no doubting that soccer is growing in Denton, either.
The Diablos, who rent the University of North Texas soccer complex for their home games, compete in the Lone Star Conference Division of the NPSL's South Region Conference.
The majority of the team's players are current or former collegiate athletes who use semipro soccer to sharpen their skills during the offseason. For these players, many of whom hope to play professionally, the Diablos provide an important opportunity — one that Gochneaur understands the importance of.
Gochneaur says he's "a product of the local environment." He graduated from UNT in 2003 and owns Aspiro Digital Agency, a Denton-based digital marketing agency. For him, the Diablos are as much about giving back to the game of soccer as they are a financial investment — and one that is doing well, he says, as the team has exceeded attendance projections.
In the late '90s, Gochneaur played soccer at Missouri Valley College before he suffered an injury, deciding to end his playing career and head to UNT.
"Twenty years ago, I had to hang up my soccer dreams and there was no opportunity like this," Gochneaur said. "We're trying to create opportunity for young men."
Diablos head coach Chad Rakestraw, who also coaches soccer at Flower Mound Marcus High School, can attest to just how scarce that opportunity used to be. When he played collegiately in the early 2000s, he traveled to Canada and lived in British Columbia to play semipro.
"I would say actually in the last three to four years, opportunities have increased dramatically," Rakestraw said. "You've had leagues like the NPSL really step into a gap, and beyond that we've had owners who have been willing to invest their own money just to see the growth of the game."
On Saturday, the Diablos came up short on Fan Appreciation Night in a 2-1 loss to the Midland-Odessa Sockers, dropping the Denton team's record to 8-3, but fans were out in full force for the game. The Diablos finish the regular season at 7 p.m. Tuesday in a game against Tyler FC at Denton High School.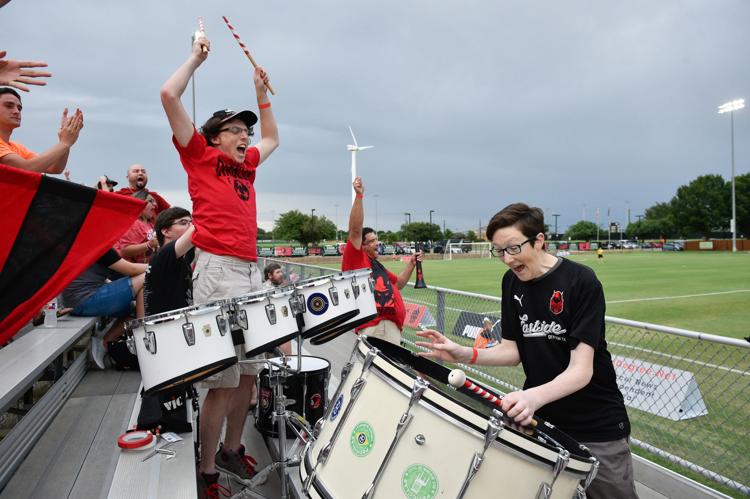 Randy Hart founded the Denton Harbingers, an independent supporters group that meets at games to root loudly for the Diablos.
"Local soccer is fun because it's your hometown," Hart said. "It's your club."
Chris Cooper, a soccer fan who grew up playing in Denton, brings many of his family members to the games and said the Diablos have provided them with closer access to the sport.
"Now that we've got this here, there's no reason to go to Frisco [for FC Dallas]," Cooper said. "I definitely think Denton is supporting them well."
Gochneaur has big aspirations for the Diablos. Eventually, he wants to build the team its own stadium and use the team to improve the youth soccer system.
"My goal is that one day one of the guys who played for the Diablos went on to the U.S. national team," Gochneaur said.
For now, it's on to the playoffs.