After originally being canceled just five days ago, Denton's inclusion-focused story time drew hundreds of residents to a local brewery Saturday, with organizers championing transgender awareness and acceptance for children.
Originally an installment of the Denton Public Library's "Rainbow StoryTime," a program put on three times a year, the city canceled the event Monday. Staff cited safety concerns stemming from people from across the country objecting to the program, largely related to a mistaken belief that the book lineup included references to transgender children.
Saturday — the same day as Transgender Day of Remembrance — the event went off in front of hundreds of attendees, changed from Rainbow Story Time to Transgender Story Time. The three-book lineup kept only Red: A Crayon's Story, a book about a "red" crayon who can only draw in blue, and added two others: Julián Is a Mermaid and Calvin.
While the library's initial lineup featured no direct references to being transgender, Calvin is a book about a transgender child written by their parents. Briggle said her main goal for the event was to empower other kids.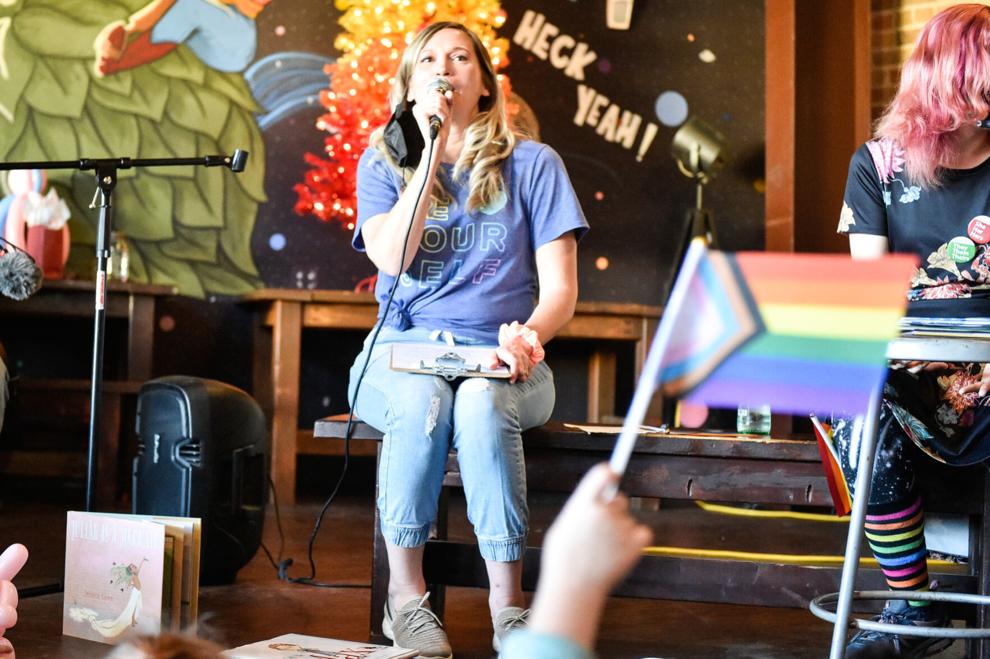 "I want trans kids to know they're perfect as they are and that they're worth fighting for," Briggle said. "We have to celebrate these children. Reading a book with a transgender theme does not make kids transgender, but it does make transgender kids feel empowered."
The story time drew out several protesters as well, who gathered mainly across the street and focused on religious messages. The Denton Police Department stationed multiple squad cars and officers at the event as a safety measure.
Of the protesters, Briggle said simply that she's "not indoctrinating" kids, and that she thinks much of the opposition, including from Texas gubernatorial candidate Don Huffines, amounts to political talking points.
Denton City Council member Brian Beck performed the reading of Red: A Crayon's Story, the event's first book. He said that while he supported the library's decision to cancel the event originally, it needed to happen in this form so that objectors couldn't succeed in a "disinformation campaign" meant to "bully and exclude people."
"Yelling, screaming, threatening violence and canceling an event is not the Denton way," Beck said.
Beck said detractors went "way beyond" just giving their opinions about gender issues. He said he would encourage them to see a story time for themselves, which he believes would show them the topics discussed are not indoctrinating children.
"Have you seen one of these events? I would ask them that question," Beck said. "I think if you will go and watch professional librarians … your fears will be calmed."
Many in attendance don't have transgender children of their own, but feel education on the topic is important even at a young age. David Morris brought his children, ages 6 and 2, to the event after planning to go to the original story time.
"It was a bunch to do about nothing," Morris said. "It was just showing families that are built different. There's no reason to be against people living their lives."