This story was updated to include a link to the agenda for the public hearing.
Residents along Vintage Boulevard and Denton's other west-side neighborhoods got surprised by a city postcard notifying them of new, longer distances proposed between old gas wells and new homes, schools, churches, etc.
The postcard invited them to a public hearing scheduled for Tuesday night. But the 385-word notice also introduced to many people an unfamiliar vocabulary in describing their homes, such as "reverse setback" and "non-conforming structure."
For longtime Vintage residents, the notice opened old wounds. When EagleRidge drilled gas wells there in 2013, Deborah Ingram and her neighbors wanted to keep the company from coming too close to their homes.
City officials stepped in to enforce that distance, known as a "setback," but got hog-tied. Not only did new gas wells come in close to established neighborhoods, but some developers also built new homes close to old wells. Some new homes lie within the Denton current protective distance to old wells, known as a "reverse setback," which city spokesman Ryan Adams said the city has enforced since it was adopted.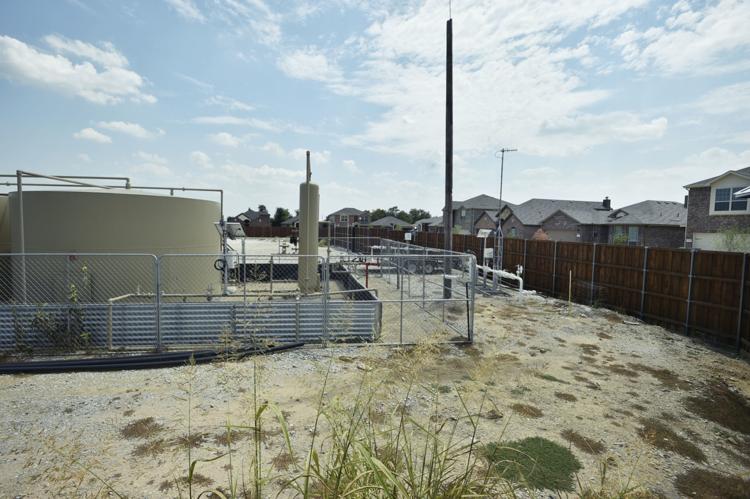 Ingram said she is in favor of the new, longer distance for reverse setbacks, but she's also worried that the battle to protect their neighborhood has begun anew.
"The city really does need to protect rebuilds and 'granny' in the restrictions," she said.
The City Council agreed to revisit the issue last year, signaling that they were ready to implement longer reverse setbacks as the city grew to the west, where most of the old gas wells are.
The city staff advised them that not only were some current Denton homes inside those shorter distances, but more homes would be affected at a longer distance — what city planners call "nonconforming."
(The postcard told property owners what it meant: a nonconforming home, for example, could continue to be reused but not rebuilt if it were destroyed.)
But at a subsequent meeting, Mayor Chris Watts asked to reconsider the vote, saying he was concerned that individual property owners weren't notified of the coming change. Council members agreed to vote again, with a public hearing for which both tenants and homeowners were notified.
Council member Deb Armintor said she has fielded a lot of calls and messages since the notice went out.
She assumed the wording for the public hearing would be like other public hearing notices — pretty bare bones, she said.
"It's always confusing when you get a notice," Armintor said. "But it [the postcard] was confusing in a new kind of way."
An English professor by trade, Armintor said as a writing assignment, a postcard notice is tough.
"There's no way to get all the facts on a postcard," she said, noting that "nonconforming" was defined, but the postcard didn't contain the information about the council's proposed exceptions, or that some homes were already made nonconforming by the new development code.
In addition, some homeowners likely learned for the first time that their home was close to a gas well when they received the postcard, making the notice a double-whammy, she added.
Still, she hopes property owners will come to the meeting.
"Their input is essential to know what kinds of protections we should have for existing property owners," she said.
Real estate agent Jessica Russell said she, too, is in favor of a longer, more protective distance for new homes. But the notice was confusing and disruptive to her clients, neighbors and even for herself. Her west-side home is more than 500 feet from a gas well.
"I got a lot of calls from neighbors worried it will affect their home values," Russell said, adding, "I happily support the 500-foot setback for future construction. I just want to make sure that the right steps are taken to protect the home values for those already in the setback."
She lives in and specializes in selling in the neighborhoods along Vintage Boulevard. One of her clients just bought another home and was about to put their current house on the market when the postcard landed in the mailbox. The postcard spooked them from listing their home for now.
Even though the postcard didn't have a lot of details, it was enough notice that any home seller would have to disclose what the postcard said to a potential buyer, she said.
Denton is in a buyer's market right now, so that disclosure will likely send most buyers running the other way, Russell added.
She made calls to insurers, lenders and even asked her peers how best to proceed. She was most concerned that the city is dragging out the decision-making process.
"It's caused a lot of chaos," Russell said.
Like Ingram, David Miller, another west-side resident, said finding the notice in the mailbox opened old wounds protecting the investment in his home. His house is a little more than 300 feet from the nearest gas well. Both he and his wife got separate notices, even though they own their home and have lived in the neighborhood a long time.
Although there are less than 1,000 affected properties, the city mailed out 4,782 postcards, Adams said. The staff sent two mailings to both listed property owners and utility accounts to provide as much notice as possible to homeowners and tenants.
Residents from the Vintage neighborhoods are meeting at a coffee shop Sunday afternoon and hope to get input from professionals, Miller said.
His main concern was the opposite of Russell's — that the neighborhood just got a notice about the City Council's long-running discussion.
"The residents haven't had enough time to gather information," Miller said.
The public hearing is scheduled as part of the City Council's regular meeting Tuesday, which begins at 6:30 p.m. at City Hall, 215 E. McKinney St.